Main New features of Galaxy Watch (Hong-Kong version): Intelligent Time Keeper
Last Update date :
Sep 28. 2020
More Intuitive Time Management
Put your Galaxy Watch in My Day watch face for a comprehensive time management system.
View your daily schedule at a glance, keep track of what's coming up, and get reminders so you don't miss an appointment.
Plan your day effectively and effortlessly. You'll spend less time planning your life and more time living it.
View your schedule at a glance in My Day watch face
Get reminded of appointments and important occasions
※ Three Kinds of information available in My Day watch face
A Day Planner with a Difference
The Galaxy Watch delivers Daily Briefings twice a day.
When you wake up, preview the day's schedule and get helpful information.
Before bed, get another Daily Briefing with a summary of how your day went and a weather forecast for the next day.
It's easier to stay organized and keep track of your goals and your progress. Boost your productivity, one day at a time.
Date, weather, schedule, workout, reminders, battery
Overdue reminders, health stats, tomorrow's weather, battery
Goodnight mode lets you sleep undisturbed—no display lights, no ringing phone, no sound at all until it's time to wake up.
Then your Galaxy Watch returns to its previous state. Or you can use Theater mode and enjoy a show undisturbed by lights or alarms.
With Do Not Disturb mode, you'll see only the AOD and hear only your alarms.
Sleep well. Shut out the world. It's okay—your Galaxy Watch works for you.
Goodnight : Shut it all out, except for your morning alarm
Theater : Keep darkened spaces dark, and stay off the grid until you press the Home key
Do Not Disturb : Limit distractions while still using basic smartwatch functions like AOD and alarms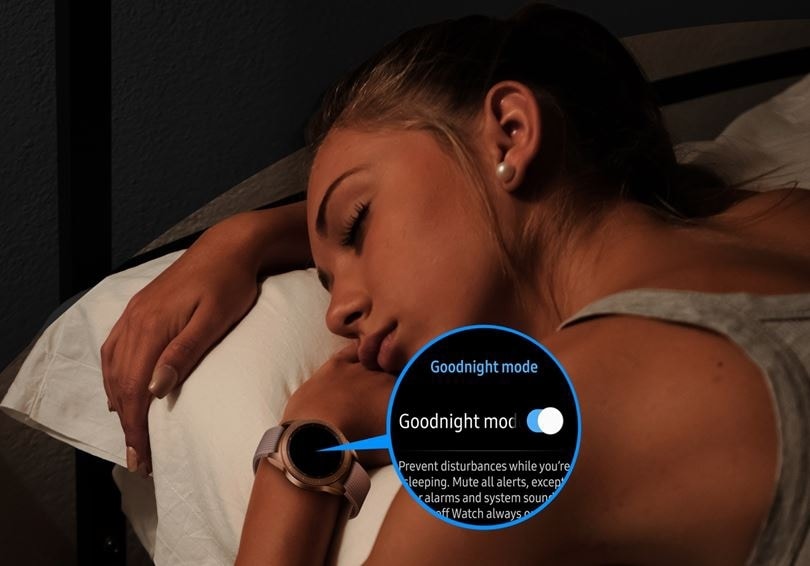 Setup screen pops up an hour before bedtime
※ If Goodnight mode is enabled while Do Not Disturb is on, the AOD will be turned off.
※ When Goodnight mode is turned off, all settings are restored to their previous state.
- This feature is compatible with smartphones supporting Samsung Customization service ver.2.2 and above.
- GUI of this feature is subject to change without prior notice.
- All functionality, features, specifications and other product information provided on this website including, but not limited to, the benefits, design, pricing, components, performance, availability, and capabilities of the product are subject to change without notice or obligation. Samsung reserves the right to make changes to this website and the product described herein, at any time, without obligation on Samsung to provide notification of such change.
Please click the submit button below to share your feedback with us. Thank you for your participation.
Please answer all questions.