What is the Samsung Flow and how to use it?
Last Update date :
Oct 28. 2020
Samsung Flow delivers a seamless, secure, and connected experience between your smart phone and tablet or PC. You can simply move documents, get your phone's notification from your PC or tablet, and view the contents of your smartphone on a larger screen. 
Before you try out below recommendations as to your solutions, be sure to check if your device's software and related apps are updated with latest version. Please check how to update your mobile device's software in following order.  
Step 1. Go to Settings > Software update.

Step 2. Tap on Download and install. 
Step 3. Follow the on-screen instructions. 
Main functions of Samsung Flow
Secure access with Galaxy devices: Samsung Flow allows you to securely access your computer.
Smart View: Share the phone screen on Tablet/PC by Samsung Flow 'Smart View'
Handover: Allows contents and activity to be transferred to a different device. 
Notification Sync: You can check your notifications from smartphone on Tablet/PC and reply to messages directly. 
Auto Hotspot Link: Easily enable your Mobile hotspot. 
How to pair your smartphone and tablet/PC
Step 1. Start Samsung Flow App on your Phone and Tablet/PC. 
Step 2. Choose your phone on list.
Step 3. Confirm passcode on both devices.
Step 4. Samsung Flow setup is complete.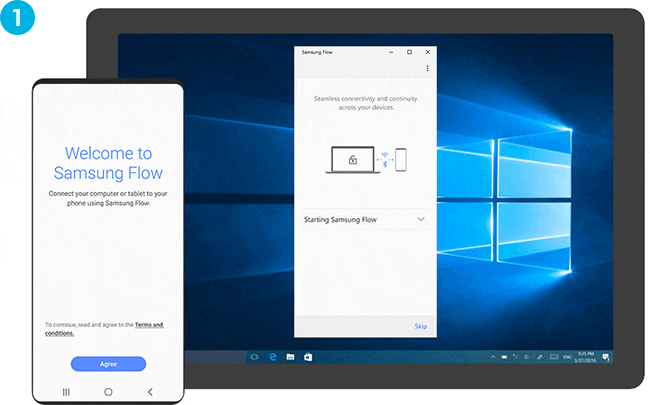 Note: 
If your smartphone does not appear in the list, check if Samsung Flow is the latest version.
The following devices support Samsung Flow: Window 10 OS for PC / Android OS ver. 6.0 for tablet / Android Marshmallow OS for phone.
Adjust your notifications
There are certain apps notifications you want to see on your PC or tablet while not so much for others. Notifications for some messenger apps and other apps might push to your PC or tablet. In this case, you can manage which apps Samsung Flow will push as below. 
Step 1. Open the Samsung Flow app on your phone. 

Step 2. Tap More options (three vertical dots) > Settings > Manage notifications.
Step 3. Tap the switch next to the apps you want Samsung Flow to receive notifications from. 
Note: If the notification is not from a messenger app, you will need to pick up your phone to open or interact with it. 
Activate and use Smart View
Mirror your phone's screen to your PC or tablet using Smart View when reading all your documents. You can take simple steps to have a larger screen view. Once paired, any actions performed on this screen will also occur on your phone. 
Step 1. Make sure your phone and other device are paired. 
Step 2. On your PC or tablet, open Samsung Flow and then select the Smart View icon.
Step 3. Your phone's screen will be displayed in a second window. 
Here are the other things you can do while Smart View is activated in Samsung Flow.
Do not disturb: Minimize alerts and notifications so you can enjoy fewer distractions.
Rotate: Turn the phone's screen to landscape or portrait for easier viewing.
Full screen: Open the Smart View window into a full screen view on your PC or tablet.
Phone screen on/off: Turn your phone's screen on or off.
Screen capture: Take a screenshot of your phone's screen.
Resolution: Change the screen resolution of the displayed phone.
Favorites: Add up to 8 of your favorite apps for quick access in Smart View.
Note: Device screenshots and menu may vary depending on the device model and software version.
Please answer all questions.