How to use the SMART HUB
Last Update date :
Apr 23. 2018

■ SMART HUB
With SMART HUB, you can suft the web, download apps and stay in touch with family and friends through
social networking services.
In addition, you can enjoy photo, video and music files stored on external storage devices.
- Some of the SMART HUB services are for pay services. To use a for pay service, you must have an account
with the service provider or a Samsung Apps TV account. Refer to the "Using SMART HUB with a Samsung
Account" section for more information.
- The TV must be connected to the internet to access SMART HUB.
- Some SMART HUB features may not be available depending on the service provider, language or region.
- To use SMART HUB, you must agree to the end user agreement and privacy policy. Otherwise, you will
not be able to access the features and services associated with them. You can view the entire text of the Terms
& Policy by navigating to SMART HUB → Terms & Policy. If you want to stop using SMART HUB, you can
cancel the agreement.
■ Using SMART HUB
1) Connecting the TV to the Internet
1. Connect the TV to the internet via a wired or wireless connection.
2. Set up Network setting via MENU → Network → Network Settings.
2) Setting up SMART HUB
1. The first time you start SMART HUB, you need to set it up. Follow the directions on the screen.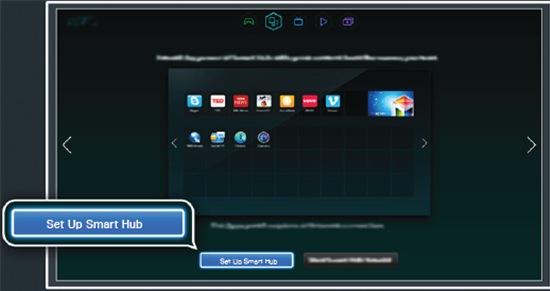 3) Using SMART HUB
1. Go to SMART HUB → SAMSUNG Apps and Download applications to your Samsung Smart TV.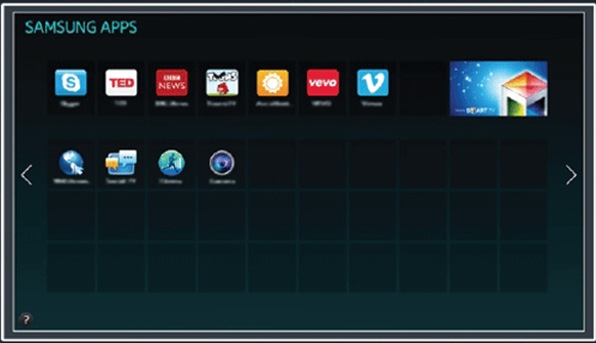 2. Press the

button to open the First Screen and select the panel icon. On the panel screen for each
service panel, the following are available :
.

Game : You can view all game apps provided by SMART HUB and download and play game you select.
In addition, you can manage games that you have downloaded or purchased with your
Samsung account.
.

Samsung Apps :
You can enjoy variety of free and for pay news, sports weather and gaming apps on the TV
as you would on a smart phone or tablet.
.

On TV : You can view the current programs on TV at a glance and view programs recommendation
by channel or by time for programs that will be broadcase later. In addtion, you can watch
recorded videos.
.

Movie & TV Shows :
You can purchase and view a movie or TV program directly through the app provided by
SMART HUB connecting an external video source such as a DVD or Blu-Ray player.
.
Multimedia :
You can play back photo, video and music files from an external storage device or watch
recorded videos.
Please click the submit button below to share your feedback with us. Thank you for your participation.
Please answer all questions.