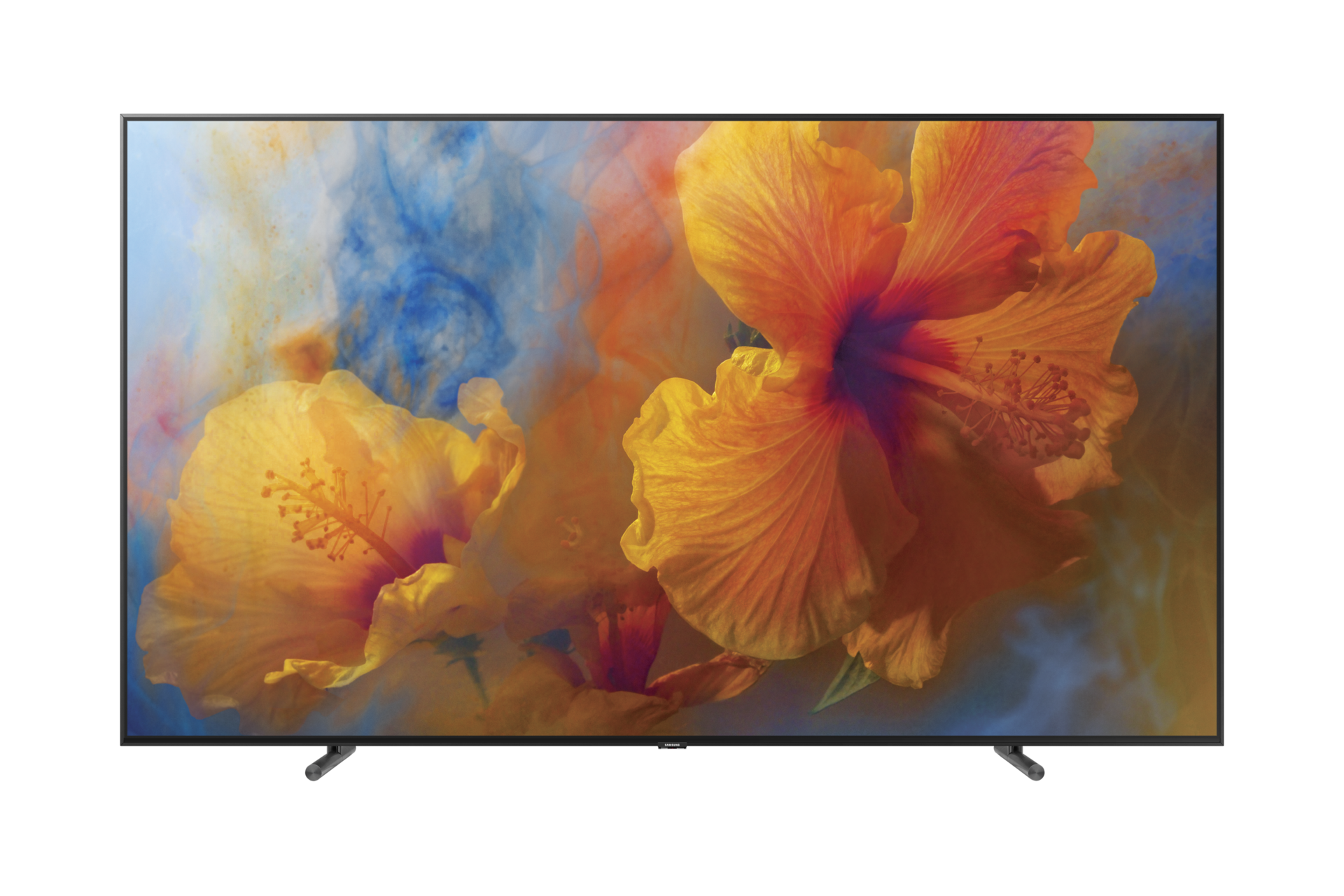 88" QLED 4K Flat Smart TV Q9F
QA88Q9FAMJXZK
Available
Quantum Dot Display
Not Available
Curved Screen
QLED. The Next Innovation in TV.
Breathtaking picture quality with an impeccable design tailor-made to fit anywhere. Easy access to all your content and more. This is QLED TV.
Recognized as the highest rated TV
Samsung QLED TV Q9 became the first product ever to receive awards in all 3 categories from renowned German IT magazine Video. The winner of the REFERNZ, INNOVATION, and HIGHLIGHT awards for 2017, and was recognized as the 'role model for HDR TVs.'
Color Volume 100%*
Discover a world of color volume that will change your thinking about TVs. Q9F's wide color range is simply beyond compare, and once you see the real world, you'll never settle for less.
*QLEDTVshavereceivedverificationfromworld-classtestingandcertificationassociation,VerbandDeutscherElektrotechniker(VDE),foritsabilitytoproduce100percentcolorvolume.
Q Contrast Ultimate
Q9F delivers phenomenal viewing with more depth and bolder contrasts. No matter the time of day, get mesmerized by the intensity of every scene.
Q HDR 1500
See what others can't. Get pulled into scenes just as the director intended, finding the ultimate details that used to stay hidden in dark shadows or whitewashed by brightness.
*ThepeakbrightnessmayvarydependingonthemodelandsizeoftheTV.
*ThepeakbrightnessmayvarydependingonthemodelandsizeoftheTV.
TV, that lasts long time
The Samsung QLED TVs that are composed by inorganic materials last consistent bright, vivid image quality for years.
*WhatisBurn-in?   Burn-inisapermanentdefectinareasofaTVdisplaythatcanbecausedbycumulativeeffectsofdisplayingthesameimageorsceneforlongperiodsoftime,sometimesevenaslittleasonehour.
Q Viewing Angle
Say goodbye to color distortion. Enjoy the same viewing experience anywhere in your space. With Q9F's vivid colors and great viewing angles, every seat is a great seat.
Q Engine
A more powerful engine to drive that great view. Q engine is faster than before, analyzing content to give you optimal picture quality available.
Truly captivating
Sheer luxury meets modern finesse. With an exquisitely polished back and neatly hidden wires, the Q9F looks fabulous on a stand or hung artfully on the wall.
Invisible Connection
Make better use of your space. With a single, nearly invisible optical cable, you can connect your devices without any messy tangled wires. Connect invisibly.
*The'InvisibleConnection'referstoasingle,transparentopticalcableconnectedtotheOneConnectBoxintegratingexternaldevicecables,butitdoesnotrefertothepowercableoftheTVorcablesconnectedtootherdevicessuchassoundbar.
Clean Back
Place your TV anywhere. The perfectly clean back design neatly organizes cables inside the elegant stand. Modern simplicity, even from the back.
"No Gap" Wall-Mount*
The Q9F mounts beautifully right to the wall, leaving no gap between. Gorgeous from all sides, it fits perfectly in your living room.
*TheembeddedwallmountminimizesthespacebetweenthewallandthehangingTV.MeasuredfromrearendoftheTV,thespacemaydifferbasedontheinstallationmethodandwalltype.
*TheembeddedwallmountminimizesthespacebetweenthewallandthehangingTV.MeasuredfromrearendoftheTV,thespacemaydifferbasedontheinstallationmethodandwalltype.
Boundless 360° Design
Timeless design perfect for any décor. Unparalleled immersion without any visible bezel. A refined and minimalist all metal back design. There's just nothing like it.
4 Sides Bezel-less Design
See the world through your own space. With no bezels on all 4 sides, get a truly immersive viewing experience. See scenes come alive before your eyes.
Full Metal Design
The Q9F's clean and smooth all metal back blends beautifully anywhere in your home.
The secret is in the back
Rethink the way you set up your TV. QLED TVs have a versatile one-mount solution that lets you easily mount it on a wall or choose your favorite stand.
*NoGapWall-mount,StudioandGravitystandssoldseparately.
*StudioandGravitystandarecompatiblewith55"/65"QLEDTVs.
Smarter than ever
Now you really can just sit back and enjoy.
*Netflixstreamingmembershiprequired.
One Remote Control
Get the ultimate control in the palm of your hand. Control all devices connected with just the one remote control. With Voice Control, you'll never have to flip through channels again.
*Netflixstreamingmembershiprequired.
*Actualproductandremotecontrolmaydifferfromimageshown.
Smart Hub
See everything in one place. One Depth gathers a variety of content for you on one screen. Get easy access to different content providers and check out the thumbnail previews before diving in.
Auto Detection
Find and recognize all your connected devices faster. QLED TV automatically displays device names, and makes all your input selections a breeze.
*DevicesmustbeconnectedtoOneConnectviaHDMIcable.
*DevicesmustbeconnectedtoOneConnectviaHDMIcable.
Smart View
Just connect your mobile to your big screen and enjoy all your content. And with the Smart View app, you can seamlessly control everything from your mobile.
*SupportsAndroid4.1andabove,iOS7andabove,Windows7andabove.
*WatchmovieslikeMarvelStudios'DoctorStrange,CaptainAmerica:CivilWar,andmoreonGooglePlayMovies&TV.
*©2014WarnerBros.EntertainmentInc.,VillageRoadshowFilmsNorthAmericaInc.andRatPac-DuneEntertainmentLLC. ©2016DisneyEnterprises,Inc.AllRightsReserved. MarvelStudios'CaptainAmerica:CivilWar©2017MARVEL.TheGirlontheTrain©2016UniversalStudios.Suicide Squad TM & © DC Comics. © 2016 WBEI.AllRightsReserved.
QLED

Series

88"

Screen Size

Available

Quantum Dot Display

Not Available

Curved Screen
User manual & Downloads
Live Chat
Features and specifications are subject to change without prior notification.

Each of the following remarks is only applicable to the corresponding product features or specifications which are related to such remark on this page.



-Images are for reference only. Please refer to the actual product. In case of any disputes arising, the decision of Samsung Electronics H.K. Co., Ltd. shall be final.

-Certain Samsung Smart TV features may not be available without express consent to the collection and use of personal information.

-Mirroring function is optimized for use with the latest Samsung smart phones and tablets. Compatibility may be limited by model, version and support of mirroring functions such as AllShare Cast or Screen Mirroring; please contact a Samsung service representative for assistance regarding compability at the time of purchase.

-All other products and services mentioned may belong to their respective trademark owners.