How to connect a Galaxy smartphone to a Galaxy Book
Galaxy Books give you seamless continuity with your Galaxy smartphone via Samsung DeX and Windows Your Phone which comes preinstalled on the Galaxy Book Flex and Galaxy Book Ion. Use Samsung DeX to use your phone like a PC. You can drag and drop files and folders or write messages and emails from your smartphone using the keyboard, mouse and display of your Galaxy Book. Microsoft Your Phone lets you connect wirelessly, mirror your phone, sync notifications and more.
Samsung DeX
It's much more convenient to work on documents and send messages with a bigger screen and using a keyboard and touchpad or mouse. Samsung DeX lets you use your Galaxy Book to access your smartphone, including the mail and gallery folders so you can copy and move files between your smartphone and your Galaxy Book quickly and easily. Samsung DeX comes preinstalled on the Book Flex and Book Ion.
Please note: Samsung DeX for PC is available on select devices (including Galaxy Fold, Galaxy A90, S8 series and above, Note9 series and above and Galaxy Tab S4 and above). Samsung DeX availability varies by region.
1
Connect your Galaxy smartphone to your Galaxy Book via USB.
2
When the Samsung DeX interface appears on-screen, tap "Start now" on your smartphone.
3
You can now view your smartphone content on your Galaxy Book screen and interact with your phone using the touchpad.
Microsoft Your Phone
Microsoft Your Phone is an app that syncs your compatible Galaxy smartphone with your Galaxy Book wirelessly. The app displays all your phone notifications on your Galaxy Book screen, and you can also send and receive messages as well. You can also mirror your phone's screen and control your phone with the keyboard and touchpad. It comes preinstalled on the Book Flex and Book Ion as well as newer Galaxy smartphones.

Please note: Microsoft Your Phone is compatible with PC's running Windows 10 April 2018 update or later and phones running Android 7.0 (Nougat) or above. For screen mirroring, your PC must be running Windows 10 version 1903 or later (19 H1 Update) and this feature is currently only available on Samsung Galaxy Note 10 in select markets.

To get started, first make sure that your devices are connected to the internet and that you are logged in to your Microsoft account on your Galaxy smartphone and Galaxy Book.
Then, on your smartphone:

1
Swipe down from the top of your screen to reveal the Quick Panel and tap "Link to Windows".
2
Sign in to your Microsoft account.
3
Select "Add Computer".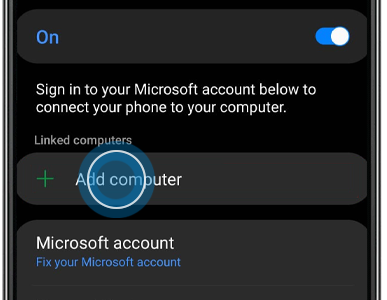 Then, on your Galaxy Book:
1
Open the browser and navigate to 'www.aka.ms/addComputer'. When the browser prompts you to open the "Your Phone" application, select "Open".
2
Sign in to your Microsoft account, of you aren't already signed in.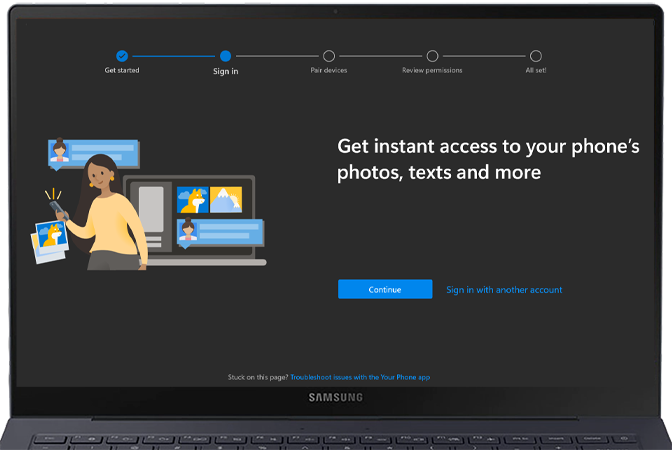 3
The application will show you a PIN code, in the format 123-123-123. Enter this in to your Galaxy smartphone.
We would love to know your feedback to help us improve. Please click submit to tell us what you think.
Please answer all questions.