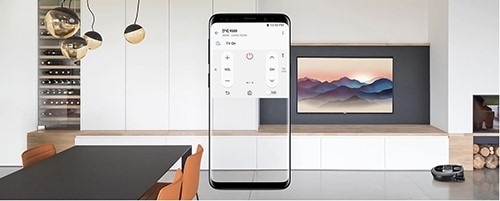 SmartThings is a Samsung application that allows you to manage your home appliances and other compatible electronic devices directly from your smartphone or tablet. You can monitor the status of connected devices when you're away from home, set automatic programmes for each room and even share control permissions with other family members. The SmartThings application is available on Android and iOS devices.
Main features of SmartThings:
Remotely control connected devices, check their status and program actions for each of them.
Create "Scenes" to group different devices and set up simultaneous actions (turn off lights and TV, etc.).
Personalise the settings of the connected devices.
Share permissions with other "Members" (up to 20 users).
Receive notifications when the status of a connected device has changed.
Please note: Some features may not be available in some countries and may vary depending on the model.
Please note:
The steps, options and functions may vary depending on the model and operating system used. All steps, options and functions described in this FAQ have been performed with a Note10+ with Android 10 operating system.
Any device managed by SmartThings must be connected to a Wi-Fi or other wireless network.
To ensure devices interact with each other, all devices must be registered with a Samsung account.
Downloads and wireless communication between devices may incur costs when using mobile data.
Available technologies features and functions may vary by country, service provider, network environment or product.
We would love to know your feedback to help us improve. Please click submit to tell us what you think.
Please answer all questions.