Function of the Turbo Mode
Last Update date :
Oct 12. 2020
Turbo Mode :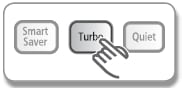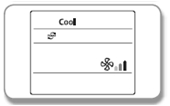 ● Turbo function will be helpful to Cool your room quickly and more effectively.
● Turbo function is only available in Cool Mode.
Steps to set the Turbo function :
● Press the Turbo function on the remote controller during Cool mode.
● Turbo indicator appears on the remote controller display and the air-conditioner operates in Turbo function for 30 minutes.
● If you press the Mode button when the Turbo function is on , it will cancel the function.
Temperature/fan speed cannot be adjusted while using the Turbo function.
● Under this mode, compressor and fan starts together for 30min and then after the time it runs normally.