How to handle RAM usage in Jelly Bean 4.1 based Samsung smart phones?
Last Update date :
Oct 26. 2020
STEP 1. OPEN TASK MANAGER
We should know how to handle RAM usage in smart phones to reduce load on processor and get the best performance out of your smart phonne. Lets find out how we can do that :
a) Long press on Home button as shown below :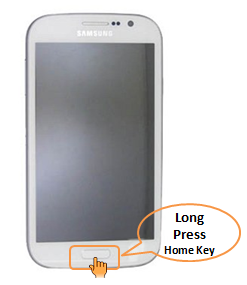 b). It opens a task manager and now click on the RAM usage icon as shown below :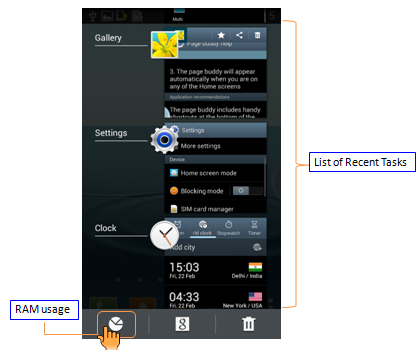 STEP 2. HANDLE RAM USAGE
c). Once you click on it, the following screen appears with Four icons ( see below) :
The four options are as :
● Active Application.
● Downloaded Apps
● RAM
● Storage

d) As you click on RAM , the following screen appears :
RAM Status : It shows the RAM in use at present. In the example below 425MB is in use out of total system RAM of 804MB.
Clear Memory : Once you press this , it clears memory which further reduces applications thats running in the background.
Storage option will tell you present memory in use. Android system running in the background also consumes space and that is the reason why the difference between usable space and total space.
Please answer all questions.