What is Mobile High-definition Link port in Samsung TV's?
Last Update date :
Oct 26. 2020
Samsung's Smart TV supports MHL (Mobile High-definition Link) via MHL-to-HDMI cable. It is a technology found in many devices, displays and accessories today. MHL-enabled smartphones and tablets connects to HD displays, delivering crystal-clear HD content and immersive surround sound, while simultaneously charging the phone. MHL makes it possible to enjoy video, image, and audio files from mobile devices on your TV. However, MHL is only available through the TV's HDMI (MHL) port and only when used in conjunction with an MHL-enabled mobile device. Connect the MHL-to-HDMI cable to the TV's HDMI (MHL) port and the mobile device's USB port.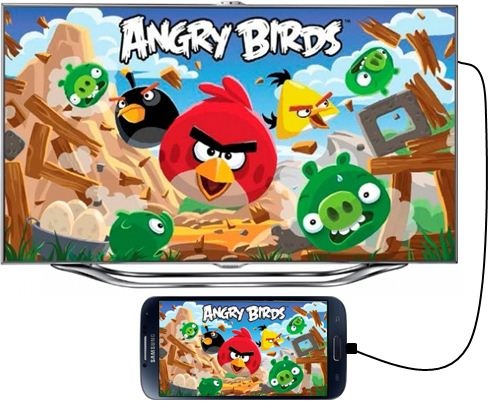 (MHL link between TV and Mobile)
Advantages by using MHL cable when connected with Samsung TV :
● Allows consumers to connect mobile phones, tablets and other portable consumer electronics (CE) devices to high-definition televisions.
● Brings games, photos, videos, and all your mobile apps to the big screen.
● Simultaneously charges your phone battery while your device is connected.
● Supports HDCP technology for viewing protected digital content.
● The MHL standard supports up to 1080p/60 high-definition (HD) video and 7.1 surround sound audio while simultaneously charging the connected device.
● Connecting the MHL-to-HDMI cable automatically switches Picture Size to Screen Fit.
● While using an HDMI adapter Picture Size to Screen Fit will not change automatically, need to change the settings manually in the menu.

NOTE : MHL port is available in E, ES and F series (7/8/9) models. While using HDMI adapter, the TV recognizes the signal as an HDMI signal and may respond differently than it would to an MHL-to-HDMI cable connection.