How to check drain pump filter of my Samsung washer?
Last Update date :
Jun 27. 2022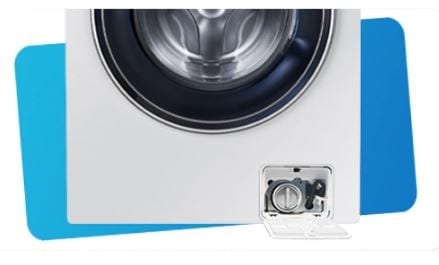 Your washing machine's drain pump is responsible for pumping water out of the main drum so that it can be drained away. The drain pump filter protects the pump by filtering the water that drains out from the drum. Over time, lint builds up in the filter and small items such as coins, hairclips or hair can become trapped in the filter. If the filter is clogged, your washer might not drain properly so your clothes may be wet when the cycle finishes or the cycle may take longer than expected to finish. In some cases, the washing machine might not spin properly or may by noisy or vibrate excessively. 
To stop the filter getting clogged and to ensure the smooth running of your washing machine, it is important to clean the drain pump filter regularly.
Step-by-Step Guide
1
Locate the small access door on the front of your washing machine.
2
Place a towel on the floor in front of the washing machine and have a shallow dish ready nearby.
3
Press firmly on the access door on the front of the washing machine or use a coin to open the door, depending on the model of your washing machine.
4
Pull out the emergency drain hose and position the spout over the dish. Remove the cap and let the water flow out into the dish until it stops flowing.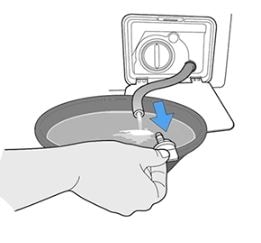 5
Replace the cap on the emergency drain hose and secure it properly back in position.
6
Rotate the drain filter anti-clockwise to remove it from the housing.
7
Remove any debris from the filter and wash it in warm water to clean it properly.
8
Wipe the drain pump filter recess with a damp cloth.
9
Replace the drain pump filter and rotate it clockwise to lock it in place.
10
Close the access door.
Please answer all questions.