How to Request Visual Support for Samsung Home Appliances
Last Update date :
Oct 05. 2020
Contactless Service Introduces Visual Support Feature - Less Contact, Less Worry
Convenient, Accurate and Efficient Customer Service. Samsung's Visual Support service now allows consultants to directly assess a product's environment as well as its appearance, significantly improving the accuracy of diagnoses as compared to general telephone consultation, especially on home appliances that often experience non-defect-related issues.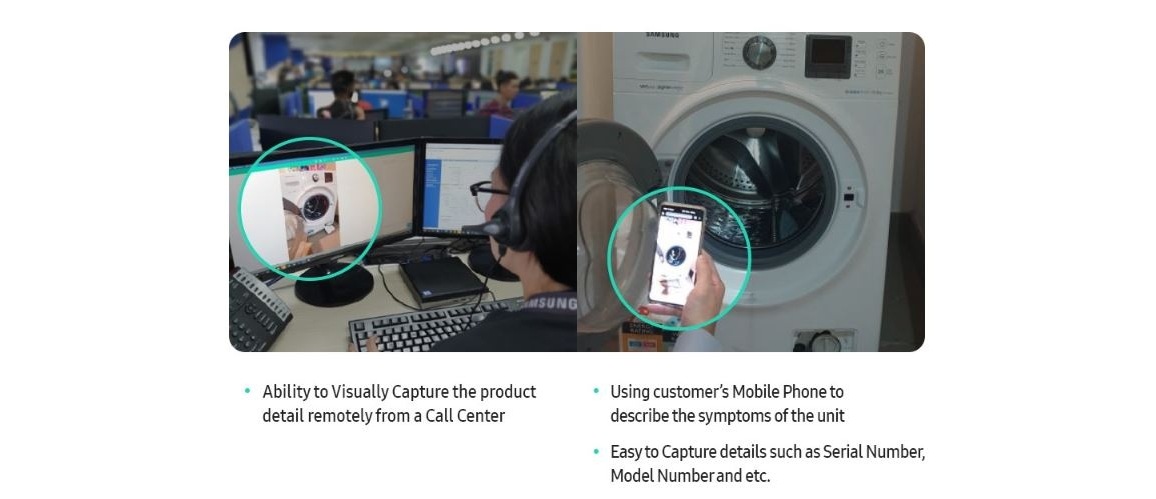 How to Request Visual Support
1
Call to Careline 1800-88-8899 and request visual support.
2
URL link that launches straight into the Visual Support permissions process will be sent to the you via SMS.
3
Once permission has been granted, the consultant is able to analyse a product as seen directly through the your camera.
Useful Functionalities for Effective Customer Care
Samsung's Visual Support service includes several useful functions for efficient and effective consultation:
To indicate a specific area of the product, both the consultant and the customer can annotate on the screen, creating a simpler and more convenient process for all.
Conveying the product's model name and serial number is an easy and automatic process now with the scan function of the service.
Customers no longer need to manually share these complex information with the consultants.
The Visual Support service allows customers and consultants to simultaneously speak on the telephone while streaming and capturing images during consultation. These images captured can also come in useful further down the product repair process.
Should the product be placed in a low-light environment, Samsung consultants can remotely turn on the customer's phone flashlight during the phone call in order to better assess the situation.
With enhanced troubleshooting offered by the Visual Support service, customers can easily and accurately receive diagnosis from Samsung's consultants without having to struggle with technical product details themselves. The in-depth analysis allows consultants to make more informed determinations on whether a product repair service is necessary, saving time and effort for the customer.