International News
Fashionistas Fall in Line: Samsung Announces Expanded Line-up for Galaxy Z Flip and LINGWU Collaboration
Apr 30. 2020
Sartorial statement achieved with Galaxy Z Flip in Mirror Gold and Galaxy Z Flip Thom Browne Edition, along with in-season capsule bag accessory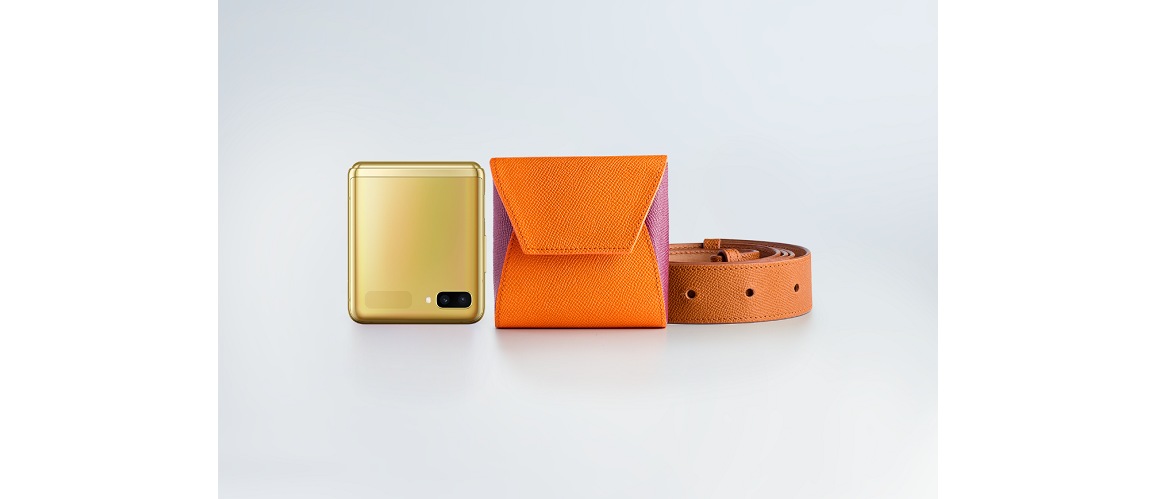 The Galaxy Z Flip in Mirror Gold and the LINGWU capsule bag for Galaxy Z Flip
An all-new colour way, an exclusive collaboration with an iconic New York fashion brand, and an in-season accessory designed for the fashion forward foldable are set to entice trendsetters to elevate their style game – even as they stay at home.
Samsung Electronics Singapore announced today that the new Galaxy Z Flip in Mirror Gold and the Galaxy Z Flip Thom Browne Edition will be coming to Singapore, setting the stage for every modern fashionista to accessorise to impress. The former will be available for sale online from 2 May, while the latter is set to arrive in June1.
In addition, Samsung has unveiled an exclusive collaboration with LINGWU, a Singapore-based accessories atelier, for the launch of the LINGWU capsule bag. Available in limited quantities, the bespoke creation is a one-of-a-kind fashion accessory for those seeking a unique statement piece to house their stylish foldable.
"The Galaxy Z Flip has definitely challenged the norm in terms of its size, design and functionality as a modern smartphone. It has been well-received by first movers and tastemakers in Singapore, having sold out twice during launch period. We are still seeing favourable demand from a group of consumers who seek unique mobile experiences to complement their style. With that said, we are pleased to expand the Galaxy Z Flip line-up with the Mirror Gold variant and Thom Browne Edition, in addition to the existing Mirror Purple and Mirror Black," said Sarah Chua, Vice President, IT and Mobile, Samsung Electronics Singapore. "We are also excited to be working with home-grown Singapore brand LINGWU for a category shifting smartphone accessory, which definitely helps more customers to express their individuality."

Connecting fashion to technology with all-new Galaxy Z Flip in Mirror Gold and Galaxy Z Flip Thom Browne Edition
Tastemakers will be spoilt for choice with the release of Galaxy Z Flip in Mirror Gold and Thom Browne Edition, as both are perfect for users who want their technology to be as iconic as their wardrobes.
The Mirror Gold speaks to individuals who are seeking a statement piece to express their unique selves as the colour stands out among conventional colour options available in market. On the other hand, the Thom Browne Edition is created for those who wish to be transported to a world of luxury and high style.


The Galaxy Z Flip Thom Browne Edition draws on Samsung's all new Galaxy Z Flip device and the fashion brand's bold, timeless style to introduce a ground-breaking, foldable smartphone experience
Users familiar with the distinguished designer's aesthetics will find similarity between the smartphone and its trademark grey suit. The device features the brand's signature red, white, and navy brand colours, draped on a pebble grey exterior pulled straight from the runway. To complete the look, the special edition version also comes with custom designed Galaxy Buds+ and Galaxy Watch Active2.
The limited-edition smartphone is the first of its kind to be encased in glass while still having a matte look that is soft to the touch and effortless to hold. When unfolded, the Galaxy Z Flip Thom Browne Edition reveals even more design details inside, including:
Iconic blinds, a reference to the mid-century office aesthetic at the centre of the Thom Browne world, which appear onscreen every time the phone is turned on and off;
Pre-set app icons, labelled in classic text, as well as custom wallpaper which create an elemental Thom Browne uniformity;
Distinctive sound cues including a typewriter for the keyboard, an analogue ringtone, and a shoe tap on a marble floor, that tie the entire experience together.
"The foldable category brings about new innovations and technology, and we looked at how we can best satisfy our consumers' needs to provide contemporary and special experiences. The Galaxy Z Flip is a nod to Samsung's priority in satisfying customers' varying needs. We delivered on a unique smartphone experience in four key aspects – new size, new angles, new style and a new foldable visual that is easy to carry anywhere," said Tae-joong Kim, Head of Next Generation Product Design Group, Samsung Electronics.
The Galaxy Z Flip is built for people on-the-go. It can remain open at multiple angles, just like a laptop screen. One of the device's most exceptional features is the Flex Mode2, a custom user-built experience for the forward folding form factor. Users can take hands-free selfies or conduct video calls at different angles effortlessly with Google Duo3. They can also easily create video content, capture vivid low light shots or hyperlapse footages without the need for flash with Night Hyperlapse Mode.
When the device is free-standing, the display automatically splits into two screens so you can easily view images, contents or videos on the top half of the display and control them on the bottom half2.
Furthermore, the Galaxy Z Flip ensures that you never miss a call or a notification. When closed, users can check the date, time and battery status at a glance on the cover display. Users can also easily answer a call without unfolding the smartphone or respond to a text by simply tapping the notification and unfolding the Galaxy Z Flip to get to the message app directly with App Continuity4.
Show your individuality and #SupportLocal with LINGWU capsule bag for Galaxy Z Flip
The LINGWU capsule bag for Galaxy Z Flip is an exclusive accessory designed in collaboration with Singapore brand LINGWU. The bag takes the shape of an in-season accessory that is popular among fashionistas - the belt bag - and has been reimagined to fit the profile of the Galaxy Z Flip.
Available in two colour options, Orange and Orange/Purple, the capsule bag is crafted from Epsom leather that is commonly used for luxury handbags. Elevated by Asian local craftsmanship, the bright colours and clean lines of the capsule bag appeals to both male and females. The scratch-resistant leather ages well with time to become a truly one-of-a-kind piece. It also sports a magnetic closure, inspired by the Galaxy Z Flip.
Style the capsule bag any way you like. Sling it over your shoulder for a laid-back look or go completely hands-free and wear it on your waist like a fanny pack – a homage to vintage 80's fashion.
The design process was challenging given the small size and unique shape of the smartphone. The brief challenged Goh Ling Ling, designer of LINGWU (pictured above), to rethink her approach and design philosophy.
"This brief was challenging, yet exciting. It was truly innovative – a local brand having the opportunity to collaborate with a global technology giant to create a capsule bag, unlike the usual LINGWU bags that are large," said Goh Ling Ling. "Just like the Galaxy Z Flip, the capsule bag pushes the boundaries when it comes to the thinking behind a product form but remains versatile for everyday use."
Local Availability and Pricing
Starting from 2 May, the Galaxy Z Flip in Mirror Gold will be available for online purchase at a recommended retail price of $1,998 on the Samsung Online Store, Singtel Online Shop, M1 Online Shop, major consumer electronics and IT retailers' online shops, and KrisShop Online. The Galaxy Z Flip in Mirror Gold will also be available in stores after circuit breaker measures are lifted5.
Customers will also receive a pair of Galaxy Buds+ worth $268 for every Galaxy Z Flip purchased on the Samsung Online Store or major consumer electronics and IT retailers' online shops, while stocks last6.
All Galaxy Z Flip devices come with Galaxy Z Premier Service7. This specialised care offering provides customers with the most premium product experience possible.
The LINGWU capsule bag for Galaxy Z Flip is available at $188 (U.P. $368) with every new Galaxy Z Flip purchase, and is only available on the Samsung Online Store. Only 88 pieces are available for purchase, while stocks last.
Galaxy Z Flip Thom Browne Edition is slated to launch in Singapore in June. More details will be shared closer to launch date.
1 Launch date pending Circuit Breaker updates from the Singapore government.
2 Certain applications may not support Flex Mode.
3 Google Duo is a trademark of Google LLC.
4 Certain applications may not support App Continuity; compatible apps growing through third party developers.
5 Pending advice from the Singapore Government.
6 Terms and conditions apply.
7 Terms and conditions apply. For details, refer to https://www.samsung.com/sg/support/galaxy-z-premier-service.