International News
Pre-order Collection of Samsung Galaxy S7 4G+ and S7 edge 4G+
Mar 11. 2016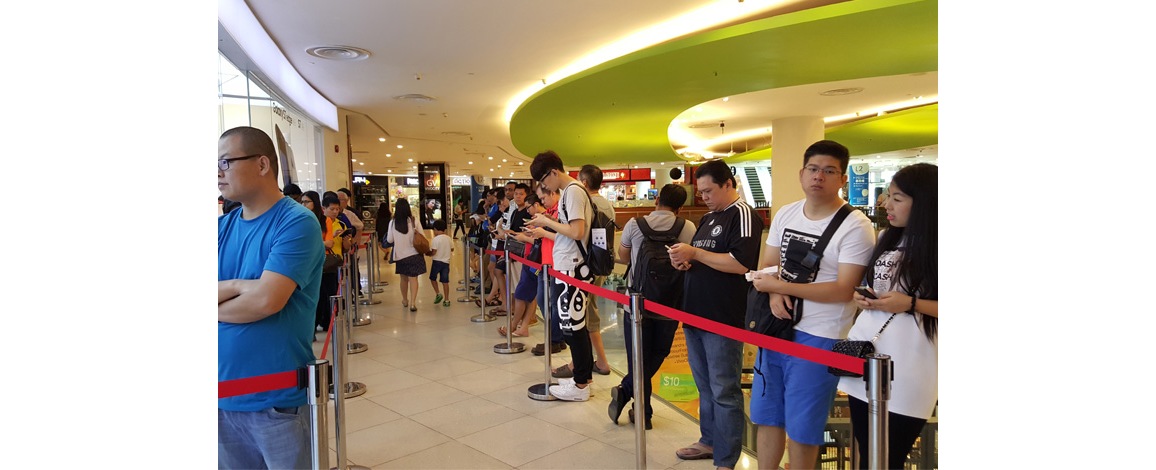 The moment has finally arrived! Today, consumers who successfully pre-ordered the Samsung Galaxy S7 4G+ and S7 edge 4G+ collected their brand new devices from M1, Singtel, StarHub and Samsung Experience Stores.
"The response for the Galaxy S7 4G+ and S7 edge 4G+ pre-orders has been encouraging. We want to thank consumers for their strong support and we hope they will enjoy rethinking what the Galaxy S7 4G+ and S7 edge 4G+ can do. Consumers have our assurance that we will continue to enrich our ecosystem of devices and services to enhance their mobile experience," said Eugene Goh, Vice President, IT & Mobile, Samsung Electronics Singapore.
Pre-orders/registration of interest started from 10am on 26 February 2016 at Samsung Experience Stores and with the telecommunication operators. Upon pre-order collection, customers received the exclusive pre-order complimentary gift – a Samsung Gear VR, worth $148.
Samsung Experience Stores:
•Central: Great World City #02-39 Tel: 6235 1134, Paragon #B1-27/27A Tel: 6735 5926, VivoCity #02-28/29 Tel: 6376 9150, 313@somerset #B2-24/25/26 Tel: 6836 1809, Bugis Junction #01-54 Tel: 6338 7911, Chinatown Point #01-48 Tel: 6222 7911
•East: Tampines Mall #02-29 Tel: 6782 9575, Bedok Mall #B1-07 Tel: 6785 1118, Parkway Parade #03-30F Tel : 6440 7969, Singapore Changi Airport Terminal 3 #02-23 Tel : 6241 4125 (Open to transit and departing passengers only)
•North: AMK Hub #B1-37/38 Tel: 6753 6070, nex #04-42 Tel: 6636 7392, Causeway Point #03-12 Tel: 6891 1011
•West: Jurong Point #B1-09/10 Tel: 6791 2272, Westgate #01-01 Tel: 6369 9175
Pre-order collection queue photos and customer quotes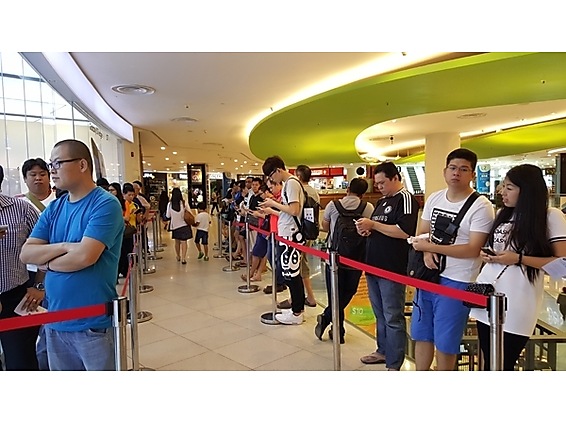 •Excited Samsung customers waiting in anticipation to collect their Galaxy S7 4G+ and S7 edge 4G+ at the Samsung Experience Store at VivoCity

•First customer to receive his Galaxy S7 edge 4G+ at the Samsung Experience Store at VivoCity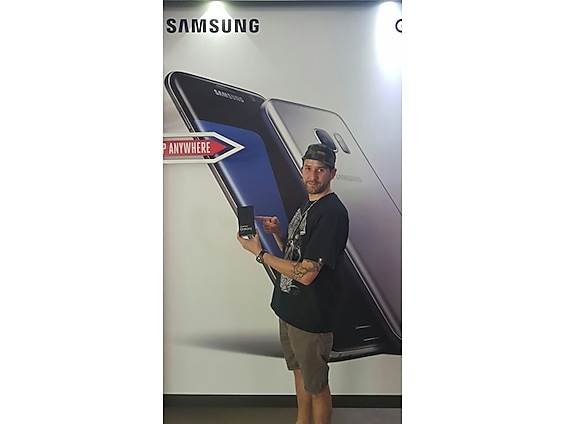 •One of the first customers to receive his Galaxy S7 edge 4G+ at Singtel at Comcentre

•One of the first customers to receive his Galaxy S7 edge 4G+ at M1 at Parago

•One of the first customers receiving his Galaxy S7 edge 4G+ at StarHub at Tampines Mall
We've also appended quotes from a few of the first customers in line at the various collection locations:
•Singtel at Comcentre
        o"I've always been a Samsung fan, especially because of the expandable storage. I'm currently using a Galaxy Note 4 and when I heard that they brought back the microSD card slot on the Galaxy S7, I knew I had to get the phone." – Bruce Wagner, 35, Regional Customer Service Manager
•M1 at Paragon
        o"My first ever smartphone was a Samsung and the brand has always served me well. I was using a Note 3 before but wanted to try a smaller screen size. I'm most excited about the return of the microSD card slot!" – Jason Gan, 28, Civil Servant
•StarHub at Tampines Mall
        o"Having pre-ordered the phone two weeks ago, I knew I had to upgrade my Galaxy S5 to the Galaxy S7 because of the water-resistance, the low-light photography function as well as the expanded storage of up to 200GB." Low Seow Tiong, 38
        o"I've been an iPhone user for about five years now, and with the launch of the Galaxy S7, I thought I'd give Samsung a shot, especially since the Gear VR compatibility looks really cool and interesting." Fiona Tan, 38
•Samsung Experience Store at VivoCity
        o"I started queuing at 8am. I had to get the Galaxy S7, the features and functions are so much more advanced and better than a lot of other phones. Its water-resistant feature was what made up my mind to purchase it." – Wong Tuk Keong, 40, Self-Employed
        o"I always have been an iPhone user, but lately their upgrades have been similar to its previous one, and there's not much 'new' or 'wow' in them anymore. I thought I'll try the Galaxy S7 edge instead, and also because the size is just nice for me. I bought Samsung Concierge too as I always prefer to have insurance for my phones, and $38 for that is very good value indeed." – Gurpreet Singh, 30, Consultant
Key highlights of the Samsung Galaxy S7 4G+ and S7 edge 4G+
•Advanced Camera: High Quality Images No Matter the Time of Day or Location – The Galaxy S7 4G+ and S7 edge 4G+ introduce the first Dual Pixel camera on a smartphone, ensuring super fast and accurate Auto Focus so users will not miss a moment again. With a brighter f1.7 aperture and bigger 1.4μm pixel, the camera now takes brighter and clearer images even under low light conditions. Motion Panorama, a new camera mode, brings movement to traditional panoramic photos, giving the user a completely immersive visual experience.
•Refined Design and Function - Constructed with 3D curved glass and metal, the 5.1-inch Galaxy S7 4G+ and 5.5-inch S7 edge 4G+ combines sleek design with durability and ergonomic curves for a firm and comfortable grip. From work to play, the device's new Always-On Display, gives users a simplified, zero touch experience where they don't need to worry about missing a call or important notification even when the screen is off. In addition, the Galaxy S7 4G+ and S7 edge 4G+ both have increased utility with IP681 certified water and dust resistant capabilities. Edge UX, the advanced edge experience available on Galaxy S7 edge 4G+, also provides convenience and increased efficiency by creating easy shortcuts to users' most loved functions such as email, selfie mode, panorama mode or third party applications.
•Enhanced Performance: From Charging to Gaming – The Galaxy S7 4G+ and S7 edge 4G+ deliver fast wired and wireless charging technology. Additionally, the hybrid SIM card tray allows users to insert either a microSD card2 for up to 200GB of additional storage, or a dual SIM card to save the hassle of carrying multiple devices.
Samsung also made significant hardware and software updates to optimise gaming performance on Galaxy S7 4G+ and S7 edge 4G+. The powerful processor and bigger battery capacity ensure longer playing time, and the internal cooling system helps to prevent the device from overheating. Game Launcher, a new add-on for gamers, allows users to manage battery consumption and minimize notifications. Additionally, users can record their gaming experience or share their screen to play with others.
Local Availability and Pricing
The Galaxy S7 4G+ and S7 edge 4G+ will be available from 12 March 2016 at $998 and $1,098 respectively. Both models will launch in Black Onyx, Gold Platinum, Silver Titanium, with built-in memory of 32GB3 at all local telecommunication Operators, major consumer electronics stores, authorised retailers and Samsung Experience Stores.
The following Galaxy S7 4G+ and S7 edge 4G+ accessories will be available to complement the devices:


-LED View Cover in Black, Gold and Silver, RRP $98


-Wireless Charging Battery Pack in Black and Silver, RRP $138
-Wireless Charging Stand in Black and White, RRP $98
To help consumers build seamless experiences with Samsung devices, Samsung will be providing purchase with purchase promotions with the purchase of Galaxy S7 4G+ and S7 edge 4G+ from launch until end March 2016:
-20% off RRP of Samsung Accessories4


-$50 off RRP of Gear S2 in Dark Gray and Silver, Gear S2 classic in Black
1 Water and Dust Resistant (IP68 rating) means that device is protected against entry of solid foreign objects and harmful ingress of water at up to 1.5 metres for up to 30 minutes, under certain defined test conditions. According to accredited test results; individual results may vary. Note: IP68 rating does not mean that device is waterproof.
2 Sold separately.
3Actual user-accessible internal storage is less than specified total memory due to operating system, software, and other built-in applications, and may vary after software updates/ upgrades.
4Not valid for purchase of Samsung MicroSD cards, Samsung Solid State Drive, Samsung Premium Care, Samsung Camera Accessories, Mont Blanc Accessories Premium Handcrafted Leather Strap, Samsung Gear VR, Samsung Gear S2 and Gear S2 classic. Other terms & conditions apply.