Samsung adds Singtel CAST's Asian Plus content pack to Samsung SMART TV
Aug 06. 2018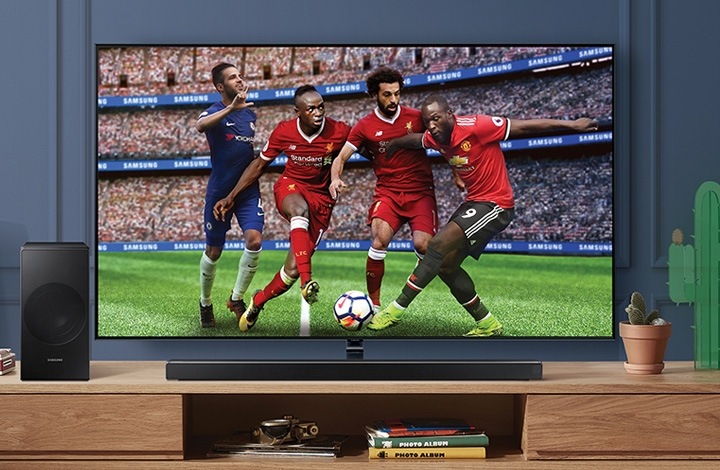 Singapore – 6 August 2018 – Samsung Electronics Singapore today launched an exciting offering for new SMART TV customers, rolled out exclusively in partnership with Singtel. In addition to the Weekend Goals Pack on Singtel's CAST app, new SMART TV customers* can now enjoy on-demand Asian entertainment content with the Asian Plus pack, both free with their selected Samsung SMART TV purchase.
"Samsung is excited to continue its partnership with Singtel to bring such exciting content and value to our Samsung SMART TV customers to enjoy. With Samsung QLED TV's spectacular picture quality creating the most vivid images, it is sure to bring the Premier League Matches and Asian dramas to life for maximum entertainment," said Steven Koh, Director, Consumer Electronics Business, Samsung Electronics Singapore.
Customers will only need a redemption code and internet access to start watching Singtel CAST directly from their Samsung Smart TVs. Sports fans can tune into Weekend Goals - a selection of live Premier League matches; live coverage of the Formula 1 season; and live telecasts of the tennis Grand Slam, including the Australia Open, Roland Garros, Wimbledon and US Open on FOX Sports.
Now, with the Asian Plus Pack, customers can watch popular Jia Le Channel programmes including the latest season of Sing! China simulcast with China, and long-running Taiwanese drama In the Family. They can also catch HK's latest drama series The Great Adventure of Wesley: Mind Port starring Shawn Yue; and selected movies from Star Chinese Movies including local favourite Wonderful! Liang Xi Mei.
Samsung also announced that it is coming on board as the main sponsor for the Premier League 2018-19 season on Singtel TV. "Football is at the heart of many consumers, and we are delighted to partner with Singtel to bring every scoring moment to football fans on their Samsung TVs." said Mr Koh.
From today, customers who purchase selected Samsung SMART TV models[1] preloaded with the Singtel CAST app can enjoy up to one-year free subscription of Weekend Goals and Asian Plus* (worth $44.80 per month). Subsequently, they can subscribe to the individual packs at $$29.90/month (Weekend Goals Pack) and $14.90/month (Asian Plus Pack) monthly without contract.
*This promotion is available at all authorised Samsung retailers with selected Samsung SMART TV models.
[1] Please refer to the Annex below for more information.
***
About Samsung Electronics Co., Ltd.
Samsung inspires the world and shapes the future with transformative ideas and technologies. The company is redefining the worlds of TVs, smartphones, wearable devices, tablets, digital appliances, network systems, and memory, system LSI and LED solutions. For the latest news, please visit the Samsung Newsroom at http://news.samsung.com.
Annex[1]
| | | | |
| --- | --- | --- | --- |
| S/N | MODEL | RRP | SINGTEL CAST SUBSCRIPTION (WEEKEND GOALS PACK + ASIAN PLUS PACK) |
| 1 | QA88Q9FAMKXXS | $29,999 | 12-Months subscription worth $537 |
| 2 | QA75Q9FNAKXXS | $12,999 | 12-Months subscription worth $537 |
| 3 | QA65Q9FNAKXXS | $8,999 | 12-Months subscription worth $537 |
| 4 | QA65Q8CNAKXXS | $6,699 | 12-Months subscription worth $537 |
| 5 | QA55Q8CNAKXXS | $4,699 | 12-Months subscription worth $537 |
| 6 | QA75Q7FNAKXXS | $10,499 | 12-Months subscription worth $537 |
| 7 | QA65Q7FNAKXXS | $6,399 | 12-Months subscription worth $537 |
| 8 | QA55Q7FNAKXXS | $4,499 | 12-Months subscription worth $537 |
| 9 | QA65Q6FNAKXXS | $5,399 | 6-Months subscription $268 |
| 10 | QA55Q6FNAKXXS | $3,599 | 6-Months subscription $268 |
| 11 | QA49Q6FNAKXXS | $2,699 | 6-Months subscription $268 |
| 12 | UA65NU8500KXXS | $4,899 | 6-Months subscription $268 |
| 13 | UA55NU8500KXXS | $3,199 | 6-Months subscription $268 |
| 14 | UA82NU8000KXXS | $10,499 | 12-Months subscription worth $537 |
| 15 | UA75NU8000KXXS | $7,499 | 12-Months subscription worth $537 |
| 16 | UA65NU8000KXXS | $4,599 | 6-Months subscription $268 |
| 17 | UA55NU8000KXXS | $2,899 | 6-Months subscription $268 |
| 18 | UA55LS003AKXXS | $3,999 | 6-Months subscription $268 |
| 19 | UA65LS003AKXXS | $5,599 | 6-Months subscription $268 |
| 20 | UA65NU7400KXXS | $3,599 | 3-months subscription worth $134 |
| 21 | UA55NU7400KXXS | $2,299 | 3-months subscription worth $134 |
| 22 | UA65NU7300KXXS | $3,199 | 3-months subscription worth $134 |
| 23 | UA55NU7300KXXS | $2,049 | 3-months subscription worth $134 |
| 24 | UA75NU7100KXXS | $5,999 | 12-Months subscription worth $537 |
| 25 | UA65NU7100KXXS | $2,999 | 3-months subscription worth $134 |
| 26 | UA55NU7100KXXS | $1,899 | 3-months subscription worth $134 |
List
No Prev Page
No Next Page