Samsung Announces Expanded Card Support for Samsung Pay, with UOB and FEVO Joining its Partner Portfolio in Singapore and the addition of Citi Debit Mastercard®
May 02. 2017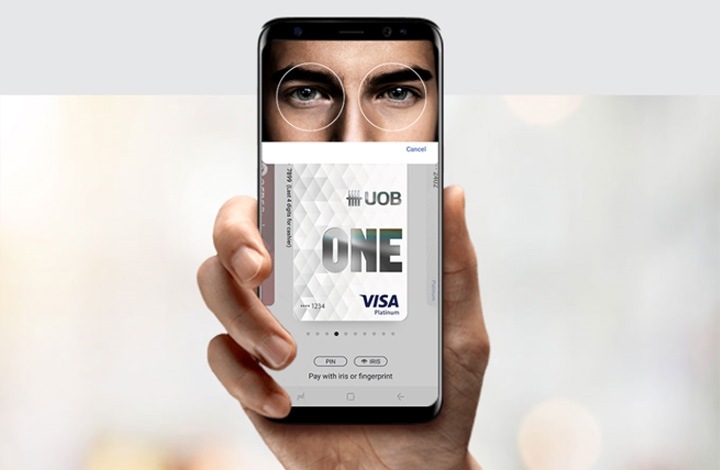 Samsung announces two new additions to its flagship mobile payment service's partnership ecosystem, extending its offerings to more consumers in the country
Singapore, 29 April 2017 – Samsung Electronics Singapore today announced two new card issuers, United Overseas Bank (UOB) and EZ-Link FEVO Prepaid Mastercard, that will be coming onboard its partner portfolio and the addition of Citi debit Mastercard for Samsung Pay, the secure and easy-to-use mobile payment service that can be used to make purchases almost anywhere1 in Singapore.
Beginning today, Samsung Pay users can use their UOB debit or credit cards to make payments across Singapore using their compatible Samsung smartphones2. They can also use their FEVO cards on Samsung Pay for their mobile payments, starting from May 2017. In addition, Citibank customers with Citi debit Mastercard cards now also have the option to use Samsung Pay to make transactions at terminals that accept contactless payments as well as those that do not accept contactless payments. Retail customers of Citi Visa and Mastercard credit cards are already using Samsung Pay since 2016.
"As part of our ongoing efforts to enhance the payment experience for our customers, we are very delighted to have UOB and EZ-Link partner with us for Samsung Pay in Singapore," said Eugene Goh, Vice President, IT & Mobile, Samsung Electronics Singapore. "The added support for Citi debit Mastercard cards also elevates Samsung Pay's flexibility in providing users with more choices when it comes to making mobile payments."
Ms Jacquelyn Tan, Head of Personal Financial Services Singapore, UOB said, "We are always working on ways to make banking faster and simpler. When we introduced the UOB Mighty app in 2015, we were the first financial institution outside of the US to provide customers with the ability to make contactless payments using an Android smartphone. Since then, we have seen monthly growth of more than 20 percent for mobile contactless payments. With the addition of Samsung Pay, our customers will have another option when paying with their smartphone."
"EZ-Link is excited to add another notable dimension to our partnership with Samsung. Now, EZ-Link FEVO card holders can enjoy a faster, easier and more secure way to pay at a large selection of retail points with Samsung Pay. We look forward to continue working with Samsung to advance Singapore's growth potential in the cashless and contactless space," said Nicholas Lee, Chief Executive Officer, EZ-Link Pte Ltd.
Samsung Pay's comprehensive ecosystem of partners and merchants across major payment networks, banks and retailers provides users with greater convenience on-the-go, where they can enjoy the added benefits it brings. With the expanded support for new cards, wide compatibility with more Samsung devices2, combined with value-added services, Samsung Pay brings consumers closer to replacing their physical wallets, while paving the way for a more holistic and enriched mobile experience.
Samsung also understands the increasing importance to consumers the need to be able to protect their content securely and safely on their smartphones. In addition to fingerprint scanning, consumers using the new Galaxy S8 and S8+ can use its integrated iris recognition3 technology, a highly secure biometric authentication system that can be used to unlock the home screen to securely authenticate Samsung Pay to make quick and easy mobile payments. Coupled with Samsung Knox4, Samsung's industry-leading defence grade security platform, Samsung Pay users can be assured of a new level of security and convenience with the blink of an eye.
More Than a Payment Service A secure and easy-to-use mobile payment service, Samsung Pay can be used to make purchases almost anywhere1 that credit and debit cards are accepted.
• SIMPLE: With Samsung Pay, every transaction is made super easy. You simply need to swipe up to bring up the last transacted credit or debit card, scan your iris3 or scan your fingerprint or key in your PIN and make payment.
• SECURE: With each separate transaction, Samsung Pay uses an encrypted digital token to replace sensitive card information to prevent fraud. Your payment information is better protected than ever before. Transactions made on Samsung Pay require registered fingerprint or iris scan3 or PIN for authorization, so you are in control when each payment is made. The encrypted fingerprint and iris scan3 information are stored in a separate, secure area of your device. Samsung's industry-leading defence grade Knox security platform, which received the most "Strong" ratings of any mobile security platform for Corporate Managed Security4, provides real-time kernel protection and monitors malicious software and activities on your device for added security.
•ALMOST ANYWHERE1: Samsung Pay is accepted almost anywhere1 you can swipe or tap your credit or debit card. By incorporating Samsung's proprietary MST (Magnetic Secure Transmission) technology, together with NFC (Near Field Communication), Samsung Pay is compatible with the majority of existing and new payment terminals, allowing users to pay with their compatible Samsung smartphone almost anywhere. Thanks to MST, Singapore users can also use Samsung Pay for transactions up to their individual cards' limit.
***
1 Availability almost anywhere is based on compatibility of Samsung Pay on MST and/or NFC payment terminals, with some supported for use only after software upgrades. Samsung Pay is exclusive to selected Samsung Galaxy smartphones and smartwatches only, and available across all participating payment networks, banks, and merchants. Availability may vary, please check www.samsung.com/sg/samsungpay for updates.
2Devices compatible with Samsung Pay include Galaxy S8 and S8+, Galaxy S7 edge, Galaxy S7, Galaxy S6 edge+, Galaxy Note 5, Galaxy A5 (2016), Galaxy A7 (2016) and Gear S3.
3 Do not use with infants, please consult a doctor before use if you have epileptic or other medical conditions. Iris Scanner may be unable to read your iris where view of your iris is impaired or the appearance of your iris changes, including when you are wearing glasses or coloured contact lenses.
4 Samsung Knox received the most 'Strong' ratings of any mobile security platform in the report "Mobile Device Security: A Comparison of Platforms" from Garter, Inc. The report, published on April 6, 2016, compared the core of security features built into twelve mobile device platforms as well as enterprise management capabilities. Source of data: https://news.samsung.com/global/samsung-knox-receives-most-strong-ratings-of-anysecurity-platform-in-gartner-report-mobile-device-security-a-comparision-of-platforms.
All other company, product and service names mentioned herein are marks, trademarks, registered trademarks, or service marks of the respective owners.
About Samsung Pay
Samsung Pay, a mobile payment service from Samsung Electronics, is simple, safe and available almost anywhere1 you can swipe or tap your card. Combining NFC (Near Field Communication) with Samsung's proprietary MST (Magnetic Secure Transmission) technologies, Samsung Pay provides consumers a way to pay almost anywhere you can swipe or tap a card at merchant locations. Samsung continues to strategically expand its partnership ecosystem for Samsung Pay to provide greater flexibility, access, and choice for customers while enabling an easy and safe payment experience.
About Samsung Electronics Co., Ltd.
Samsung inspires the world and shapes the future with transformative ideas and technologies. The company is redefining the worlds of TVs, smartphones, wearable devices, tablets, digital appliances, network systems, and memory, system LSI and LED solutions. For the latest news, please visit the Samsung Newsroom at http://news.samsung.com.