Latest News
Samsung Debuts the New Family Hub™ Refrigerator, the Industry's First IoT-enabled Fridge, Rounding up its Full Suite of Smart Living Solutions in Singapore
Jul 10. 2018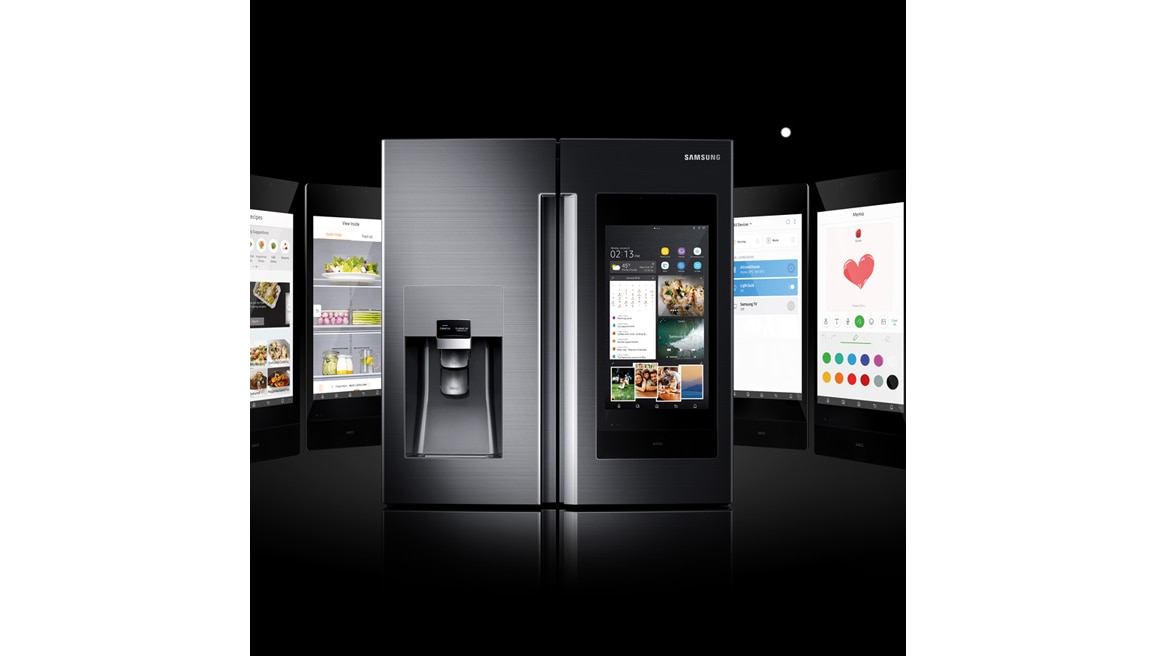 The all-new Family Hub™ refrigerator is the latest addition to Samsung's suite of IoT-connected products and services, taking connected living to a new and more personalised level
Singapore – 10 July 2018 – Samsung Electronics Singapore today announced the debut of Singapore and the industry's first IoT-enabled fridge -- the all-new Family Hub™ refrigerator. Integrated with Samsung's Bixby intelligent voice assistant and SmartThings IoT platform, the award-winning1 refrigerator sits at the centre of a wide ecosystem of Samsung products and services, poised to set a new standard for connected living in Singapore.
"Samsung is constantly looking at ways for our customers to enjoy a connected living experience and the new Family Hub™ comes in as the final element that ties all our products together to achieve that," said Joan Ng, Head of Digital Appliances, Samsung Electronics Singapore. "With the Family Hub™ bringing a new level of intelligent connectivity into the home, we hope that consumers will be able to take advantage of the refrigerator's innovative and personalised features to embrace a connected lifestyle."
The Family Hub™ is a vital element of Samsung's push for connected living in Singapore, in an environment where Singaporeans usually have hectic lifestyles. The refrigerator completes Samsung's IoT-connected offerings in the country, elevating the readiness of its suite of smart living solutions to be plugged into consumers' homes. The refrigerator's integration with the SmartThings IoT platform and Samsung's personalized Bixby voice assistant provides households with the ability to seamlessly monitor and control a wide and ever-growing range of connected devices2, ultimately simplifying everyday life for the busy individual in Singapore's fast-paced society.
Intuitive and intelligent, the Family Hub™ also redefines the refrigerator category, offering a wide range of smart and connected features that enable consumers to do more and beyond the things they could do before. By combining the cloud with intelligent apps, features and capabilities, the smart refrigerator brings together food, family and fun. The Family Hub™ streamlines food management and offers families simple ways to strengthen their connections and keep their household running smoothly.
Simplifying Life with Connected Home Control
In line with Singapore's vision to be a digitally-oriented nation, the new Family Hub™ is the perfect household solution that can meet the needs of a digitally-savvy consumer, to help them simplify and enhance their everyday life. The new Family Hub™ provides users with a central point in the kitchen for easy access to their smart home devices. The refrigerator works with the SmartThings ecosystem, where users can now control and monitor their connected home from the refrigerator's 21.5" Full HD LCD touchscreen. The SmartThings app seamlessly connects the Family Hub™ with various Samsung smart appliances and third-party compatible connected devices, allowing users to do their household tasks without ever leaving the kitchen. They can use the Family Hub™ to start up the washing cycle on their QuickDrive™ washing machine, or power up their POWERbot™ robot vacuum cleaner to go on its cleaning rounds. Through the Family Hub™'s touchscreen, users can also see who is at their front door with Ring doorbell3 or even check on their sleeping baby in the next room4.
The Family Hub™ is also integrated with Bixby, allowing users to easily navigate their apps using voice commands. With Bixby, the Family Hub™ can also recognise individual voices and provide personalised information based on each user's preferences. They can also leave their own customised profiles on the Family Hub™ with personalised avatars.
Enhanced Food Management
The new Family Hub™ helps consumers manage their food, from shopping and meal prep to storage, streamlining their kitchen productivity. With its View Inside app, users can see what's inside their refrigerator without opening its doors and even view their food items remotely from anywhere at any point in time via their smartphones. To reduce food wastage, users can simply add their items via its Food list function and set a food expiry reminder to track their grocery items. Its Meal Planner app takes food management to a more personalised level where it can provide recipes for the family based on food preferences, dietary restrictions and food expiration dates5. In addition, consumers will never need to worry about remembering what foods and ingredients to replenish at home with the Family Hub™'s Shopping List app to remind them of the items they need.
The Family Hub™ is also equipped with a Triple Cooling™ System, an advanced cooling technology that ensures that food stays fresher for longer. The technology keeps the refrigerator running with optimised temperatures that maximize humidity across three different compartments, which also helps prevent food odours from mixing. The refrigerator also comes with a FlexZone™ fridge compartment, which can be easily converted from freezer to fridge and back, depending on users' needs and preferences.
Strengthening Family Connections
The Family Hub™ refrigerator provides enhanced communication, keeping the family more closely connected and organised. The refrigerator is equipped with the customised ability to share calendars, photos and notes with others. Its Memo app allows users to easily leave handwritten notes or draw personalised messages to send to family members, while users can also upload photos to share with their loved ones. Users can also use the Family Hub™ to manage their schedules, complete with colour-coded entries via the Calendar app. They can also rely on Bixby to provide them with a morning brief each day, such as updates on the weather, upcoming events, and even information on expiring food.
Creating New Ways to Have Fun at Home
The Family Hub™ refrigerator offers a seamless multi-room entertainment experience, transforming the kitchen into a place for socialising with family and friends. Users can access their favourite songs through the Family Hub™, which comes built-in with innovative entertainment options including music streaming platforms such as Spotify, and the TuneIn app for listening to live radio. They can even browse the Internet on the refrigerator's connected touchscreen. Using Smart View, they can also mirror content from their Samsung Smart TV6 or stream content from their Samsung smartphone and view it on the Family Hub™. Equipped with the AKG Premium Quality Sound Speaker, the Family Hub™ also features sound that is deep in bass and rich in mid-range adding to the entertainment experience.
Local Pricing and Availability
The Samsung Family Hub™ will be available from 11 July 2018 at a recommended retail price of $7,499, at all major consumer electronics stores. 
Samsung will be holding a launch promotion in celebration of the launch of the Samsung Family Hub™ in Singapore, available till 30 September 2018. Consumers purchasing the Family Hub™ will be able to enjoy a complimentary Ring doorbell, bringing them one step closer to creating their ideal Smart Home. The complimentary Ring doorbell is available while stocks last.
For more information about the Samsung Family Hub™, visit www.samsung.com/sg/familyhub.
About Samsung Electronics Co., Ltd.
Samsung inspires the world and shapes the future with transformative ideas and technologies. The company is redefining the worlds of TVs, smartphones, wearable devices, tablets, digital appliances, network systems, and memory, system LSI and LED solutions. For the latest news, please visit the Samsung Newsroom at http://news.samsung.com.
*All functionality, features, specifications and other product information provided in this document including, but not limited to, the benefits, design, pricing, components, performance, availability, and capabilities of the product are subject to change without notice.
1 2018 CES Best of Innovation Award.
2 Subject to device compatibility.
3 Ring doorbell is sold separately.
4 Arlo Camera sold separately.
5 Features will be available in August through OS update.
6 Compatible with the Samsung 6400 series and above (2015-2017) and 7400 series and above (2018)
Family Hub™ requires an internet connection and Family Hub™ App. Apps and services are subject to change without notice. Data usage fees may apply. Family Hub™ App iscompatible with Android 4.4 and higher or iOS 9.1 and higher.