Samsung launches CenterStage showcase in Singapore
Dec 15. 2015
CenterStage showcase debuts at Harvey Norman Millenia Walk Flagship Superstore to offer unique experiential shopping experience for consumers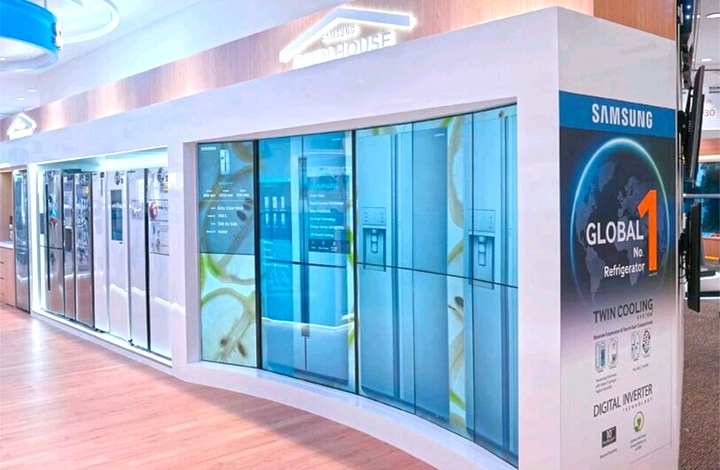 Singapore – 10 December 2015 – Samsung Electronics Singapore has launched its first CenterStage showcase to feature Samsung's entire range of digital appliances in a compelling and immersive environment.
Located at the Samsung Open House at the brand new Harvey Norman Millenia Walk Flagship Superstore, CenterStage provides a revolutionary new digital experience. Consumers can experience the actual physical size representation of appliances in ultra-realism on the 85" Samsung UHD display.
"Samsung is always exploring innovative ways for consumers to experience our exciting range of products. CenterStage provides an excellent platform for us to showcase our full range of digital appliances in their actual sizes while leaving room for us to optimize our retail space. Consumers can even use CenterStage to see for themselves the appliances in all available colours and how these can complement different kitchen and laundry room settings," said Ms. Poh Hwee Hian, Director and Head of Digital Appliances, Samsung Electronics Singapore.
CenterStage offers an interactive shopping experience for consumers to check out the exterior, interior and alternative views of Samsung digital appliances from refrigerators and washing machines to smart ovens. Users can even zoom in to any part of the selected product for an up close view of the material construct and colour composition.
The immersive CenterStage shopping experience is created by marrying Samsung's 85" UHD display with eight 46" LFD displays. For a more pleasant and informative purchase journey, consumers can refer to the wealth of product information at CenterStage, available in multimedia formats like infographics and videos.
Launched in countries including the US, China and Thailand, Samsung launched its first CenterStage in Singapore to coincide with the official launch of the Harvey Norman Millenia Walk Flagship Superstore
About Samsung Electronics Co., Ltd.
Samsung Electronics Co., Ltd. inspires the world and shapes the future with transformative ideas and technologies that redefine the worlds of TVs, smartphones, wearable devices, tablets, cameras, digital appliances, printers, medical equipment, network systems, and semiconductor and LED solutions. We are also leading in the Internet of Things space with the open platform SmartThings, our broad range of smart devices, and through proactive cross-industry collaboration. We employ 319,000 people across 84 countries with annual sales of US $196 billion. To discover more, and for the latest news, feature articles and press material, please visit the Samsung Newsroom at news.samsung.com.
List
No Prev Page
No Next Page