Samsung Solve for Tomorrow 2020 Returns to Ignite Ideas for the Future Amongst Singapore Students
Feb 26. 2020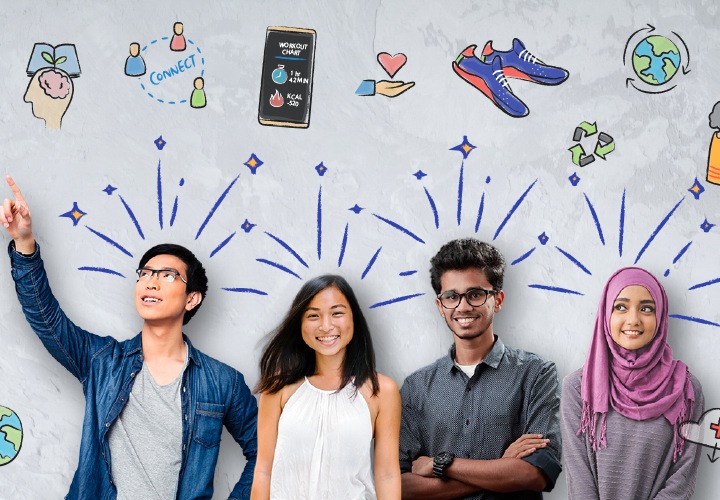 Samsung's global competition, Solve for Tomorrow, is back for its fourth edition in Singapore, and it aims to galvanise students to conceptualise ideas to address key societal challenges that the nation faces today and tomorrow.
The Solve for Tomorrow 2020 competition, which starts on 26 February 2020, encourages students in Singapore to take a closer look at the social issues around them and think about how they can make a meaningful impact on the community.
The platform also allows youth to express their creativity and passion while encouraging them to apply their knowledge and skills across multiple disciplines - including critical and design thinking, marketing and communications skills, technological expertise and Science, Technology, Engineering and Math (STEM) knowledge – when developing their ideas and solutions.
"Youths are the future leaders of Singapore and we believe their vision, innovation and talent are vital in building a better tomorrow. This is why Samsung started Solve for Tomorrow, to create a platform where we enable young people to bring to life their dreams and aspirations for the future," said Eugene Goh, President, Samsung Electronics Singapore.
"We hope to harness the creative energy and passion of Singapore students to spark innovative ideas and create transformative solutions that will pave the way for a better future," Eugene added.
Winners of the previous Solve for Tomorrow competition, Chua Yi Bei and Lim Mee Mee, both of whom earned internships at Samsung Electronics Singapore, share more about their experience and takeaways.
"The Solve for Tomorrow journey has helped my team broaden our perspectives and provided plenty of personal growth opportunities," said Yi Bei.
"In addition to learning how to apply technology to advance people's quality of life, we also developed and strengthened lifelong skills, including collaboration, problem-solving, and public speaking skills," added Mee Mee.
Addressing Singapore's Present and Future Challenges
Environmental sustainability is one of the critical challenges that the nation faces. For example, due to climate change and rising sea levels, many of Singapore's coastal areas and landmarks are in danger of being engulfed by water within the next few decades. Another sustainability challenge that our nation faces is the increasing amount of waste, which has soared seven-fold over the last four decades. This has led to a big push to make the country a Zero Waste Nation.
Environmental sustainability is just one of the salient challenges in Singapore. To encourage the participants to explore challenges across different facets of society, Samsung has identified four broad themes for Solve for Tomorrow 2020. Participants can develop their ideas around any one of these themes:
Solve for Tomorrow 2020 Competition Details
From 26 February to 6 April 2020, interested students can participate in the competition by forming groups of two to four and submitting their innovative ideas or solutions on the Solve for Tomorrow 2020 website.
There are two categories for Solve for Tomorrow 2020.
Category 1 – Post-Secondary Level: Full-time students aged 16 years old and above, enrolled in any Junior College, Polytechnic, Institute of Technical Education or the Millennia Institute in Singapore

Category 2 – University Level: Full-time undergraduate students aged 18 years old and above, enrolled in any of the six publicly-funded autonomous universities in Singapore, namely
Solve for Tomorrow 2020 Prizes
A total of 20 teams (10 from each category) will be shortlisted. Each of these teams will receive a S$1,000 cash prize to help them develop and refine their ideas and/or develop their prototype.
Out of these 20 teams, 10 teams (five from each category) will be selected to present at the finale event in June 2020, where the top three winners from each category will be crowned.
First Prize for Category 1 and Category 2:

S$10,000 worth of Samsung products

S$6,000 cash prize

A 4D3N trip to Seoul, South Korea

Internship opportunities

Second Prize for Category 1 and Category 2:

S$8,000 worth of Samsung products

S$5,000 cash prize

Third Prize for Category 1 and Category 2:

S$6,000 worth of Samsung products

S$4,000 cash prize
More information on the prizes can be found here.
During the competition, Samsung will also be holding an online poll to uncover how people in Singapore view the different social challenges that the nation faces and how they are playing their part to address these issues.
List
No Prev Page
No Next Page