How to Turn the Predictive Text Feature On and Off on a Galaxy Phone
Last Update date :
May 11. 2021
The Predictive text feature suggests or corrects words as you type text on the Samsung keyboard. This allows you to enter text quickly and easily by suggesting and changing words as you type. Check out the guide below to learn how to turn the Predictive text feature on and off and customize it.
Before you try out the recommendations below, be sure to check if your device's software and related apps are updated to the latest version. To update your mobile device's software, follow these steps: 
Step 1. Go to Settings > Software update.
Step 2. Tap on Download and install.
Step 3. Follow the on-screen instructions.
How to activate or deactivate Predictive text
If you would like to use the Predictive text function, you can quickly access the Predictive text settings anytime the Samsung keyboard is open. Follow the steps below to enable or disable the Predictive text.
Step 1. Open the Samsung keyboard via a messenger app or a web browser that can display the keyboard.
Step 2. Tap on the Settings icon.
Step 3. Tap the switch to activate or deactivate Predictive text.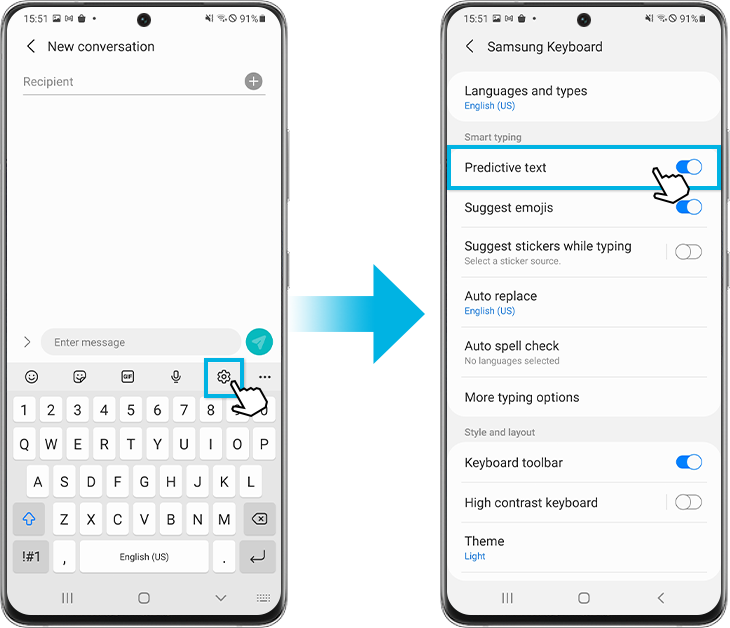 Note: The Predictive text settings is also available via Settings > General management > Samsung keyboard settings.
How to personalize Predictive text (Text shortcuts)
The Text shortcuts feature allows you to quickly type your commonly used words and phrases. Once added, your text shortcuts are displayed in the Predictive text bar.
Step 1. Tap on the Settings icon.
Step 2. Find and select More typing options.
Step 3. Select Text shortcuts.
Step 4. Tap the + icon right corner of the screen. 
Step 5. Enter the Shortcut phrase and the Expanded phrase.
Step 6. Tap on the Add button.
When you type your shortcut phrase into the Samsung keyboard, the expanded phrase that you added will appear in blue. You can insert it by tapping that phrase.
How to remove a word from Predictive text suggestions
If you would like to remove a word, type in this word on the Samsung keyboard so that it will appear in the Predictive text bar. Tap and hold the word that appears, and then tap OK to confirm to remove it.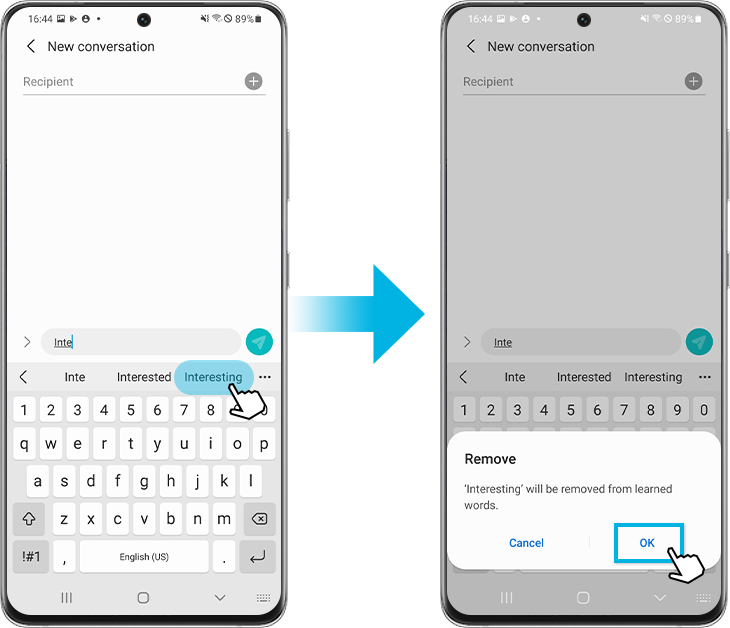 Note: 
Some options for the Predictive text will not be available for older devices and operating systems.
Device screenshots and menus may vary depending on the device model and software version.
If you are experiencing difficulties with your Samsung phones, tablets, or wearables, you can send us a question in the Samsung Members app.
This allows us to take a closer look at what is happening. The data is anonymised and only held for the duration of the investigation. Find out more about sending an error report through the 'How to use the Samsung Members app'.
Please answer all questions.