View Full Notification Details on Galaxy Z Flip3 5G Cover Screen
Last Update date :
Oct 08. 2021
The Galaxy Z Flip3 5G Cover screen was specially designed to be bigger than previous models so as to allow you to view more information conveniently without opening or unfolding your phone. With a few taps or swipes, you can get easy access to the full details of your notifications from your Cover screen.
Before you try the recommendations below, be sure to check if your device's software and related apps are updated to the latest version. To update your mobile device's software, follow these steps:
Step 1. Go to Settings > Software update.
Step 2. Tap on Download and install.
Step 3. Follow the on-screen instructions.
Quickly access notifications on your Cover screen
If the Cover screen is off, press the Side key or double-tap the Cover screen. This will show the time, date, battery status, and unread notifications icon on the Cover screen. 
View notifications
When you receive new notifications, they will appear on the Cover screen. Swipe to the right on Cover screen home page to reveal the notifications you have received. You will be able to view up to 8 lines of notifications at a glance by scrolling up and down. 

Why am I unable to see the details of my notifications?
You should be able read notifications such as messages directly from your Cover screen without unfolding your device. If you find that you are unable to read more details of each notification on your Flip3's Cover screen or the notifications are hidden, you might have to adjust your Notification settings. 
Step 1. Go to Settings > Lock Screen.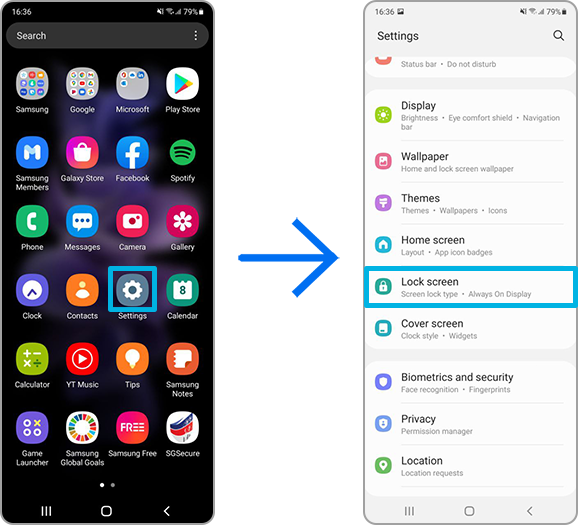 Step 2. Tap on Notifications.

Step 3. Toggle the Hide content switch off. This should allow you to read the details of each notification from your Cover screen.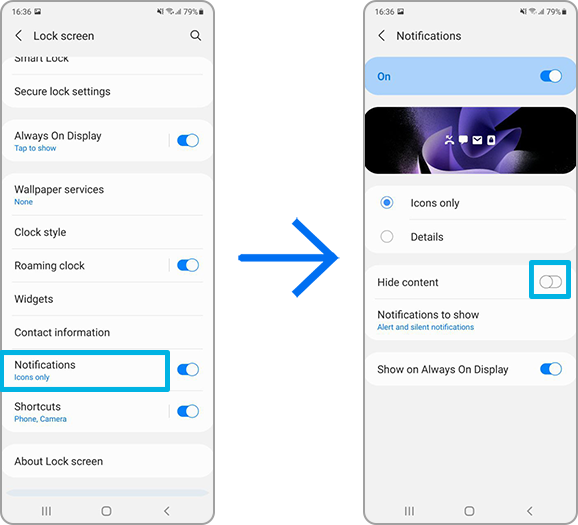 Note: Device screenshots and menu may vary depending on the device model and software version.
Please answer all questions.