What is Intelligent Scan and how to use it?
Last Update Date :
Oct 31. 2018

Intelligent Scan (biometric authentication) combines iris scan and face recognition to allow convenient unlocking and in some cases provides enhanced security for certain authentication services.

• What are the benefits of Intelligent Scan?
• How to setup Intelligent Scan?
• What are the common scenarios of using Intelligent Scan and what to do about it?
Benefits
Benefits
• Unlock the screen without problems even when the surroundings are dark or too bright
• Low light environment: iris scan will be activated if face cannot be recognised
• High light environment: face scan will be activated if iris cannot be recognized

Please note: For payment or financial services, iris scan will be activated first, followed by face scan to prevent spoofing. 
Set up
1
Go to Settings
2
Tap Lock screen and security
Please note: For Galaxy Note9, tap Biometrics and security
3
Tap Intelligent Scan
4
Unlock the screen using the pre-set screen lock method. If you have not set a screen lock method, create one
5
Read the on-screen instructions and tap CONTINUE
6
Register your face and irises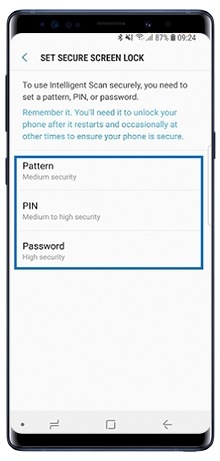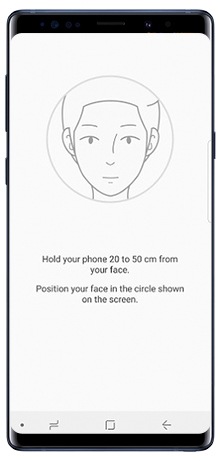 7
When an intelligent scan unlock screen appear, tap TURN ON to use your face and irises to unlock the screen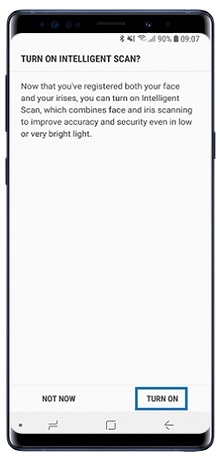 Intelligent Scan

Scenarios


What you need to do


Intelligent Scan cannot be used for the first time after powering on the device


This is a deliberate setting for device security.


To use the device, you must unlock the screen using the pattern, PIN, password you set when registering your face and irises. Be careful not to forget your pattern, PIN, or password.


If irises and face are not recognised


Unlock the device using the pattern, PIN, or password you set when registering the irises, and then re-register your irises
 

If your pattern, PIN, or password is forgotten, you will not be able to use the device if you don't reset it


If you change screen lock method to swipe or none


All of your biometric data will be deleted. If you want to use your biometric data in apps or features, such as Samsung Pass and Samsung Pay, you must register your biometric data again


If you forgot password / unable to unlock your Samsung phone


Please visit Find My Mobile to do a password reset.

How to delete Iris / Face data


1. Go to settings > Lock screen and security

2. Tap the Iris Scanner / Face Recognition > Unlock the screen using the preset screen lock method

3. Tap Remove iris / face data > Tap REMOVE

 

Once the registered data are deleted, all the related features will also be deactivated


Circumstances where Iris Scanner may not work properly


Device related

• Your unofficial screen protectors are blocking the Iris scanner

• Dirt and debris on the iris camera, LED sensor or proximity sensor will affect Iris scanner performance

• Device is not stable, or adjusted lower than your face

 

Non-device related

• Sunglasses, contact lenses

• Puffy eyes

• Strong light or no-light conditions

• Moving from bright light to low-light conditions suddenly

• Eye disease affecting your irises, or when you've undergone intraocular lens implant surgery or eye surgery that scars the irises

• Laser-assisted vision correction surgery such as LASIK or LASEK, may alter the shape of cornea


Need more help? Contact Us.
Online
Live Chat
Monday to Friday (Excluding Public Holidays)
9:00am - 7:00pm
Email
We'll respond within 24 hours of your request.
Call
Monday to Sunday (Including Public Holidays)
8:00am - 8:00pm
* For any printer related enquiries, please visit HP website .
Face-to-face support
Samsung Service Centres
Find out more about how you can get face-to-face help.

Samsung Customer Service Centre @ Westgate will be closed for renovation works from 07 January 19 to 08 February 19. Operation will resume on 09 February 19 at 11:00am. We apologize for any inconvenience caused.
Contact Us