Explain Resolution Selection, BD Wise, and Anynet+ when using HDMI function
Last Update Date :
Dec 04. 2018
What is HDMI and the advantage of using it?
HDMI (High Definition Multimedia Interface) is an interface that enables the digital transmission of video and audio data with just a single connector.

When using an HDMI connection, the DVD Home Theater transmits DVD video signal digitally without the process of converting to Analogue. The result is a sharper digital pictures on your TV.

Functions that can be used with HDMI
Resolution Selection

This function allows you to select the screen resolution for HDMI output.

In Stop mode, press and hold the SD/HD (Standard Definition/High Definition) button on the remote control until the resolution changes.

• Resolutions available for the HDMI output are 480p, 720p, 1080i/1080p
• SD (Standard Definition) resolution is 480p and HD (High Definition) resolution is 720p, 1080i/1080p

Please note:
• If the TV does not support the configured resolution, you will not be able to see the picture properly
• When a HDMI cable is connected, composite (Video) and component video signals are not output
• See your TV owner's manual for more information on how to select the TV's Video Input source
BD Wise (Samsung products only)

You can select to use the BD Wise menu only if the Samsung home theater is connected to a Samsung TV that supports BD Wise using an HDMI cable.

What is BD Wise?

BD Wise automatically adjusts BD Wise-compliant Samsung products to the optimal settings between them. This feature is enabled only if BD Wise-compliant Samsung products are connected to each other using an HDMI cable.

To use BD Wise

1) Use an HDMI cable to connect the Samsung home theater to a BD Wise-compliant Samsung TV
2) Set each BD Wise menu of the Samsung home theater and the Samsung TV to On, respectively

- This will optimize the picture quality according to the content (In the disc, DVD, etc) that you want to play
- This will also optimize the picture quality between the home theater and your BD Wise-compliant Samsung TV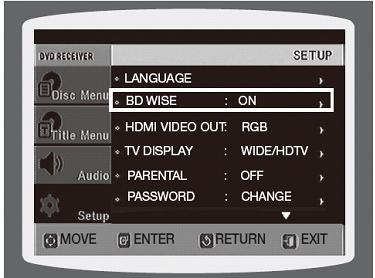 Please note:
• If you want to change the resolution in BD Wise mode, you must set BD mode to Off in advance
• If you set the BD Wise mode to off, the resolution of the connected TV will be adjusted to its maximum resolution automatically
• BD Wise will be disabled if the player is connected to a device that does not support BD Wise

Using Anynet+ (HDMI-CEC)

Anynet+ is a function that enables you to control other Samsung Devices with your Samsung TV's remote control.

Anynet + can be used by connecting this Home Cinema to a SAMSUNG TV using a HDMI Cable. This is only available with SAMSUNG TV's that support Anynet+.

Follow these steps below:

1. Connect the main unit of the Home Cinema to a Samsung TV with an HDMI cable
2. Set the Anynet+ function on your TV. (See the TV instruction manual for more information)

You can operate the Home Cinema by using the TV remote control. (Available TV buttons : Backward, Stop, Play, Forward buttons, ▲,▼ and ◀,▶ buttons, 0 ~ 9 buttons).

If you select the TV

Set the Anynet+ (HDMI-CEC) to On by pressing the Anynet+ button on your TV remote control.

• Receiver On : You can listen to audio through the Home Cinema
• Receiver Off: You can listen to audio through the TV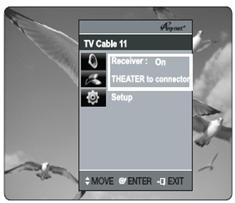 If you select the THEATER

Select THEATER to connect and set the option of each item below.

• View TV: If Anynet+(HDMI CEC) is set to on and Select View TV is selected, the home cinema will automatically switch to digital in mode
• Theater Menu: You can access and control the Home cinema menu
• Theater Operation: The Home Cinema disc playback information will be displayed. You can control the Disc operation of the Home Cinema such as title, chapter and subtitle change
• Receiver On: You can listen to audio through the Home Cinema
• Receiver Off: You can listen to audio through the TV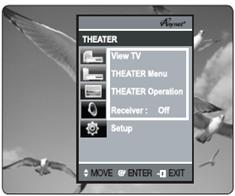 Please note:
• If View TV is chosen and you want to listen to TV sound through Digital In, you have to connect an optical cable between the TV and the Home Theater

Need more help? Contact Us.
Online
Live Chat
Monday to Friday (Excluding Public Holidays)
9:00am - 7:00pm
Email
We'll respond within 24 hours of your request.
Call
Monday to Sunday (Including Public Holidays)
8:00am - 8:00pm
* For any printer related enquiries, please visit HP website .
Contact Us