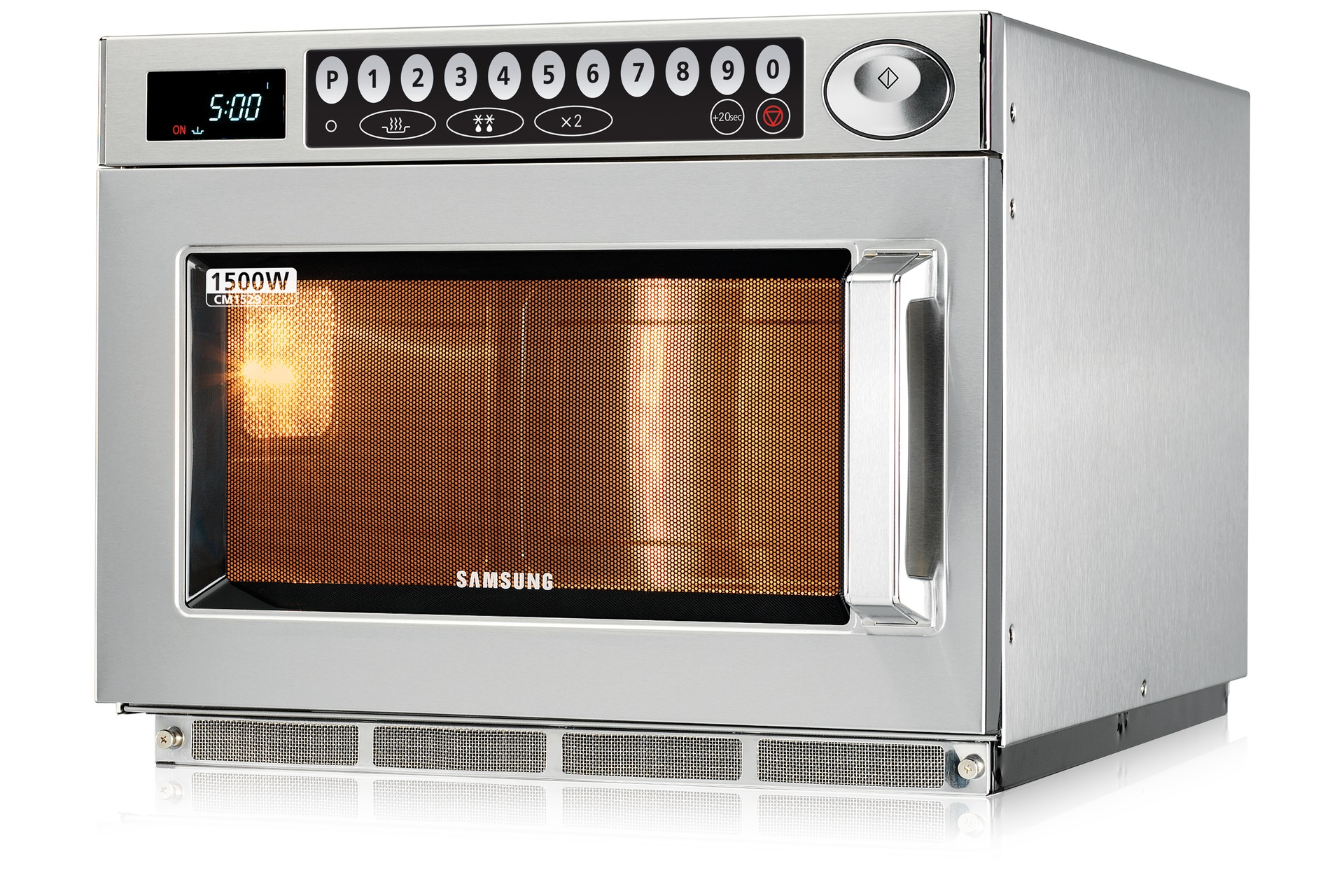 CM1529/XEU
CM1529 Commercial Microwave 1500W, 26L (Stackable)
Save time and effort by pre-programming your most cooked meals
Enjoy peace of mind with a 3 Year Warranty
Dual Magnetron
More power for faster cooking
Dual Magnetron microwave distribution ensures that food is cooked much faster and can be served in less time. Two magnetrons combine to provide a huge power output of 1850W, while also distributing heat more evenly.
Easily cook popular dishes
The program facility makes it really easy to cook popular dishes, as you can memorise the cooking times and settings for frequently used recipes. Simply select the required number to cook meals perfectly every time.
Prepare more dishes at once
A large 26L capacity means they can accommodate multiple dishes or plates at once or a large container of up to 370 x 370 mm, such as a 2/3 Gastronorm. So you can quickly cook or reheat multiple portions of food.
Easily keep hygienically clean
A durable, heavy gauge stainless steel body and cavity make it really simple to keep the inside and outside hygienically clean. As well as being easy to wipe clean, stainless steel is inherently robust and sturdy.
Optimized filter changes
A Cycle Counter provides a simple way to know exactly when to replace a filter. By monitoring the time spent using each cooking function it can accurately assess and notify you when the filter needs changing.
Simply cleaner & more hygienic
An easily removable air filter makes it very simple to maintain professional quality cleanliness in your kitchen. As it's located at the front, you can easily remove and assemble it without moving the microwave oven.
Cook without extra trays
'The BaseMax™ fixed ceramic base gives you access to the entire microwave, ideal for cooking larger meals or multiple meals at once. With a smooth surface and no gaps around the edges it is also very easy to clean.'
Specification
General Information

Capacity

26L

Heat Source

Microwave

Power Level

5

Power

Output Power (Max)

1500W

Power Consumption (Microwave)

3200W

Power Source

230V / 50Hz

Cavity Interior

Stailess steel

Display Type

VFD

Control Method

Membrane

Door Opening Type

Handle

Microwave Distribution

Stirrer

Installation

Commercial

Language Option

No

General Features

Various Cooking Mode

No

Max Cooking Time

50min

More/Less

Yes

Cooking Stages

Yes

Weight/Serving Control

No

One Minute/30 sec Plus

20sec+

Preheat

No

Auto Cook

No

Auto Steam Cook

No

Sensor Cook

No

Turntable On/Off

No

Deodorizer

No

Reminder End Signal

Yes

Setting (My Choice)

Child Lock

No

Clock System Option (12H/24H)

No

Sound Option

Yes

Grill Heater

No

Others

No

Accessory

Rack

Round

No

Steam Cleaning

No

Steam Cooker

No

Power Steam Bowl

No

Crispy Tray

No

Rotisserie

No

Cook Book

No

Others

No

Physical Specification

Dimension

Cavity (WxHxD)

370 x 190 x 370mm

Outside (WxHxD)

464 x 368 x 557mm

Weight

Net

32kg
Manual Download
CM1529 Commercial Microwave 1500W, 26L (Stackable) (CM1529/XEU)
Manuals

14 Sep, 2015

User Manual(EU Environmental Regulatory)

(ENGLISH)

26 Jul, 2011

User Manual ver 1.0

(ENGLISH)