Imagine a new era of learning
Visit Samsung's Virtual Education ExperienceVisit Samsung's Virtual Control Room Experience

Digitalisation in education is not an option, but a must
New learning trend
Hybrid learning, providing online and offline classes, ensures education is engaging and effective to maintain student progress.

Need for campus connectivity
Advanced displays enable schools to showcase events and announcements in real time to provide timely content throughout campus.


Health and safety top of mind
Display products designed with safety in mind and solutions that enable preparation for potential emergencies are now critical.

Experience a new era of learning reimagined
Whether inside the classroom, around campus, or learning and teaching from home, Samsung's education line-up gives teachers the tools they need to deliver an
enhanced experience, while maintaining student engagement, collaboration and confidence.
Elevate the
classroom experience


Rethink school-wide
communication
Build safer
learning spaces

In today's society, students, parents and teachers are inundated with educational information. To keep everyone informed, the educational sector has begun to incorporate digital signage in the classrooms. Samsung provides a full line-up of displays and solutions that modern schools require.
INSIDE THE CLASSROOM
Interactive whiteboard
WMR series
An interactive digital flipchart designed for creative thinking, collaboration and innovation

Business TV
BET-H series
A TV built for your business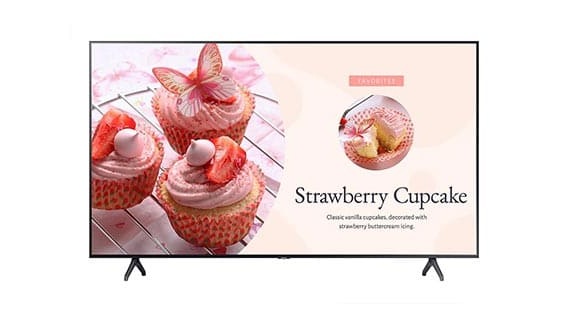 Indoor LED signage
IFR series
Indoor LED signage that combines brilliant picture quality and flexible design options

Monitor
TU87F series
UHD Professional Monitor with Thunderbolt™ 3 port and daisy chain technology
OUTSIDE THE CLASSROOM
Outdoor signage
OHN series
Deliver bright, creative messages on robust outdoor signage

UHD signage
QMR series
Compelling UHD picture quality, extensive connectivity and ongoing 24/7 perfomance
Interactive displays
QMR-T series
Increase customer engagement with intuitive touch displays
Small displays
QBR series
Enhanced communication in a compact display
MANAGEMENT SOLUTION
Manage displays and content comprehensively
Samsung MagicINFO and Smart Signage Platform(SSSP) provide comprehensive control to the teachers and administration at schools. Users can create and update content easily and as needed.
MagicINFO™
Management solution
Reach beyond CMS with full integration