Elevates the power of displays to enhance any business
MagicINFO™ is an all-in-one solution supporting content, device and data management.
From content creation to publication and monitoring, users can manage content and devices on a single platform. MagicINFO™ 9 can analyze playback data and even sales data together to provide marketing performance report.

Bring content to life with intuitive, powerful functionality
MagicINFO™ is built from three main components that work together to deliver full-scale communications: Author, Server and Player. With Author, interact with easy-to-use content creation tools within an intuitive interface. Server provides comprehensive content management for easy scheduling, playlist arrangement and content distribution. Player enables content to be played in nearly any format without the use of external software or hardware.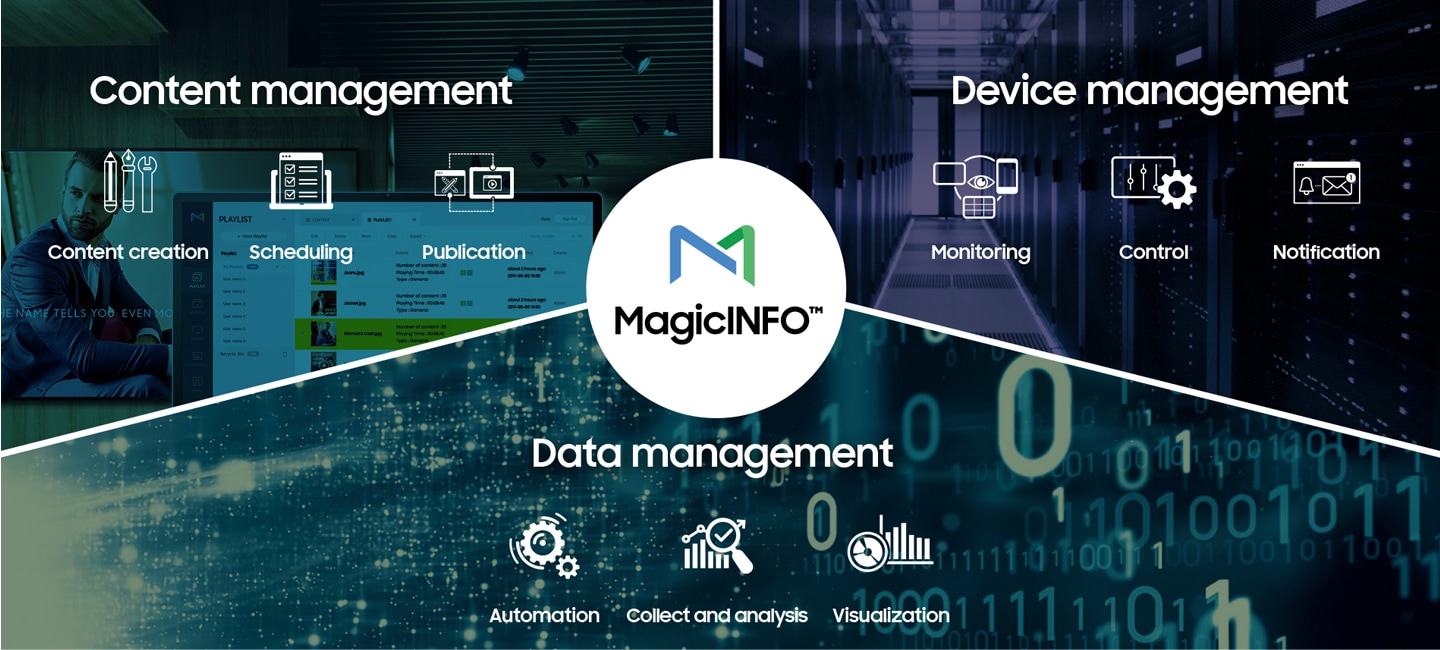 Discover the difference of MagicINFO™
Powerful security
Industry-leading security
To protect customers against new security threats, Samsung specifically sought ISO* certification as it is the mostly widely recognized and used security standard today. After an extensive review process, Samsung was ISO27001 and ISO27701 certified. MagicINFO is the 1st
solution in the signage industry to acquire the both certifications. MagicINFO provides the highest level of security in the digital signage industry and is officially recognized worldwide.
* ISO: International Organization for Standardization
Comprehensive management
One-Stop Device and Content Management
Users can remotely manage everything on a single platform to control display content, access hardware settings and troubleshoot issues. MagicINFO™ even syncs with your existing management software. Enhanced device management enables advanced device health checks and firmware target updates.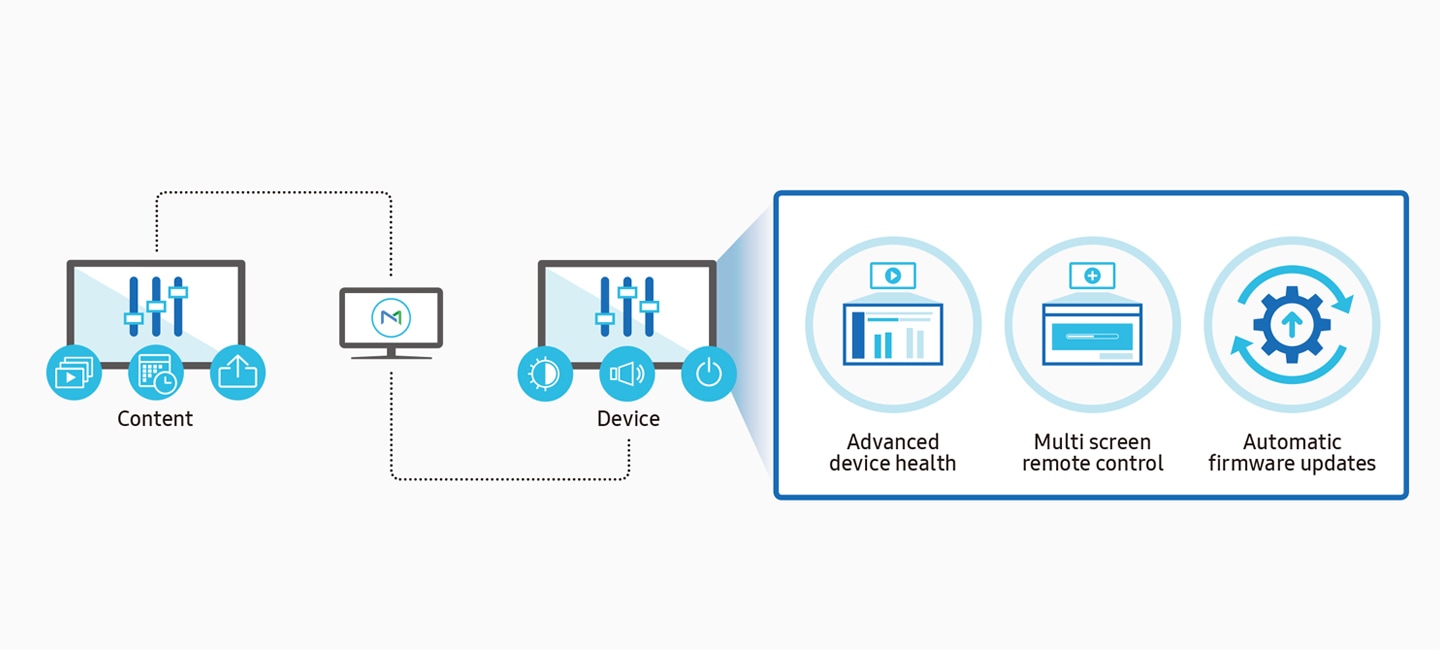 Content ROI
Expanded insight with proof of play analysis
MagicINFO™ Insight collects and analyzes Proof of Play (PoP) history from multiple displays, and the enhanced insight dashboard provides more tools to optimize content. MagicINFO Insight creates detailed performance reports that show content ROI with custom 3D charts for more visual analysis.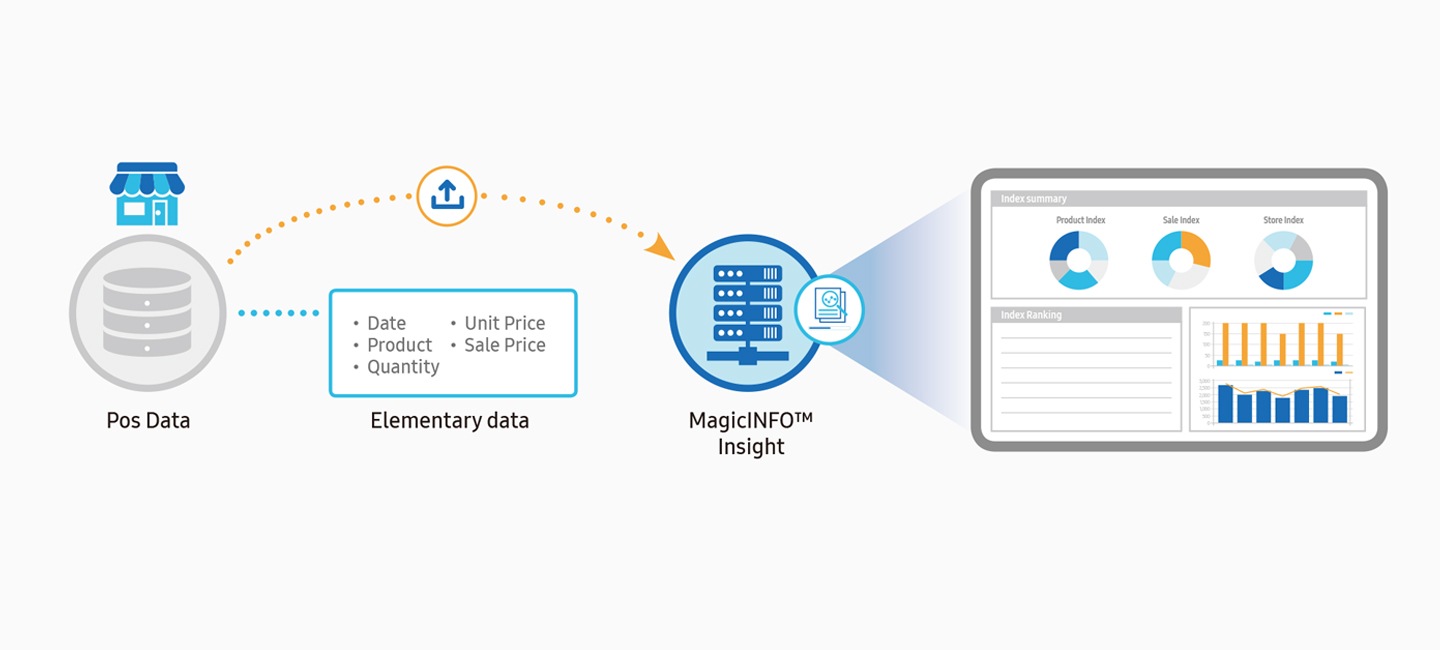 Web content compatibility
Powerful playback supporting real-time modification
By uploading sales data to the platform, MagicINFO can compare content plays versus actual item sales to determine correlations and effectiveness. It helps businesses know what content is working effectively and what is not, allowing for real-time modifications to provide maximum return.