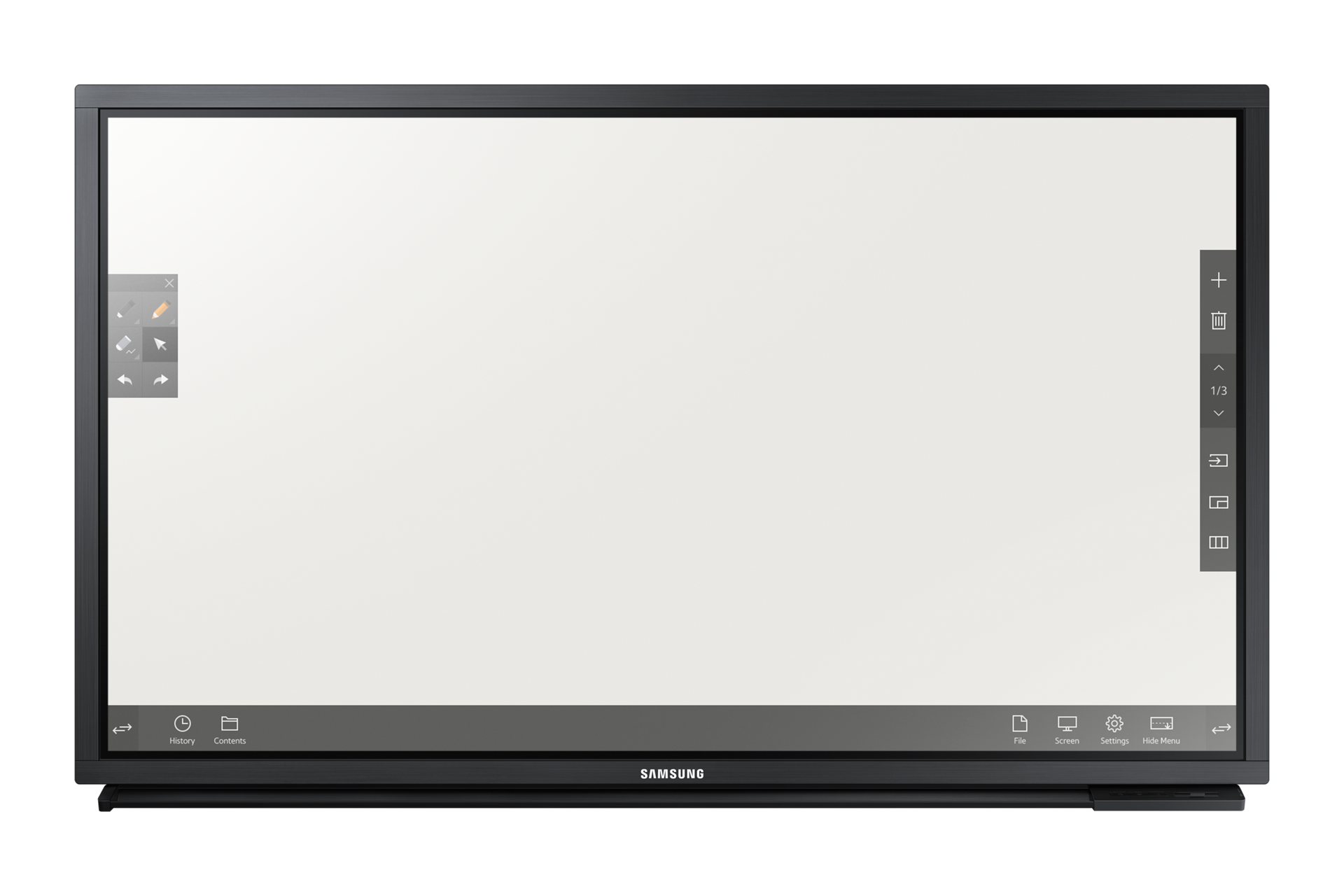 LH82DMERTBC/EN
Interactive Display DME-BR Series 82"
Smooth and comfortable writing with Touch Overlay
Easily manage content with Magic WB S2 embedded software
Connect external devices for simple data access and sharing
A Smoother, More Interactive Writing Experience Using Touch
Featuring a pre-assembled Touch Overlay and a variety of collabouration-enhancing capabilities, the Samsung e-Board display alleviates misconceptions that digital display writing is complex and unnatural. Instead, the DME-BR's touchscreen offers a smooth and comfortable writing experience. The DME-BR display's hand touch function enables up to 10 different participants to touch the display's screen using two fingers to make content selections, comments or edits, with those individual actions easily recognisable to the entire group. This versatile usability promotes efficiency and productivity by compiling individual feedback within a single source and offering greater visibility to all participants of discussed content. For added convenience, the Samsung e-Board display also comes with a hand eraser tool useful for erasing larger areas of the screen. Instead of users having to search for and work through a specific removal function key, the simple and intuitive hand eraser makes content revision fast and user-friendly.
A More Engaging, Interactive Content Management Experience
The Samsung SMART Signage e-Board display's embedded Magic WB S2* interactive content management software solution transforms a traditional presentation into a dynamic business or educational experience. As an all-in-one touch solution, Samsung's free Magic WB S2 programme delivers added flexibility for extensive collabouration before, during and after meetings or classes without requiring the use of separate dedicated PCs or additional devices. A touch-activated floating menu enables users to independently control, display and shuffle between multiple screens and various text, image, audio and video content files. Once sessions conclude, Magic WB S2's compatibility with standard office software programs lets users update, save, capture, print and share files for later viewing. With the support of the Magic WB S2 solution, the Samsung e-Board display enhances the overall knowledge-sharing process through deeper engagement and all-inclusive file management. *Note: Samsung's Magic WB S2 software, an advanced version of Magic WB, is available for e-Board display users, but requires a separate PC for operation.
Versatile Usability with Extensive Connectivity and Easy-to-Use Touch Capability
Today's business and educational environments require advanced compatibility for users to easily read and share content. Through its enhanced and versatile connectivity, Samsung's e-Board display allows users to access, share and revise content via their own laptops, tablets and smartphones. This superior connectivity stems from the display being equipped to support a range of signal input sources, including HDMI, D-Sub, DisplayPort (DP), DVI and USB ports, which are compatible with nearly all external devices. Furthermore, the Samsung e-Board display's auto switching for the touch function eliminates the headache of needing two different cables to use touch with a notebook PC. Instead, the display features an easily assessable touch out cable (USB upstream) on the side of the front pen tray. Users just need to plug the single touch cable into the USB, connect the cable to the notebook PC and setup source. Together, these integrated solutions simplify multi-device setup and connectivity, as well as ensure convenient utilisation of the display's advanced touch capability.
An Intuitive Design that Promotes Efficiency and Usability
The Samsung SMART Signage e-Board display's pre-assembled design allows users to comfortably install, control and work with the all-in-one e-Board solution. As part of its professional-grade design, the Samsung e-Board display incorporates a front pen tray for convenient storage and easy access to display components. With a design format resembling that of an analog white board, the Samsung e-Board helps ensure user familiarly and seamless technology adoption, while also bringing design sophistication and advanced functionality to business and educational environments. Additionally, the display's design positions simplified hot keys on the front and side of the pen tray. The shortcut hot keys allow users to easily locate and select frequently-used functions, including touch on / off, quick menu, power on / off, touch out USB and HDMI, with the simple push of a button. With the Samsung SMART Signage e-Board, business professionals and educators can economically utilise space while delivering the functionality essential for effective collabouration and productivity.
Specification
Display

Diagonal Size

82"

Panel Type

120 Hz E-LED BLU

Resolution

1920 x 1080 (16:9)

Pixel Pitch (HxV)

0.3135 (H) x 0.9405 (V)

Active Display Size (HxV)

1805.76 (H) x 1015.74 (V)

Brightness (Typical)

430 nit

Contrast Ratio

5000:1

Viewing Angle (Horizontal/Vertical)

178° / 178°

Response Time

8 ms

Display Colour

10 bit Dithering - 1.07 Billion

Colour Gamut

68%

H-Scanning Frequency

30 ~ 81 kHz

Maximum Pixel Frequency

148.5 MHz

V-Scanning Frequency

48 ~ 75 Hz

Dynamic Contrast Ratio

50000:1

Connectivity

RGB In

Analog D-SUB

Audio In

Stereo Mini Jack

Audio Out

Stereo Mini Jack

Video In

Rear : DVI-D, HDMI1, HDMI2, Display Port 1.2, Component(CVBS Common), Tray Box : HDMI3

Power

Power Supply

AC 100 - 240 V~ (+ / - 10%), 50 / 60 Hz

Power Consumption (Off Mode)

Less than 0.5 W

Power Consumption (On Mode)

Max:495, Typ:329, BTU (Max) :1687.95

Power Consumption (Sleep Mode)

Less than 0.5 W

Dimension

Set Dimension (WxHxD)

1911.8 x 1121.7 x 140 mm (178 Handle)

Package Dimension (WxHxD)

2069 x 1280 x 513 mm

Weight

Set Weight with Stand

78.2 kg

Package Weight

94.6 kg

Operation Conditions

Temperature

0 ~ 40 °C

Humidity

10 ~ 80%

Mechanical Specification

VESA Mount

600 x 400 mm

Bezel Width

39.9

Media Player Option Type

Embbeded, SBB (Attachable), PIM (Attachable)

General Feature

Special

Super Clear Coating, Temperature Sensor, Clock Battery(80hrs Clock Keeping), Built in Speaker(10W x 2), WiFi Module Embedded, Front Tray Box

Speaker

10 W x 2

Optional Feature

Mount

WMN8200D

Stand

STN-L7585F

Internal Player (MagicInfo)

Special

Magic Clone (to USB), Auto Source Switching & Recovery, RS232C / RJ45 MDC, Plug and Play, PIP / PBP, Image Rotation, Button Lock, Built In MagicInfo Player S3, Magic WB S2, Magic resenter, USB Auto Switching, Firmware Update by Network, LFD New Home Screen, PC-less VideoWall, Predefined Template for Vertical Usage, Multi Channel, Mobile Control, Event Schedule, Backup Player, MagicPresenter

MagicInfo Support

Yes

Eco

Energy Efficiency Class

C

Accessory

Included

Quick Setup Guide, Regulatory Guide, Warranty Card, Power Cord, Remote Controller, Batteries, RS232C(IN) adapter

Certification and Compliance

EMC

FCC (USA) Part 15, Subpart B Class A, CE (Europe) : EN55022:2006+A1:2007, EN55024:1998+A1:2001+A2:2003, VCCI (Japan) : VCCI V-3 / 2010.04 Class A, KCC / EK (Korea) : Tuner: KN13 / KN20, Tunerless : KN22 / KN24, BSMI (Taiwan) : CNS13438 (ITE EMI) Class A / CNS13439 (AV EMI) / CNS14409 (AV EMS) / CNS14972 (Digital), C-Tick (Australia) : AS / NZS CISPR22:2009, CCC (China) :GB9254-2008, GB17625.1-2012, GOST (Russia / CIS) : GOST R 51317 Series, GOST 22505-97, EN55022:2006+A1:2007, EN55024:1998+A1:2001+A2:2003

Safety

CB (Europe) : IEC60950-1 / EN60950-1, CCC (China) : GB4943.1-2011, PSB (Singapore ) : PSB+IEC60950-1, NOM (Mexico) : NOM-001-SCFI-1993, IRAM (Argentina ) : IRAM+IEC60950-1, SASO (Saudi Arabia ) : SASO+IEC60950-1, BIS (India) : IEC60950-1 / IS13252, NOM (Mexico) : Tuner : NOM-001-SCFI-1993, Tunerless : NOM-019-SCFI-1998, KC (Korea) : K 60950-1, EAC (Russia) : EAC+IEC60950-1, INMETRO (Brazil) : INMETRO+IEC60950-1, BSMI (Taiwan) : BSMI+IEC60950-1, RCM (Australia) : EC60950-1 / AS / NZS 60950-1, CSA (Canada) : cUL, UL (USA) : cUL60950-1, TUV (Germany) : CE, NEMKO (Norway) : CE

Certain features with the Smart Hub may not be available without expressed consent regarding the collection and use of personal information. Content available through Smart Hub may vary among product categories, models and territories. Certain applications must be purchased and may not be available in all regions.
Manual Download
Interactive Display DME-BR Series 82" (LH82DMERTBC/EN)
Manuals

11 Aug, 2017

User Manual ver 04

(ENGLISH)

25 Jan, 2017

Quick Guide ver 00

(ENGLISH, BULGARIAN, CROATIAN, CZECH, DANISH, DUTCH, ESTONIAN, FINNISH, FRENCH, GERMAN, GREEK, HUNGARIAN, ITALIAN, LATVIAN, LITHUANIAN, NORWEGIAN, POLISH, PORTUGUESE, ROMANIAN, SERBIAN, SLOVAK, SLOVENIAN, SPANISH, SWEDISH, TURKISH)

17 Apr, 2015

CE DoC

(ENGLISH)

18 Aug, 2020

Install Guide(MagicInfo Express 2 Setup for Windows ) ver 3.1 1014.1

(KOREAN, ENGLISH, ARABIC, BULGARIAN, CHINESE, CHINESE, CROATIAN, CZECH, DANISH, DUTCH, DUTCH(BEL), ESTONIAN, PERSIAN, FINNISH, FRENCH, FRENCH(FRANCE), GERMAN, GREEK, HEBREW, HUNGARIAN, INDONESIAN, ITALIAN, LATVIAN, LITHUANIAN, NORWEGIAN, POLISH, PORTUGUESE, ROMANIAN, RUSSIAN, SERBIAN, SLOVAK, SLOVENIAN, SPANISH, SWEDISH, THAI, TURKISH, UKRAINIAN, VIETNAMESE)

9 Sep, 2016

Install Guide(MagicInfo Express 2 User Manual) ver 2.6_1.2

(ENGLISH, ARABIC, BULGARIAN, CROATIAN, CZECH, DANISH, DUTCH, ESTONIAN, PERSIAN, FINNISH, GREEK, HEBREW, HUNGARIAN, INDONESIAN, LATVIAN, LITHUANIAN, NORWEGIAN, ROMANIAN, SERBIAN, SLOVAK, SLOVENIAN, UKRAINIAN, VIETNAMESE)

24 Sep, 2015

Upgrade guide(SEUK) ver 1.0

(MULTI LANGUAGE)

5 Sep, 2015

Upgrade File(USB type)(SEUK) ver 1016.2

(MULTI LANGUAGE)