SBB-B64DV4/EN
Set Back Box SBB-DA
Take control with easy-to-install PC modules.
Enjoy a compact and lightweight design.
Lessen your workload with easy maintenance.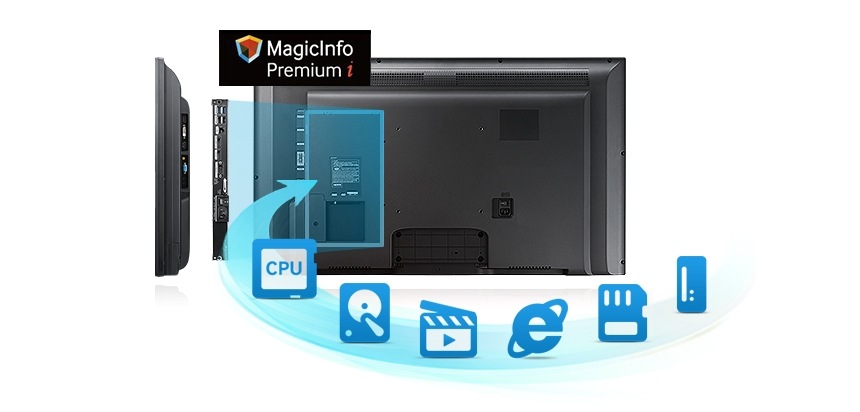 Streamline the display environment with Optional PC modules
With easy-to-install PC modules, companies can transform Samsung SMART Signage into all-inclusive digital signage solutions that best accommodate their specific business needs. Slide a module into a compatible SMART Signage to play digital signage content without dismantling the unit from the SMART Signage. The PC modules eliminate the need for an external PC and cables, maintaining a clutter-free display environment. Using a PC module not only reduces equipment costs, but also facilitates efficient space management and creates a simplified environment. • Easily install modules by sliding the unit into a Samsung SMART Signage • Eliminate the need for bulky, heavy equipment with the modules' slim and lightweight design • Rely on powerful performance provided by dual or quad-core processing • Simplify content creation for SMART Signage with embedded Samsung MagicInfo™ Premium digital signage software
Slim and lightweight design
The slim and sleek design of this set-back box saves you space and allows you to keep your professional space tidy. Despite its elegant design, it is a powerful unit with particularly convenient connectivity and several USB ports that enhance connectivity, allowing for easier control and management of content and providing crisp and clear images.
Easy Maintenance without dismantling
The SBB-DA Series benefit from the fact that they are extremely easy to maintain. The main difference that is highlighed is if PC embedded SMART Signage products are damaged or can't be used, they need to be replaced completely. However, with the SBB-DA series, they can be easily and conveniently fixed and maintened, guaranteeing higher performance for longer.
Specification
Connectivity

Video Out

1st: Magicinfo Out (Up-to 3840 x 2160@30 Hz), 2nd: Display Port Out (Up-to 3840 x 2160@60 Hz) ※ Optimised for FHD Play or 1 UHD Image

Power

Power Supply

AC 100 - 240 V ~ (+ / - 10%), 50 / 60 Hz

Dimension

Set Dimension (WxHxD)

321.6 x 224.7 x 40.3 mm

Package Dimension (WxHxD)

432 x 269 x 95 mm

Weight

Set Weight with Stand

1.8 kg

Package Weight

2.5 kg

Operation Conditions

Temperature

10 ℃ ~ 40 ℃

Humidity

10 ~ 80%

General Feature

Special

AMD Bald Eagle RX425BB (2.5 GHz Quad) CPU, Integrated N / B, Bolton-E4 S / B, AMD R6 Graphics GPU, SSD 64 GB, 4 GB (DDR3 SO-DIMM 2 GB x 2) Memory, GbE Ethernet (RJ-45), USB 2.0 Port x 2, USB 3.0 Port x 2, RJ-45, RS232 (D-SUB 9P)

Accessory

Included

User Manual, Power Cord, DP to DVI Cable (Short, Long)

Certain features with the Smart Hub may not be available without expressed consent regarding the collection and use of personal information. Content available through Smart Hub may vary among product categories, models and territories. Certain applications must be purchased and may not be available in all regions.
Manual Download
Set Back Box SBB-DA (SBB-B64DV4/EN)
Manuals

4 Oct, 2016

User Manual ver 0.0

(KOREAN, ENGLISH, CHINESE, CHINESE, FRENCH, GERMAN, HUNGARIAN, INDONESIAN, ITALIAN, KAZAKH, POLISH, PORTUGUESE, RUSSIAN, SPANISH, SWEDISH, TURKISH)

4 Oct, 2016

User Manual ver 1.0

(KOREAN, ENGLISH, CHINESE, CHINESE, FRENCH, GERMAN, HUNGARIAN, INDONESIAN, ITALIAN, KAZAKH, POLISH, PORTUGUESE, RUSSIAN, SPANISH, SWEDISH, TURKISH)

4 Oct, 2016

User Manual ver 2.0

(KOREAN, ENGLISH, CHINESE, CHINESE, FRENCH, GERMAN, HUNGARIAN, INDONESIAN, ITALIAN, KAZAKH, POLISH, PORTUGUESE, RUSSIAN, SPANISH, SWEDISH, TURKISH)

16 Nov, 2015

User Manual ver 1.0

(KOREAN, ENGLISH, CHINESE, CHINESE, FRENCH, GERMAN, HUNGARIAN, INDONESIAN, ITALIAN, KAZAKH, POLISH, PORTUGUESE, RUSSIAN, SPANISH, SWEDISH, TURKISH)

14 Sep, 2015

Quick Guide ver 1.0

(KOREAN, ENGLISH, ARABIC, CHINESE, CHINESE, FRENCH, GERMAN, HUNGARIAN, INDONESIAN, ITALIAN, KAZAKH, POLISH, PORTUGUESE, RUSSIAN, SPANISH, SWEDISH, TURKISH)

15 Apr, 2015

Quick Guide ver 1.0

(KOREAN, ENGLISH, ARABIC, CHINESE, CHINESE, FRENCH, GERMAN, HUNGARIAN, INDONESIAN, ITALIAN, JAPANESE, KAZAKH, POLISH, PORTUGUESE, RUSSIAN, SPANISH, TURKISH)