* Images are simulated and for illustration purposes only. The appearance, design and GUI(Graphic User Interface) specifications which do not affect the product performance are subject to change without notice.
* TV sold separately.
* Applied years(2014-2020) ⓒ2021 Futuresource Consulting
SpaceFit Sound+
SpaceFit Sound+

SpaceFit Sound
SpaceFit Sound
Elevated sound from every direction
Explore the depths of sound with Dolby Atmos and DTS:X. The two let you hear each distinct sound as it flows around and above you, just as you would in real life.

* Dolby Atmos and DTS:X applies to all 2021 Q Series Soundbars.
* Dolby Atmos and DTS:X source content required.
'Our focus starts at the ear of the listener, then expands out to the listening environment – the transducers (woofers and tweeters), amplifiers, and digital signal processors (DSPs).'
* Allan Devantier, Vice President of Samsung Audio Lab R&D

Q Soundbar and TV, the perfect harmony
Q-Symphony
Q Soundbar syncs with your Samsung TV, together creating immersive sound. It combines and enhances sound through the soundbar's front, side, and up-firing speakers as well as the TV's speakers, giving you a new level of acoustic immersion so you can experience content like never before.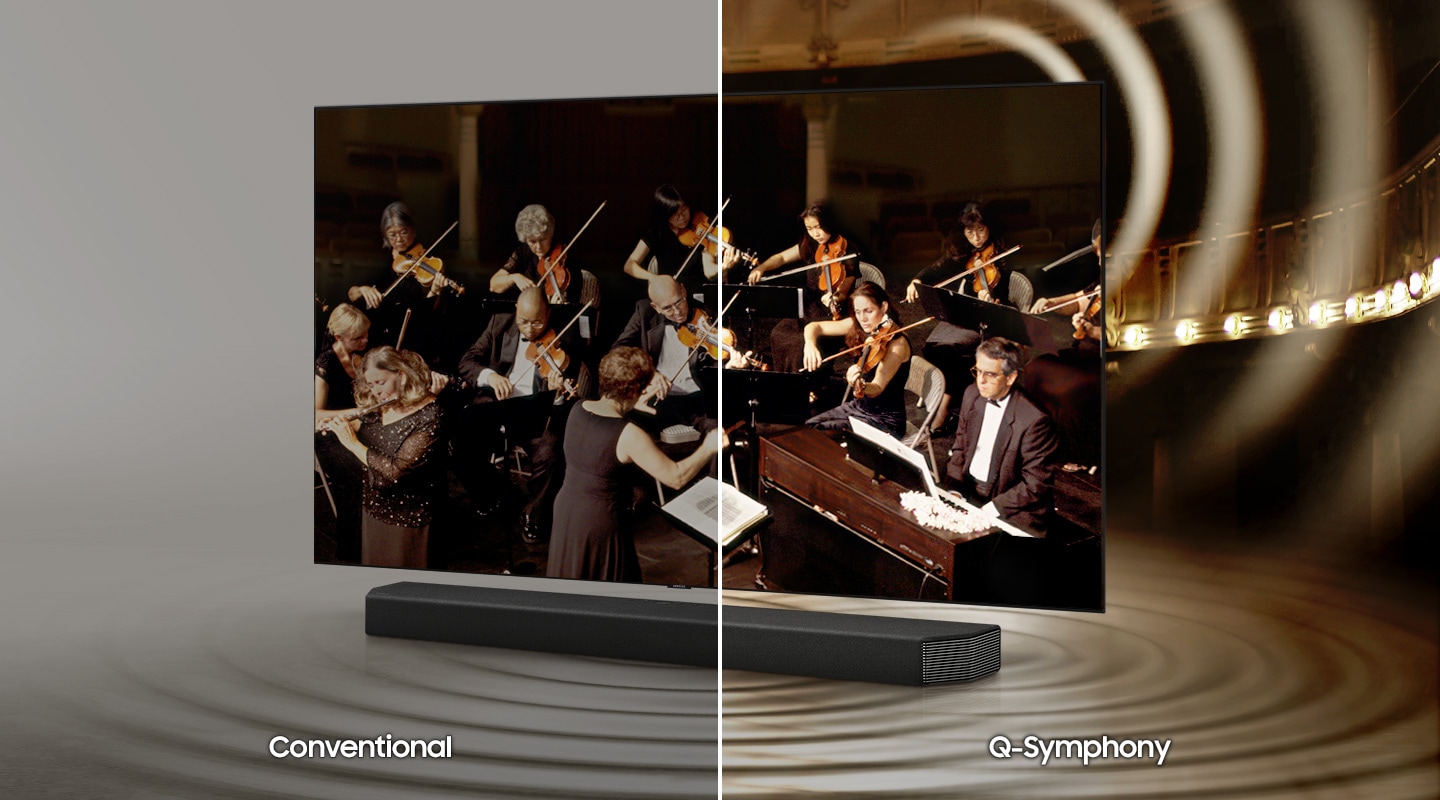 * Features may not be compatible with all Samsung TVs.
* Functions may vary by TV model.
* Function requires HDMI, Optical or Wi-Fi connection to TV.
* Q-Symphony is compatible with 2021 Samsung TV (AU7000 ↑ TV and above).
Sound calibrated for your space to perfection
SpaceFit Sound+
Enjoy stunning sound that's tuned into your interior conditions. SpaceFit Sound+ combines optimized clarity and immersive sound of SpaceFit Sound and optimized bass of Auto EQ
* SpaceFit Sound+ is compatible with 2021 Samsung QLED(Q70 ↑ and above).
SpaceFit Sound
Seamless synergy between Samsung TV and Samsung soundbar. Optimized sound for clarity and immersion from the soundbar based on the analysis processed by your Samsung TV.
* SpaceFit Sound is compatible with 2021 Samsung QLED(Q70 and above).
Auto EQ
The included subwoofer automatically fills the room with surround sound and powerful bass calibrated for you.
* This function is not exclusive to Samsung TV models and can be used with any TV brand's models.
Ready to hear your command
Built-in voice assistant
Easily control your music, get information, and manage your day, hands-free. Can't recall a song title? Ask Alexa to play something by simply saying a few lines of the song's lyrics. No matter what kind of music and content you're in the mood for, it's ready to hear you.
* This service availability may vary by region/service provider/language.
* This service which is not affecting to product performance are subject to change without notice.
* Actual user experience may vary.
* Amazon, Alexa, and all related logos are trademarks of Amazon.com, Inc. or its affiliates.
Play music on your Soundbar with a simple tap
AirPlay 2
You can seamlessly use Soundbar with your Apple devices, too. AirPlay 2 lets you easily play music and podcasts to Soundbar from your iPhone, iPad, and Mac. Just tap or click the AirPlay icon, and choose Soundbar to play audio from your Apple device.
* Apple, AirPlay, iPhone, iPad and Mac are trademarks of Apple Inc., registered in the U.S. and other countries.
* This Samsung Soundbar supports AirPlay 2 and requires iOS 11.4 or later.

Simply Tap and play
Tap Sound
For the moments you want to enjoy your music on another level. When listening to your favorites on your phone, simply Tap it on the soundbar. The soundbar vibrates as it recognizes the device and seamlessly connects and plays the song you were listening to — but with incredible soundbar audio.
* Tap sound is working through Bluetooth, and compatible with Samsung mobile devices with Android 8.1 and above.
A world of sound with one remote
One Remote Control
You don't need several remotes. Control key soundbar functions like power, volume, and even sound effects with the Samsung TV remote — right from your TV.
* Function and remote control design may vary by TV model and region.
* Compatible with selected Samsung TVs. Please check the Samsung TV's specification.