What should I do when water drops fall from my air conditioner?
Last Update date :
Oct 23. 2020
The water droplets inside the air conditioner are caused by temperature differences depending on the local weather and are normal.
However, if the leakage is severe, an engineer's inspection is required. It is recommended for you to check the following solutions before visiting an authorized Samsung service center.
If there is dew on the Blade or IDU
Cause
The cooling set temperature is low.
The ambient air humidity is high (continuous inflow of outside air).
The indoor unit fan speed is low.
The blade angle incorrectly adjusted.
Resolution
Increase the temperature. It is generally recommended to set it to 26°C.
Run the Dry mode for 3-4 hours, then switch to the Cooling mode (check the inflow of external air/humidity).
Set the cooling fan speed to 'Med' or 'High'.
Adjust the blade angle. You can adjust the airflow direction up and down with the Vertical air swing button. 
If there is water leakage in the indoor unit of the air conditioner
Cause
When the indoor unit is not horizontal and the condensate overflows due to bias.
When the drain hose faces above the indoor unit, the hose is bent, or the end of the hose is submerged in water and flows back.
When rainwater flows through the pipe through the perforated hole.
When the drain hole is clogged due to not cleaning for a long time.

Resolution
Leveling the indoor unit of the air conditioner.
Check the drain hose.

        - Keep it downward to prevent reverse flow.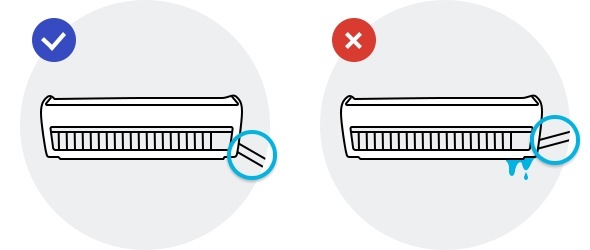 - Keep it straighten to prevent reverse flow.

        - Reinforce the damaged area with insulation tape.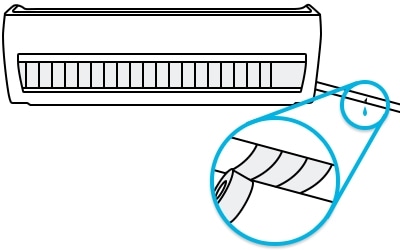 - The end of the drain hose is NOT to be placed under water.
Prevent rainwater from entering by finishing the perforated holes with Putty or silicone.
Air conditioner cleaning.
If there is water leakage in the outdoor unit of the air conditioner
In case of water in the outdoor unit piping connection and service valve.
Cause
When the air conditioner is operated, the pipe may become cold, and dew may form on the bottom of the pipe connection and the outdoor unit due to the temperature difference with the hot outside.
Please click the submit button below to share your feedback with us. Thank you for your participation.
Please answer all questions.