Why Is There An 'Nd' On The Display Panel Of The Washing Machine?
Last Update date :
Oct 27. 2020
If your washer is beeping, and the display is flashing "Nd", your machine is showing a no drain condition which is usually related to a backed up drain hose or a clogged debris filter.

The drain hose coming from the back of your washing machine should not be inserted more than 6 inches into the drain/stand pipe in your home. Inserting the drain hose too far into the drain may cause a syphon effect preventing any water from draining out of the washing machine. This will cause an "Nd" error.
IMPORTANT:

Many customers remove the drain hose fastener attached on the back of the washing machine during installation. It is a white plastic strap secured with a metal screw, approximately 18 inches above where the drain hose comes out of the washing machine. Do not remove it. It is in place to prevent syphoning.
Checking for a Clogged Debris Filter
WARNING: If you were running a hot, or sanitize cycle when Nd flashed, the water in the washer may be very hot. Allow the water to cool for approximately 1 hour before performing this procedure.
1
Open the debris filter access cover.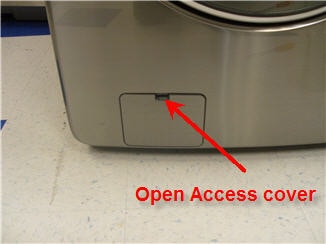 2
Remove the access cover by pulling the cover outwards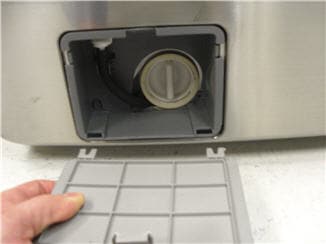 3
Remove black rubber drain hose from its holder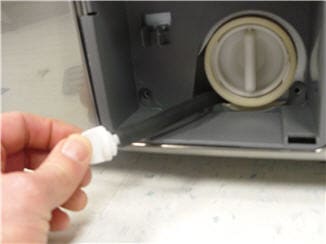 4
Place a towel on the floor to prevent water damage to the floor.
5
Remove the white drain plug from the drain hose, and then drain the water into a suitable container.
6
Remove the debris filter by turning it counter clockwise.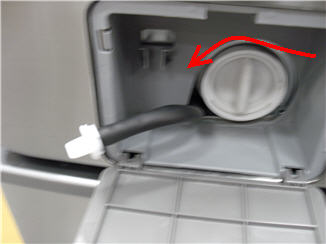 7
Clean the filter, and then reinstall the filter.
8
Reinstall the drain tube cap, and then secure it in its holder.
9
Reinstall the access door.
10
Check for leaks as the washer is filling up.
Please answer all questions.