All displayed color on screen are only black and white. Why is this?
Last Update date :
Oct 06. 2020
If you activated Wind down mode, displayed colors on the screen are black and white tone.
Please check you enabled this mode by mistake on following steps : Settings > Digital wellbeing > Wind down
1
Settings
2
Digital wellbeing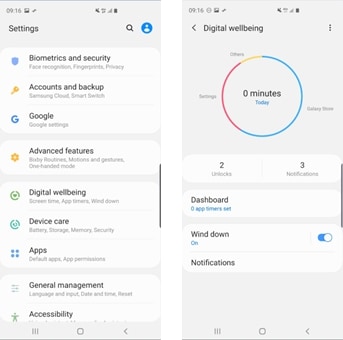 3
Wind down
You can activate Wind down mode to reduce eye strain before sleeping and prevent your sleep from being disturbed.
ㆍGreyscale : Displays colors on the screen as grey tones.
ㆍDo not disturb: Set the device to mute incoming calls and notification sounds, except for allowed exceptions.
CF.) Night mode (Settings > Display > Night mode) also can reduce eye strain by applying the dark theme when using the device at night or in a dark place.  However the dark theme may not be applied in some apps and Home/lock screen.
Please click the submit button below to share your feedback with us. Thank you for your participation.
Please answer all questions.