Galaxy A5 2017: What is the software version on my Samsung Galaxy A5 2017(SM-A520W)?
Last Update date :
Oct 07. 2020
The Galaxy A5 (2017) operates on Android version 6.0.1 (Marshmallow). The Samsung Support team cannot speculate on when a future software update may be released. The information provided is for Canada models only; unlocked, rooted, or non-Canadian devices are not supported.
1
From the Home screen, touch Apps.
3
Swipe to and touch About device.
4
Touch Software info.
5
Your software version will be given by the Android version and Baseband version fields .
Recommendations for Updating
Review this section before updating your device.

We recommend the following before you update your device:

• The battery should be charged to 50% or higher.

• Connect to a Wi-Fi network to avoid unnecessary data charges.

• Ensure there is available storage space on the device memory. The space required will be determined by the update.

• Use a Samsung USB cable.

• Back up your data using Smart Switch.

During the update, we recommend the following:

• Please do not use the device or press any keys.

• Do not remove the battery.

• Do not turn off the device.

• Do not disconnect the USB cable until the update is complete.
Note: You will not be able to place a call during the update, not even an emergency call.

Important: You cannot downgrade the software after the update has been completed.
Your device is designed to notify you automatically if an update is available so there is no real need for you to look for an update. But it is possible to verify the availability of an update at any time.

Important: Before proceeding, we recommend you connect to a Wi-Fi network to avoid unnecessary data charges. File size can vary depending on the update.
1
From the Home screen, touch Apps Apps.
2
Touch Settings Settings.
3
Swipe to and touch Software update.
4
By default the option Download updates automatically is activated ON. If it is not the case, we highly recommend to activate this function by touching the slider OFF.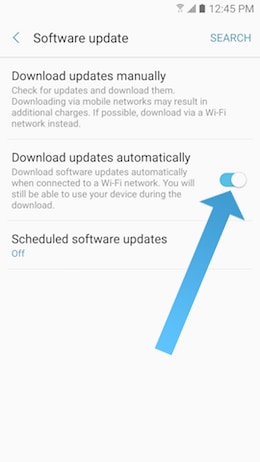 5
Touch Download updates manually to check for updates manually.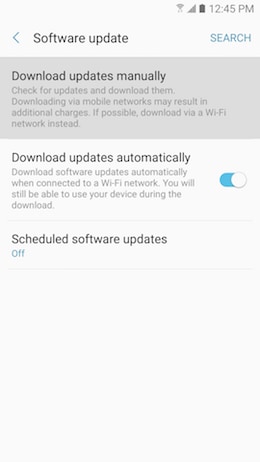 6
In most of the cases, your device will tell you that "The latest updates have already been installed", as it checks for updates automatically. But, if a system update is available, follow the prompts to download and install the update.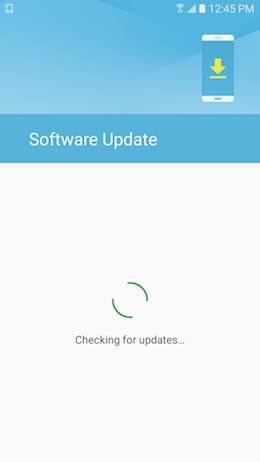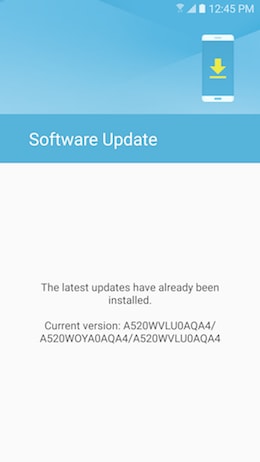 7
Your device may turn off and on a few times during the update process. After the update is complete, your files and data are preserved, but if you stop the installation by removing the battery or turning off the device, your device may not work normally. To avoid data loss, we recommend you back up your important data before you begin the update.
Note: Depending on how many versions your software is behind the latest version, it may be necessary to repeat this process multiple times.
Important: An Android update is approved by the manufacturer first. Once Samsung approves it, it is sent to the carriers. Each carrier customizes, modifies and releases their own version of Android. In some instances, they may never release an update. This results in customers with the same manufactured devices having different versions of Android. Please contact your carrier for Android update questions.
Please click the submit button below to share your feedback with us. Thank you for your participation.
Please answer all questions.