How Do I set up my AllShare Cast Dongle?
Last Update date :
Oct 05. 2020
The AllShare Cast Dongle allows you to stream content from compatible devices to your TV.
Setting up your AllShare Cast Dongle:
1. Connect one end of the HDMI cable to the dongle and the other to one of the HDMI sockets on your TV.
2. Connect the mains adaptor to the dongle, plug it in and switch it on.
3. A red light will appear on the dongle. When the red light starts blinking, use your TV remote to change the source to HDMI.
You will now see confirmation of the connection on your TV screen.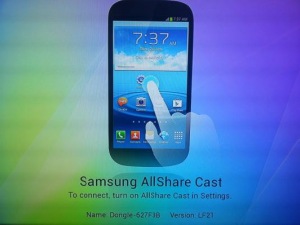 4. Press the reset button on the back of the dongle and the light will turn blue.
5. You will now need to connect your device to the dongle. There are a number of options to connect, depending on which type of device you have.
Quick Connect: most Samsung smartphones have Quick Connect. Simply swipe down from the top of the screen and tap Quick Connect.
Via Settings: Look under Settings on your device for NFC and Sharing, or More Connections Settings.
Depending on your model and OS, you should be able to connect using the ShareView, Screen Mirroring or AllShare functions.
You will see a screen showing available devices. Tap on the Dongle.
8. Your device will now connect to the dongle and the TV.
Please click the submit button below to share your feedback with us. Thank you for your participation.
Please answer all questions.