How Do I Reset Smart Hub On My BD-D or HT-D Model?
Last Update date :
Nov 23. 2020
Resetting Smart Hub (BD-E5900/BD-EM59)
When Smart Hub is reset, all downloaded Apps are initialized. User accounts and settings are erased and all the Smart Hub settings revert to factory default. Smart Hub then restarts as if it were starting for the first time. Your account, however, remains on the Smart Hub server. To log into your account, enter your ID and password on the login screen after the reset.
Use this if:
• Smart hub is not working properly
• Apps are not loading
• Some Apps are missing or failing
NOTE:
Once you have created a Smart Hub ID the ID will remain on the Smart Hub server and will not be deleted regardless of the type of reset performed. To delete a Smart Hub ID you must deactivate the account by selecting 'Deactivate Account' from Account Management.
IMPORTANT:
If Smart Hub was working previously and has stopped working, or if this is the first time you're installing but it does not load, please try again later. Although we provide notifications whenever a server update is perfomed, we may experience down time if there is an increase in server traffic.
Smart Hub Reset
1. Power on your Blu-ray player or HTS if it's not already on, and wait for the Home Menu to display.
2. Using the right or left arrow buttons on your Blu-ray player or HTS remote move to Smart Hub and then press
Enter
. Alternatively you can press the
Smart Hub
button on your remote if available.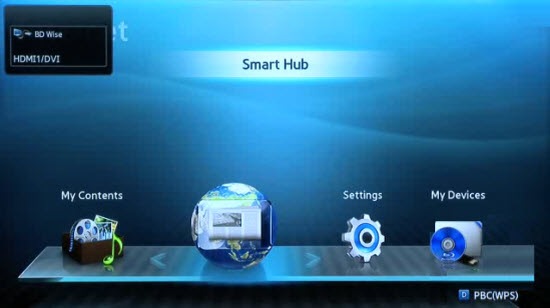 3. Once the Smart Hub home screen displays press the
blue D
button on your Blu-ray player or HTS remote. The Account Management screen displays.
4. Using the top or bottom arrow buttons on your Blu-ray player or HTS remote move to Reset and then press
Enter
. A password screen displays.
5. Using the number buttons on your BD remote enter the Parental Rating password you have set, if you did not set a password enter the default password "0000". Smart Hub automatically resets and displays "Resetting all settings..." message followed by a "Reset Complete" confirmation message. Press enter on
OK
to complete the reset process.
NOTE:
The screen may turn black and then re-appear before the re-initialization process starts and the Terms of Service agreements are displayed.
In a few moments the re-initialization process starts and the terms of service agreement is displayed, follow the on screen prompts to complete installation. Re-initialization can take anywhere from 2 - 5 minutes depending on network environment.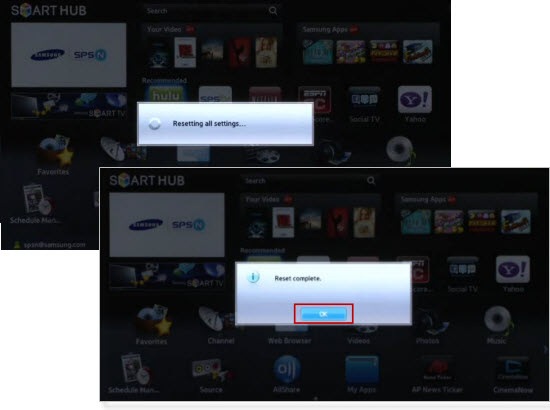 Please click the submit button below to share your feedback with us. Thank you for your participation.
Please answer all questions.