HW-K450: How Can I connect a SWA-8000S kit to my 300W 2.1 Ch Flat Soundbar HW-K450?
Last Update date :
Nov 23. 2020
SWA-8000S Kit
Expand to true wireless surround sound by connecting the Samsung Wireless Rear Speaker kit, SWA-8000S (sold separately), to your soundbar. The SWA-8000S kit includes two Surround Speakers (Left and Right) and one Wireless Receiver Module. Once connected, your soundbar and the Wireless Receiver Module are automatically reconnected, even after you turn them off and back on.
Warning:
A soundbar is required to use the SWA-8000S kit.
Connecting the subwoofer and the SWA-8000S kit manually
1.
Only the Wireless Receiver Module of the SWA-8000S kit is wireless. The two surround speakers are connected to the Wireless Receiver Module by wires. Press the
wire tabs
and insert the speaker wires to connect the speakers to the Wireless Receiver Module.
Note:
Make sure the color of the wire matches the wire tab. Also make sure the wires make contact with the metal component under each tab.
2.
Connect the other end of the
cable wires
into the Wireless Receiver Module.
3.
Plug in the
power cable
into the Wireless Receiver Module.
4.
Plug the
power cords
of the Soundbar, Subwoofer, and Wireless Receiver into AC wall outlets.
5.
Press and hold the
ID SET
button on the back of the wireless and receiver and subwoofer for about
5 seconds
.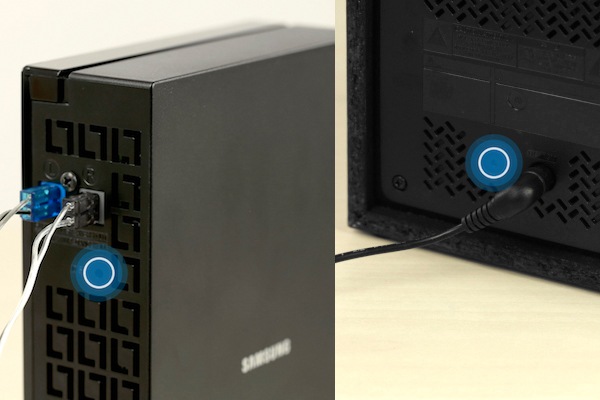 6.
Continue holding until the
STANDBY
indicators turn off and the
LINK indicators
(Blue LEDs) blinks quickly.
7.
While the Soundbar is powered off (in STANDBY mode), press and hold the
Mute
button on the Soundbar remote until
ID SET
appears on the Soundbar's display.
8.
When the
LINK indicator
(Blue LED) on the SWA-8000S blinks, power on the soundbar.
9.
When the
LINK indicators
(Blue LEDs) on your subwoofer and the SWA-8000S glows continuously, the SWA-8000S has connected successfully. This process may take
a few minutes
. If the surround speaker's volume is low, try pairing the subwoofer and speakers again.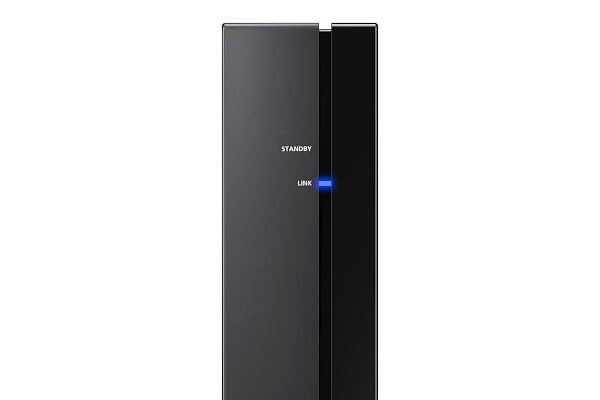 Note:
If the problem persists, please
contact Samsung
for further assistance.
Please click the submit button below to share your feedback with us. Thank you for your participation.
Please answer all questions.