How to clean your Samsung Galaxy device
Last Update date :
2023-11-02
In today's hyper-connected world, smart devices have become necessary companions that house our digital lives, memories and daily necessities. With constant use and portability, these pocket-sized powerhouses can accumulate dirt, smudges and germs; so in the interest of good health and hygiene, it is wise to clean your Samsung Galaxy device regularly.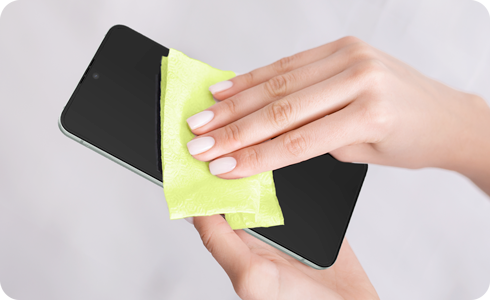 Note: The following cleaning methods apply to phones, tablets and watches. Other products, such as Galaxy Buds, may require a different approach.
Keeping everything about Samsung products user-friendly is at the centre of every design; so when it comes to cleaning your Galaxy device, it makes sense that the process is equally as simple and effortless.
Step 1. Turn your device's power off and then remove the case if it has one. If your device is a watch, remove the wristband.

Step 2. Using a lint-free microfibre cloth, apply moderate pressure while wiping the front and back of your device.
Note: You can moisten the edge of the cloth in distilled water if needed, but be careful not to allow any water to enter any openings in the device.
Even though the cleaning process is fairly straightforward, there are still a few questions or situations that may arise under certain circumstances that must be addressed.
Do not expose the device to excessive moisture or submerge it in liquid, including distilled water and cleaning solutions.


Exposure to alcohol too often for a long time may affect water resistance.


Avoid applying disinfectant directly to the device.


Never use bleach.


Do not use compressed air since it may damage the surface.


To remove difficult substances, like cosmetics, you may use a small amount of an alcohol-based solution or a disinfectant instead of distilled water.
Note:
Alcohol-based solutions should be either isopropyl alcohol or ethyl alcohol with a 70% (or higher) concentration.
If you have any questions after verifying the solutions mentioned above, please call our

contact center

to get help with your inquiry. Our helpful agents will be there to help you.
Please answer all questions.