See nothing else
Introducing the new 2018 QLED TV


TV that does it all
Three simple words: Unrivaled viewing experience.
That's all we need to sum up our ideas behind new 2018 QLED TV. No more
distractions. Just pure entertainment for your eyes.
The TV that offers you more than any other TV can.
Unrivalled viewing experience. Endless style with no distractions. Pure entertainment for your eyes.
The TV you love
with nothing in the way
Gone are the days of huddling around a small, dark screen surrounded by clutter. Our exceptional Big Screens deliver over a billion colours and stunning contrast for exceptional viewing any time of the day. Eliminate the big black screen with Samsung's superior design and craftsmanship, which means the QLED TV can blend right into your home interior. And control multiple device with the One Remote Control.
Nothing but the best.
What makes a perfect TV? Outstanding features, combined with the most advanced picture technologies.
Samsung's new 2018 QLED TV will give you amazing experiences every day, from our best picture quality yet to intuitive smart features and beautiful design you can be proud of.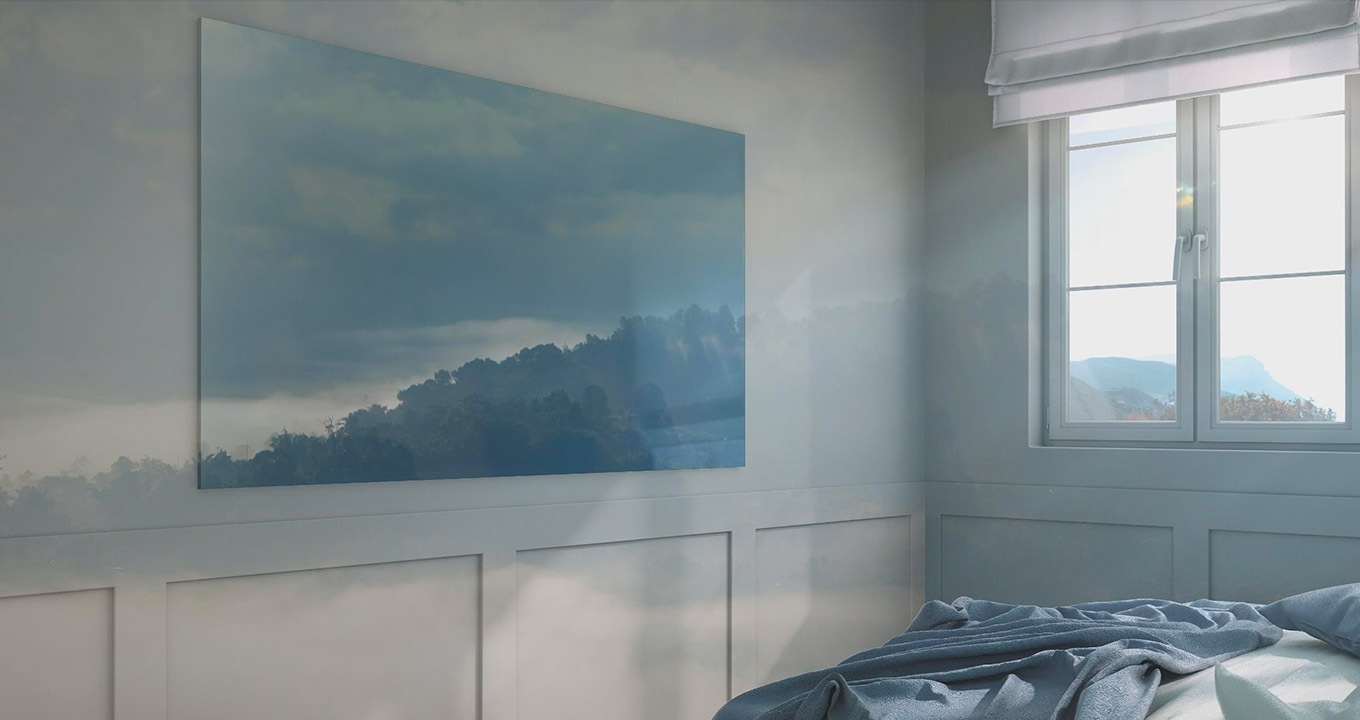 Over a billion shades of color
Q Colour
We took the simple process of turning light into colour, and made it something truly special with our ground-breaking Quantum dot technology. By adding light into the mixture, we made a billion colours possible with a colour volume of 100%.
At any time,
in any light
Q Contrast
Think about all those times you just couldn't see the TV screen. Sometimes there's just too much sunlight in the room. Sometimes, not enough. New 2018 QLED TVs puts those annoyances in the past, with deeper and darker blacks that highlight every single detail. Now it doesn't matter how much light there is in the room.

See
beyond the
shadows
Q HDR
Sometimes you can't see the shadow detail in dark scenes. Q HDR was created by combining Samsung expertise and HDR10+ technology to give you a wider range of brightness and contrast, bringing all the picture nuances to life.
See the picture, not the TV
Our design philosophy is to keep distractions hidden for you to see only pictures. We got rid of the common things that distract us most, such as messy cables and the black screen that will no longer be a distraction to your home. Freedom of space, freedom of pure enjoyment.



No more black screen
Ambient Mode
Only Samsung removes the black screen so your TV can blend seamlessly into the room. Ambient Mode elevates your living room with decorative content, useful information and your own photos, and can mimic the texture of the wall behind it. It can even play a bit of light background music if you want it to.

All you need is one
One Remote Control
One single, sleek remote to control your connected devices. No more juggling remotes to find the right remote. Spend more time watching. And you'll automatically see the device name on screen. Finding the connected device just got so much easier.
* Actual product and remote control may differ from image shown.
* Compatable devices only.

* QLED TVs have received verification from world-class testing and certification association, Verband Deutscher Elektrotechniker (VDE), for its ability to produce 100 percent color volume.
* QLED TV : Samsung QLED is Quantum dot based TV.
* The peak brightness may vary depending on the model and size of the TV.
* Please refer to the product detail page for each model.
* Images are simulated and for illustration purposes only. The appearance and design specifications which is not affecting to product performance are subject to change without notice