The world's first
do-it-all screen¹
Meet the screen that truly does it all—whether you're working, studying or relaxing at home.* Work in stunning 4K without switching on a laptop or PC, or watch on a TV complete with preloaded apps, built-in speakers and remote control.²
Endless entertainment. No PC needed.
Kick back with your favorite TV shows in cinematic 4K or even level-up your game play—all without a PC.²
Stream with astonishing TV-quality
Work from your desk, then watch from your couch. The TIZEN platform accesses your favorite TV apps, so you can binge in amazingly life-like FHD without using a cable box or PC.² ³ ⁴ ⁵ ⁶
Reveal the game's hidden sides
Discover hidden areas in your gameplay with Ultrawide Game View. It adjusts your screen to 21:9, so you can see more of the pitch in a soccer game or more of the road in a driving game.⁷ ⁸

Work and learn smarter
Whether you only have space for one screen or need a second screen that does it all, Samsung Smart Monitors make working from home a breeze.
Making remote work, work
Work from home while remotely accessing your PC's desktop all with Microsoft Office 365 Suite and Remote Access.⁹ Perfect a PowerPoint deck, knock out a paper in Word, then save it all in the Cloud.*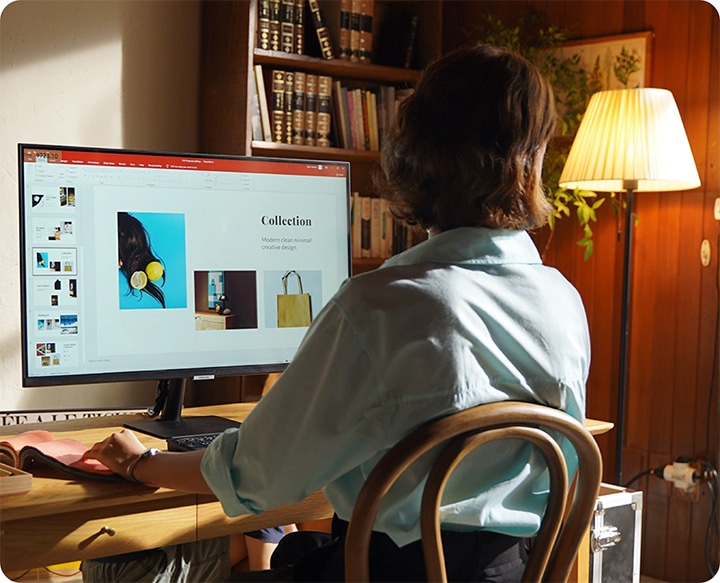 Learn on a new school screen
If you're a full-time student or a parent with a child, you can dive into lessons or homework without needing a PC.* Wireless DeX lets you view your Samsung mobile device on your monitor like a desktop.¹⁰ Additionally, with AirPlay 2 built-in, you can stream or share content from Apple devices.¹¹
Super easy on the eyes
For all-day work sessions or late-night studying, this screen looks out for you—with an Adaptive Picture that optimizes brightness for the time of day and built-in blue light protection.²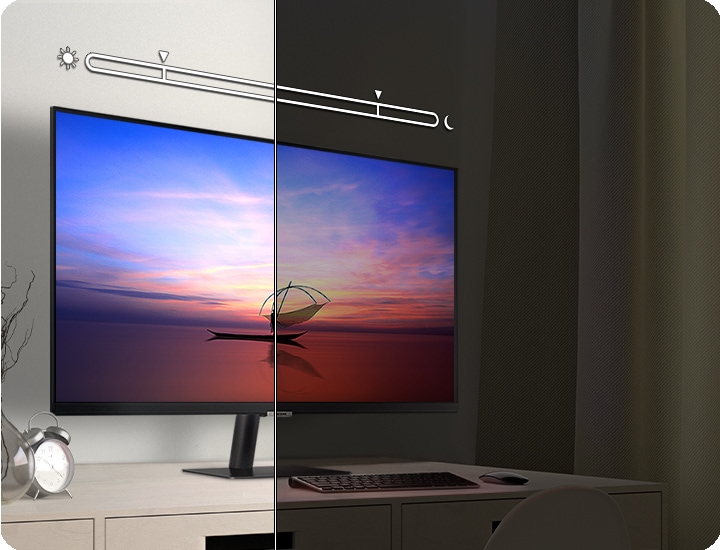 Connectivity that's a no-brainer
A smarter connection. Auto Source Switch+ displays your new device, as soon as it's plugged in while the M7's USB type-C port can power up and even send display signals between devices.¹²
Compare the screens that do it all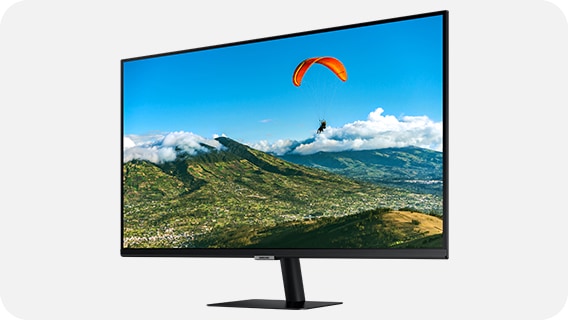 27/32" M5 Smart Monitor
FHD Resolution
1xHDMI port, 3xUSB ports
Remote and Tizen™ Platform SmartTV app
Built-in speakers
Adaptive Picture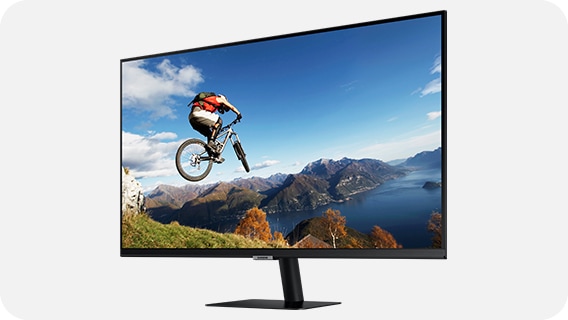 32" M7 Smart Monitor
4K resolution
1xUSB-C, 1xHDMI port, 4xUSB ports
Remote and Tizen™ Platform SmartTV app
Built-in speakers
Adaptive Picture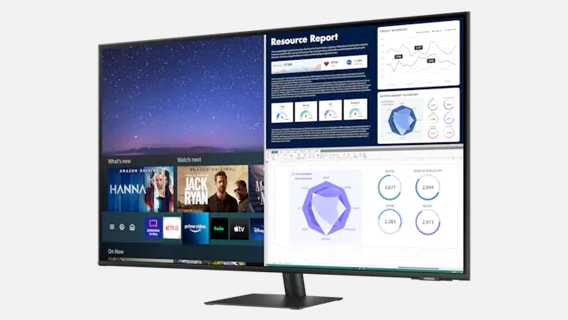 43" Smart Monitor With Smart TV Apps and UHD
UHD Resolution
2xHDMI port, 3xUSB ports, USB type C
Remote and Tizen™ Platform SmartTV app
Built-in speakers
Adaptive Picture
AirPlay 2 built-in option
*On-screen content simulated for demonstration purpose
¹ World's first monitor to combine OTT media service, mobile connectivity, and remote PC capabilities.
² 4K only available on the Smart Monitor M7.
³ App availability may vary by country.
⁴ App subscription required.
⁵ Remote control specifications may vary by country.
⁶ TV tuner not included. 
⁷ Availability limited to source devices which support 21:9 output.
⁸ May function differently depending on game or content being viewed.
⁹ Windows 10 Pro, Mac OS 10.5, or higher, and compatible network settings are required for this feature
¹⁰ Wireless connection to DeX only available on Galaxy Note20, TabS7, and Galaxy Z Fold2 models. Wireless DeX is limited to selected apps and may require license purchase.
¹¹ Apple and AirPlay 2 are trademarks of Apple Inc., registered in the U.S. and other countries. Service availability may vary by region. AirPlay 2 requires iOS 12.3 or later, or macOS 10.14.5 or later.
¹² USB-C only available on the Smart Monitor M7.