How can I check for the Warranty of my Samsung Mobile Phone?
Last Update date :
2023-03-02
Warranty Information
For peace of mind we offer a manufacturer's warranty on all our products.
If you need to claim against the warranty, please contact us and we'll guide you through the process.
Below you'll find an overview of what's covered in your warranty, links to register your products and your current registered products.
We recommend registering your product with us, so that we can help you as quickly and efficiently as possible.
For more details about warranty information please click here.
Check your product warranty online
1
Click on the warranty checker link, then sign in to your Samsung account.
2
Choose your Location and type the Serial Number of or the IMEI number of your product
Check your product warranty through the Samsung Contact Center
You can contact our Contact Center if you have any inquiries about your warranty.
All you have to do is to provide us with your IMEI number: 
You can check your IMEI number through (*#06#).


In case of a broken device, You can check your IMEI printed on the device box.


You can find it in your purchased invoice.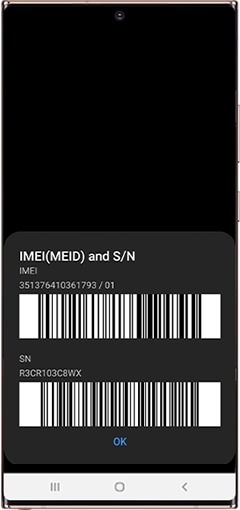 What if I lost my purchase invoice?
We understand customers might accidentally lose the purchase invoice however the purchase invoice is the most accurate evidence for the warranty verification. Without a hardcopy purchase invoice, Samsung Service Centers will base on the e-warranty register date and production date to check the warranty period.
We would encourage customers back to the point of purchase to request for invoices copy.

Note : If you encounter any difficulties while checking for your warranty information. Please call our contact center and our helpful agents will assist you.
Note : If you face any issue at checking the warranty status you can call our contact center and our helpful agents will assist you.
Please click the submit button below to share your feedback with us. Thank you for your participation.
Please answer all questions.