Manage network connections on your Galaxy Book
Last Update date :
Oct 08. 2020
Use your Galaxy Book's connection functions if you need to check your data usage. Some Galaxy Book models can use LTE if you have a service plan. The connection settings are also helpful if you're wondering how to change a faulty connection, or if you need to turn on options like Airplane mode to limit wireless functions.
Information provided applies to Galaxy Book models sold in Canada. Available screens and settings may vary for Galaxy Book sold in other countries.
Network and internet settings
When you want to manually control the settings, you can adjust and view your Galaxy Book's network and internet options. You may need to check the settings if you are using your device outside of your home or office, or would like to preserve your battery life for a period of time. Navigate to Settings, and then select Network and Internet. From here you can activate Wi-Fi, configure your cellular data, or use a dial-up connection.

Status: View the current network status for your device, which includes your current connection information and IP address.

Wi-Fi: Enable the Wi-Fi feature so you can connect to a network. You can also turn off Wi-Fi if you'd like to help preserve battery life.
Cellular: Adjust your mobile service and data roaming options. Windows can manage the connection for you by automatically selecting cellular data, or you can manually default to Wi-Fi instead.
Dial-up: Adjust your device's dial-up settings if you are using a modem.
VPN: Connect to a Virtual Private Network if you want to add an extra layer of protection when browsing the internet.
Airplane mode: Disable or enable Airplane mode, which halts all wireless functions on your Galaxy Book.
Mobile hotspot: Set up your device to be used as a mobile hotspot so you can share your data connection.
Data usage: Track your data usage amount by displaying the wired or wireless data received on your Galaxy Book. You can set up a data limit so Windows can help you manage your data plan, or restrict the device's background data. Apps and Windows features can be disabled from running in the background when you are not using them.
Proxy: View and configure the proxy server settings to prevent unwanted access to your device. Or, you can set up your own proxy server.
Manage cellular and data
Your Galaxy Book can help manage your cellular connection and data usage when using apps or downloading files. You can choose individual apps that use your cellular data as well, if you find that certain ones are using too much. To begin setting a data limit, navigate to Settings, and then select Network and Internet. Select Data usage, and then select Set limit under "Data limit". You can choose from the available Limit type options for Monthly, One time, or Unlimited.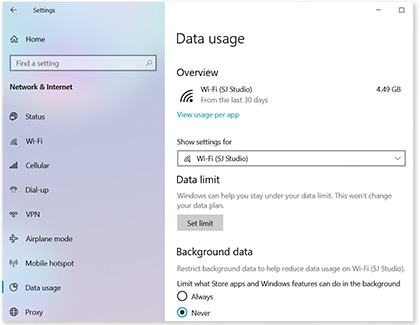 You'll be required to enter either a reset date or an expiration date, and a data limit amount. For instance, if you select a data limit amount of 50 MB, you'll receive a notification once you have reached that amount.

If you need to reset your data usage, navigate back to Data usage, and then select View usage per app under "Overview". Select the Wi-Fi network that you would like to reset under "Show usage from", and then select Reset usage stats. Select Reset when prompted.
You can also adjust the apps that use your cellular data. From the Network and Internet settings, select Cellular, and then select Choose apps that can use your cellular data. Turn off the switch next to "Let apps use my cellular data" to disable all apps from using data, or scroll through the list to set the usage for individual apps.