If your Galaxy device requires repair, enjoy convenient repair service with free device pick-up at your home
and complimentary device sanitization*. Book a repair online, Contact us at 1-800-SAMSUNG, or Chat with us or text WECARE (932273) to arrange pick-up.

This service is available for both In & Out-of-Warranty customers.

For Out-of-warranty manufacturer suggested retail pricing, click here.* Please note Door to Door pick up and drop service is available for Samsung Galaxy phones, tablets, wearables, Samsung TVs, and Samsung microwaves. Repair time is based on part availability and product warranty. #Remote service is available for Samsung Galaxy Devices, Samsung TVs and Samsung Family Hub Refrigerators.~Samsung cannot guarantee as to the efficacy of the sanitization. Results may vary and may not kill all bacteria, germs and viruses. UV-C sanitizers are third-party devices and effectiveness of these sanitizers may vary depending on market and model.
Convenient Pick Up & Delivery
Contact us and arrange safe and
convenient device pick-up at your home.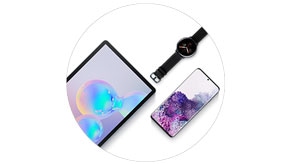 Speedy Repair
Approx. 3 day repair turnaround*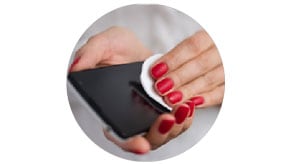 Sanitization & Contactless Delivery
Complimentary sanitization using UV-C light for mobile devices.

Customer reviews
"Samsung took the phone quickly, fixed and returned the phone quickly".

"I experienced the best customer service I have ever received. This started with the phone call to put in my request for service, the quality repair, the no charge for the repair and shipping, and the super quick turn around time to get my phone back to me. I have been a Samsung user for many years and with this great customer service I will continue purchasing his wonderful brand. Keep up the great job".
"The Samsung rep was very helpful, had good communication and helped to identify the issue with my product. When I received my ear buds back, they were packaged securely, were sparkling clean, charged 100% and worked perfectly. Thank you so much! I was really impressed with Samsung's ability to help me with my issue and the speediness of the resolution. Thank you so much"!
Frequently Asked Questions
The coding for Contact US > Call > View more function. And this text is only displayed on the editor page, please do not delet this component from Support Home. Thank you