What can you do when you hear unusual noises from the back of your Samsung refrigerator
Last Update date :
Jan 19. 2022
Unusual noises from the back of the refrigerator are typically caused by the water line or the water pressure. There are a few things to check that could potentially resolve the issue and stop the noises from happening.
Note: The provided information refers to refrigerators sold in Canada. The available settings and options may differ for devices sold in other countries.
Move the refrigerator forward approximately 2 inches
If the noise stops, this indicates the refrigerator was coming in contact with another object, such as the water line or the wall.

Verify water is being supplied to the fridge
If the water line is not connected or the water is not turned on, the water valve in the back of the fridge will make a buzzing sound. Turn off the ice maker to keep this sound from occurring. Visit the download center to obtain the user's manual for your refrigerator.

Note: If a water line is not connected, do not press down on the dispenser lever. This will eventually ruin the water valve, the water dispenser, and the ice maker.
Check water pressure
An easy way to check water pressure is to dispense water into a cup, around 6 ounces of water should dispense within 10 seconds. More water indicates that the water pressure may be too high. Also, if the water pressure is too high, the water may come out too quickly and splash onto the floor.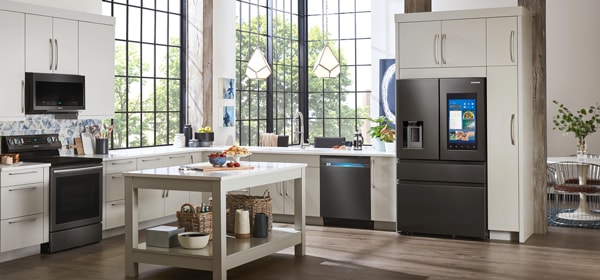 If less dispenses, the water pressure is too low. Make sure the water valve is open all the way and try again, then replace the water filter. If the issue isn't resolved, contact a plumber.

If the water pressure is too high, turn down the water valve slightly to decrease the pressure.
Note: There is no maximum or recommended level for water pressure. As long as the noise stops and the minimum requirement is met, water pressure may be set as desired.
Please click the submit button below to share your feedback with us. Thank you for your participation.
Please answer all questions.