Samsung Washer - Detergent, bleach, softener, or water remains in the detergent drawer
Last Update date :
Aug 05. 2021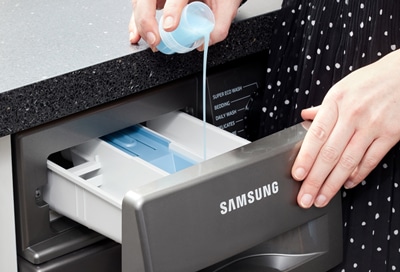 A little bit of water in your detergent drawer after a cycle completes is normal, but if a lot of water or detergent is still in the drawer, you should make sure your washer is level and clean the detergent drawer.
The provided information refers to washers sold in Canada. The available settings and options may differ for appliances sold in other countries. Always use HE detergent with your Samsung washer.
Step #1: Level the washer
If the washer is not sitting level, it will cause an incorrect slant in the detergent drawer, affecting how the siphons work. You'll need to level the washer during installation and occasionally afterwards if it becomes not level.

Step #3: Check the MAX line cap (liquid detergent only)
When using liquid detergent, the blue tray should be inserted in the detergent drawer. It also includes a cap which has the MAX line on it.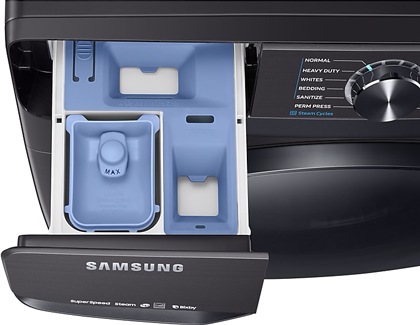 This cap must be correctly installed and pushed all the way down, or the siphoning effect may fail to siphon detergent out of the drawer or leave significant amounts of water behind.

If the detergent or softener is too thick to dispense properly, dilute it with water. However, make sure to not go over the MAX line. You can also try using a different detergent.
Step #4: Run a rinse and spin cycle without adding detergent
Running empty cycles without adding any detergent or other additives helps flush water through the detergent drawer and siphons, clearing them out. If you see soap bubbles in the wash even though you didn't add anything to the drawer, this is residue that's being cleaned out of the system. Keep running more cycles until you don't see soap bubbles anymore.

Not only does this keep your washer clean, it also improves the washer's performance and helps prevent odors. To help prevent this residue from building up, do not exceed the manufacturer's recommended amount of detergent for your load size.