Accessibility options available on your Galaxy tablet
Last Update date :
Dec 23. 2020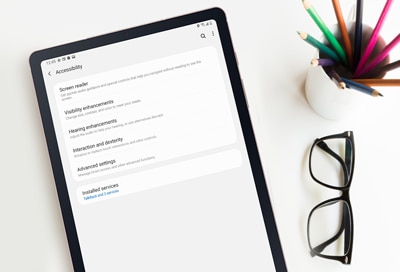 Galaxy tablets are meant to be used by everyone. If you have some kind of impairment, you can feel assured that your tablet has built-in Accessibility settings to make it easier to use. You can turn on Voice Assistant for Vision impairments, subtitles for Hearing impairments, and Interaction control for enhanced dexterity and usage.
Information provided applies to devices sold in Canada. Available screens and settings may vary for tablets sold in other countries.
Activate Voice Assistant
If you have some trouble reading the text or buttons on your tablet, don't worry. It comes with the Voice Assistant feature which will read everything you touch.
From Settings, search for and select Voice Assistant. Tap the switch next to Voice Assistant to turn it on, review the permissions, and then tap Allow. Some functions may need to be turned off temporarily; tap OK to confirm.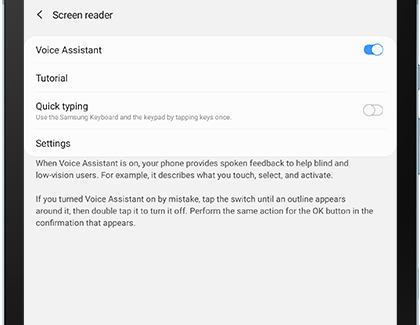 To turn off Voice Assistant, tap Voice Assistant to select it, and then double tap OK.
Use Samsung subtitles
Subtitles are extremely helpful when you are having difficulty hearing. Your tablet has its very own subtitles for when you're watching a movie or binge-watching your favorite show.
From Settings, search for and select Hearing enhancements. Tap Subtitle settings, tap Samsung subtitles (CC), and then tap the switch.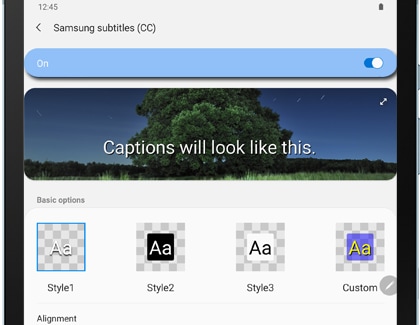 From there, adjust your desired settings:
Alignment: Change the position of subtitles.
Font: Change the font attributes.
Text size: Increase or decrease the text size.
You can also turn on Google subtitles by tapping Google subtitles (CC).
Turn on Interaction control
Some people just prefer to use their hands. If you are one of those people, you can set up Interaction control to make controlling your tablet easier.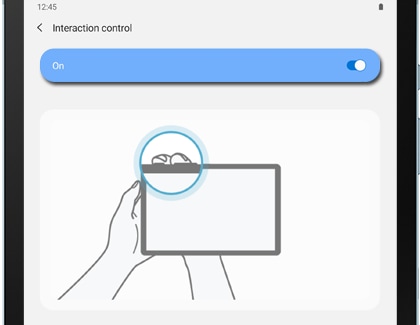 From Settings, search for and select Interaction and dexterity. Tap Interaction control, and then tap the switch to activate it. This will let you use motions to control your tablet, block parts of the screen, disable Auto rotate, and turn off the Power and Volume keys.
Use the Assistant menu
The Assistant menu is designed for individuals with motor control impairments. When you use the Assistant menu, you can access physical buttons and all parts of the screen by simply tapping or swiping.
From Settings, search for and select Assistant menu, and then tap the switch to start using the service.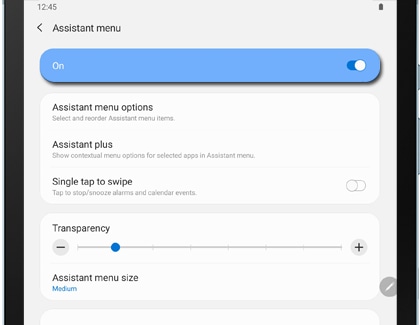 You can navigate to the Home screen, open recent apps, go back to the previous screen, and more without having to press any physical buttons.
Please click the submit button below to share your feedback with us. Thank you for your participation.
Please answer all questions.