Power saving modes on your Galaxy tablet
Last Update date :
Jan 29. 2021
When you're using apps or playing games on your tablet, its battery can deplete quickly. But if you use the preloaded Power saving modes and charge it properly, your tablet's battery can last longer. Now you can finish that final episode without a cliffhanger.
Information provided applies to devices sold in Canada. Available screens and settings may vary for tablets sold in other countries.
Monitor battery usage
Your battery seems to be draining faster than usual, and you're wondering what you're doing differently. No worries, you can view your battery usage.
Navigate to Settings, and then tap Device care. Tap Battery, and then tap Battery usage. Your recent battery usage will be displayed.
Power saving modes
Sometimes you need to only last an hour with a low battery, and other times, you need to make it through the whole day. You can choose between two Power saving modes that can help extend your battery life at critical times.

Navigate to Settings, tap Device care, and then tap Battery. Tap Power mode, and then select your desired power mode.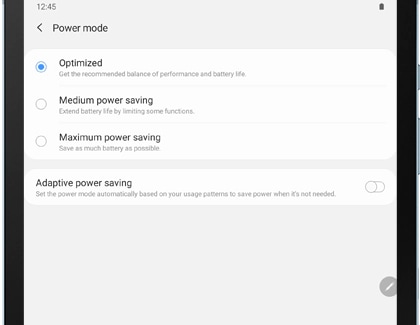 You can choose between the following options:

Optimized: Get the recommended balance of performance and battery life.
Medium power saving: Extend battery life by limiting some functions.
Maximum power saving: Save as much battery as possible. Many of the tablet's functions will be limited.
Adaptive power saving: The Power mode is automatically set based on your usage patterns to save power.
Battery basics
Using the right charging practices can help ensure that your tablet's battery lasts and lasts for years to come. Follow our advice to charge your battery properly and safely:

Only use Samsung supplied USB charging cables and avoid third-party accessories.

Ensure the USB charging cable is connected securely and not being blocked by your tablet's cover or case.

Use the outlet on your wall instead of your computer or other devices for the best results.
Disconnect your tablet from the USB charging cable once the battery is fully charged.
Please answer all questions.