Gear Sport - Water resistance (SM-R600)
Last Update date :
Oct 06. 2020
Swim-proof and ready for anything, Gear Sport keeps working in the pool, the rain and even in the shower. Gear Sport is water-resistant up to 50 meters/164 feet so you can keep track of your workout even under water!
Gear Sport passed military specification (MIL-STD-810G) testing against specific conditions, including drops from 4.9 feet, extreme temperatures, dust, shock/vibration, and low pressure/high altitude. Gear Sport may not perform in all extreme conditions.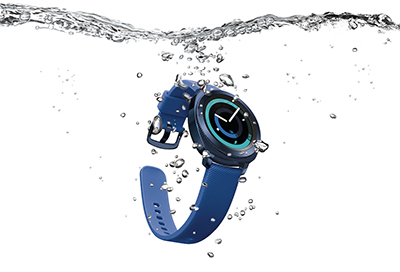 Alright, before you start thinking your Gear Sport is a superhero, just know it's not indestructible. Make sure you follow these tips carefully to prevent damage:

     • Whenever your Gear Sport gets wet, dry it thoroughly with a clean, soft cloth. Failure to rinse the Gear Sport in fresh water and dry it as instructed may cause the Gear Sport to suffer from operability or cosmetic issues.

     • Do not expose the Gear Sport to water at high pressure.

     • After use in sea water, rinse in fresh water and dry it.

     • If dropped or receives an impact, the water resistant features of the Gear Sport may be damaged.

     • Avoid excessive, sudden temperature changes and high velocity activities. Falls and shocks may breach integrity.

     • The Gear Sport is not intended for scuba diving.

Please answer all questions.
The coding for Contact US > Call > View more function. And this text is only displayed on the editor page, please do not delet this component from Support Home. Thank you