Galaxy Tab S4 - Use the S Pen (SM-T830)
Last Update date :
Oct 07. 2020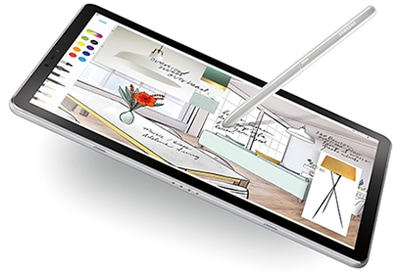 From writing directly on the screen to taking notes at any time, your tablet's S Pen gives you the power to be both productive and creative. Learn all about your tablet's S Pen features and settings so you can keep creating and get all your thoughts down in one place.
Screens and settings available may vary depending on your Canadian wireless service provider and your software version.
Direct Pen Input
Type no more! With your S Pen in hand, you can write text directly on your tablet's screen. To test it, open any app where you can type with an on-screen keyboard. Hover over the text field with your S Pen, and then select the Direct pen input icon. Your keyboard will turn into a board where you can write with your S Pen.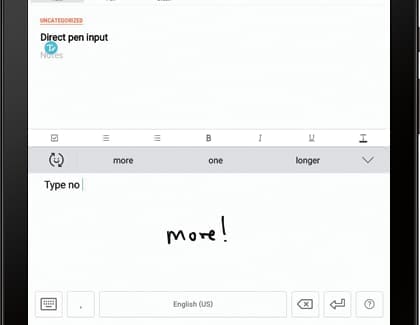 Direct pen input is enabled by default and can be turned on and off from the S Pen Settings.

Screen Off Memo
With Screen off memo, you can create notes instantly without even unlocking your tablet. It's literally the most convenient thing ever when you need to write notes in a pinch.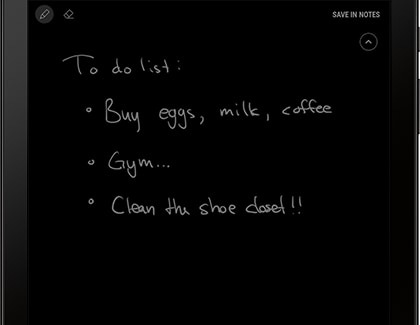 With the screen off, touch the tablet's screen with your S Pen while pressing the button on the S Pen. Start writing your notes and when you're done, touch SAVE IN NOTES. Your notes will be saved in Samsung Notes.

S Pen Settings
Looking for more S Pen settings? You can access and enable all of S Pen's amazing features by adjusting its settings. Who knows, you might discover a feature you never even knew about.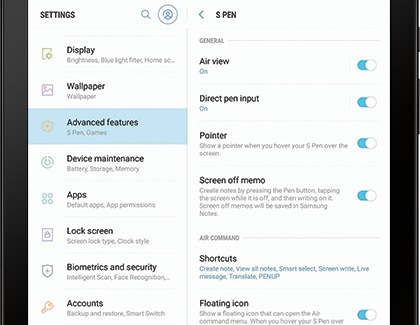 From Settings, search for and select S Pen. Check out the following settings for S Pen:

• Air view: Preview information, text, and images by hovering your S Pen over the screen.

• Direct pen input: Use the handwriting pad instead of the on-screen keyboard to enter text into a text field.

• Pointer: Show a pointer when you hover your S Pen over the screen.

• Screen off memo: Create notes while the screen is off.

• Shortcuts: Change or add shortcuts to the Air command menu.

• Floating icon: Show a floating icon that can open the Air command menu at any time.

• Sound: Have your tablet to make writing sounds when you write on the screen.
Replace S Pen's Tip
If you use your S Pen on a daily basis, its tip can wear out over time. When that happens, you can replace the tip with one of the spare S Pen's Pen tips that come included with your tablet.

To replace it, use tweezers to pull out the S Pen tip. Insert a new tip, and then push it until it clicks in place.

Please answer all questions.
The coding for Contact US > Call > View more function. And this text is only displayed on the editor page, please do not delet this component from Support Home. Thank you