Use the Universal Remote feature to control devices connected to your Samsung Smart TV
Last Update date :
Jan 05. 2022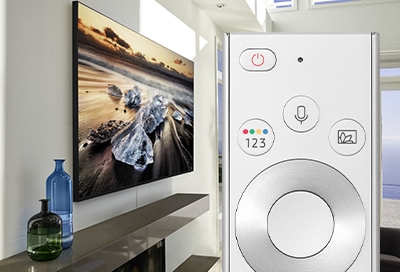 Using multiple remotes for all your external devices can get confusing. Does this control the Blu-ray player or the surround sound? Instead of shuffling around, use the remote that came with your TV. Using the universal remote feature, you can control soundbars, home theater systems, and Blu-ray players.
Note: The provided information refers to Samsung Smart TVs sold in Canada. The available screens and settings may differ for devices sold in other countries.
Set up universal remote
When you are ready, toss those extra remotes in the closet and start controlling everything with your TV remote.
First, connect an external device (such as a soundbar) to the HDMI port of the TV, and then power on the external device. Your TV will automatically recognize the device when connected through HDMI, and will switch the output. If it does not automatically detect it, then keep following the steps to set up Universal Remote:
Note: Point the remote control at the external device you want to control; make sure there are no obstacles between the remote control and the device.
1
Press the Home button on your TV remote to access the Home Screen. Using the directional pad on the remote, navigate to Source. When the selector is placed over Source, the Source menu will appear. Press UP on the directional pad to access Universal Remote.
2
Select Universal Remote on the Source screen.
3
Next, select Start and make sure the device you want to connect is turned on. When your desired device displays, select it. Follow the on-screen instructions to complete the setup and register the device. The instructions may vary, depending on the device type selected.
4
Your TV and the remote will memorize the external device and its connection port (HDMI 1, HDMI 2, etc.) to make controlling everything even easier.
Note: Occasionally, the device may not respond after it is registered. To make sure the connection is made, you may need to re-register the device.
Please answer all questions.
The coding for Contact US > Call > View more function. And this text is only displayed on the editor page, please do not delet this component from Support Home. Thank you