Galaxy Watch Active2 (40mm)
SM-R830NZDAXAC
Galaxy Watch Active2 (40mm)
is rated out of
5
by
29
.
Widen your space
Track your workout on your wrist
Heart rate tracking for peace of mind
Keeps up where you go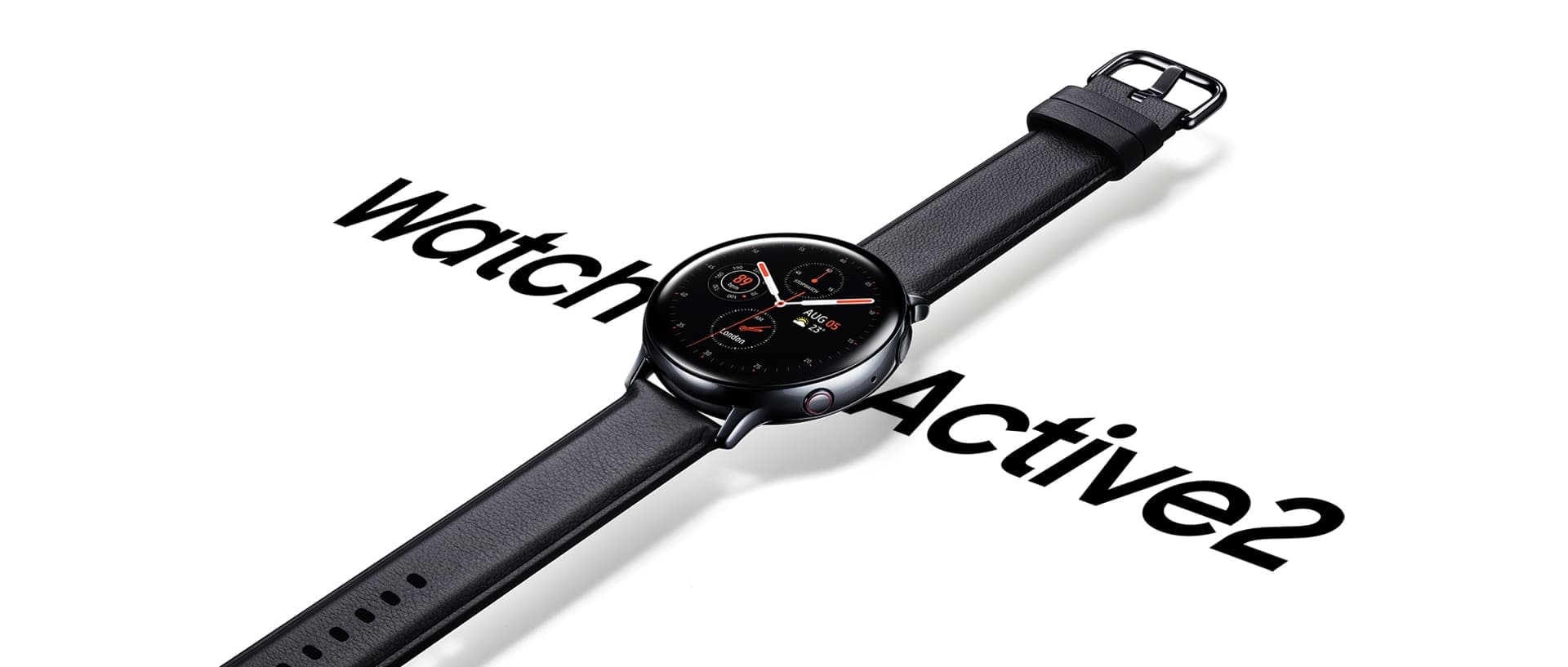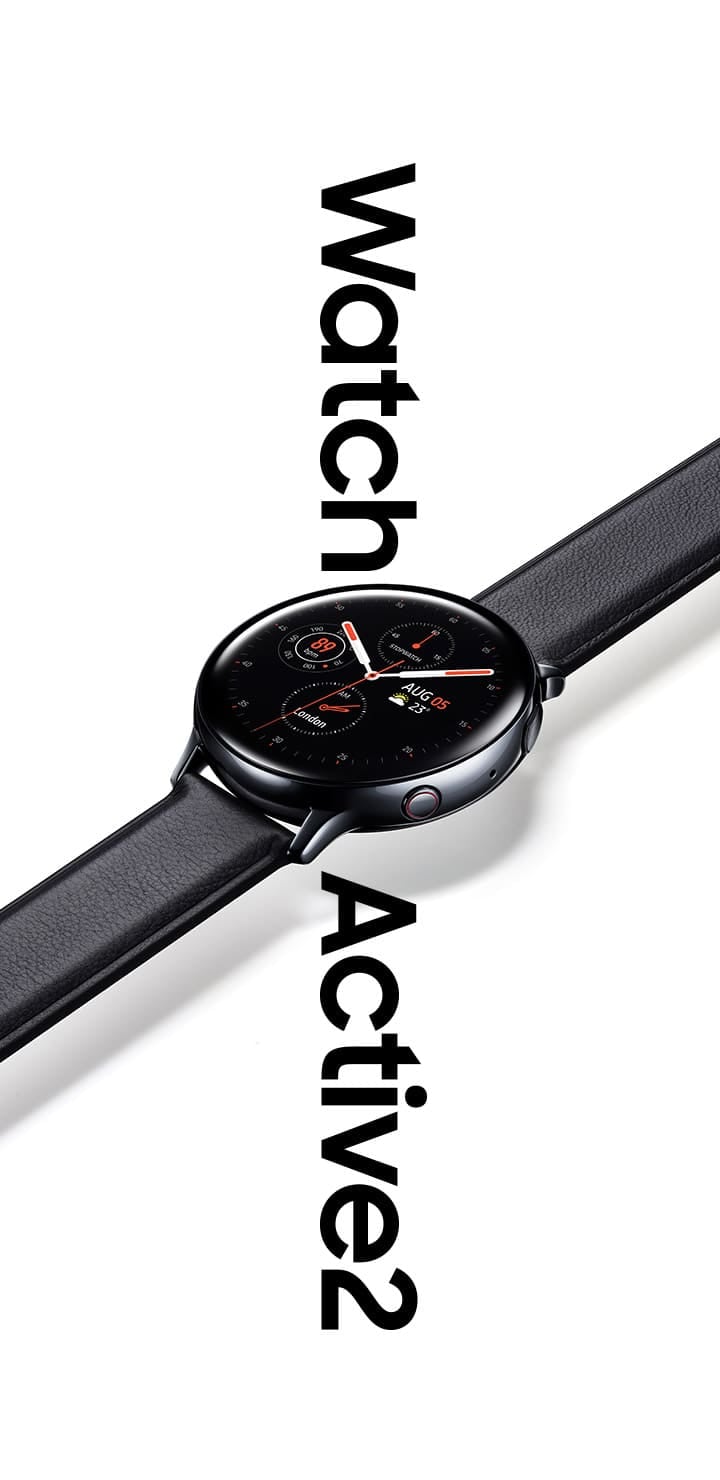 Stay connected with a lifestyle partner on your wrist that gives you advice in the moment. Get smart advice on your fitness on a bigger screen with a watch that has your wellness in mind. Galaxy Watch Active2 tells you what you need to know when you need it.
Custom comfort on your wrist
Choose your look for the wellness partner you will want to keep on 24/7.
Galaxy Watch Active2 comes customized from day one, starting with your choice of Bluetooth or LTE
connectivity, 44mm or 40mm watch face, stainless steel or lightweight aluminum design, and straps galore. 1
* LTE model not available at the time of launch.
Widen your space
Maximize your screen space with an uninterrupted view on a sleek body fitted with a touch bezel for quick control.
Galaxy Watch Active2 features an enlarged display with a pure black screen and a border
that's hardly there for more space to get the insight you need.
Get the look
that matches
your look

#withGalaxy
Snap your outfit
and
grab your look
Express yourself with a watch face that fits your look and mood. When you snap a picture of your outfit of the day, your Galaxy Watch Active2 will suggest a watch face to match it.
Match your strap
in a flash
Complement your style with a watch face that matches the colour and material of your strap. When you buy an additional watch strap and scan the QR code on the package, you will get a link to Galaxy Store to download a watch face that matches it. 2,3,4
* Multi-coloured straps sold separately.
* QR Code is a trademark of Denso Wave Inc.
A watch to make your own
Mix and match for a watch design that fits your look. Choose from a wide selection of straps and put together
your own custom Galaxy Watch Active2.
Experience
Track your
workout on
your wrist
Galaxy Watch Active2 automatically detects and tracks seven popular workouts, letting you focus on enjoying your fitness. You can also manually track more than 40 different workouts to get credit for every move. Plus, the new built-in running coach gives you real-time feedback on your runs using the advanced accelerometer. 5,6
Walking

Running

Cycling

Rowing

Elliptical
trainer

Others
Workout

Swimming
Wellness support from the inside out
By measuring four different sleep stages including REM sleep, the Galaxy Watch Active2 helps you evaluate your sleep patterns and form better habits. When you need a break, the Galaxy Watch Active2 can guide you through interactive meditation and breathing exercises helping you feel refreshed. 5,7,8
Power
that lasts
for days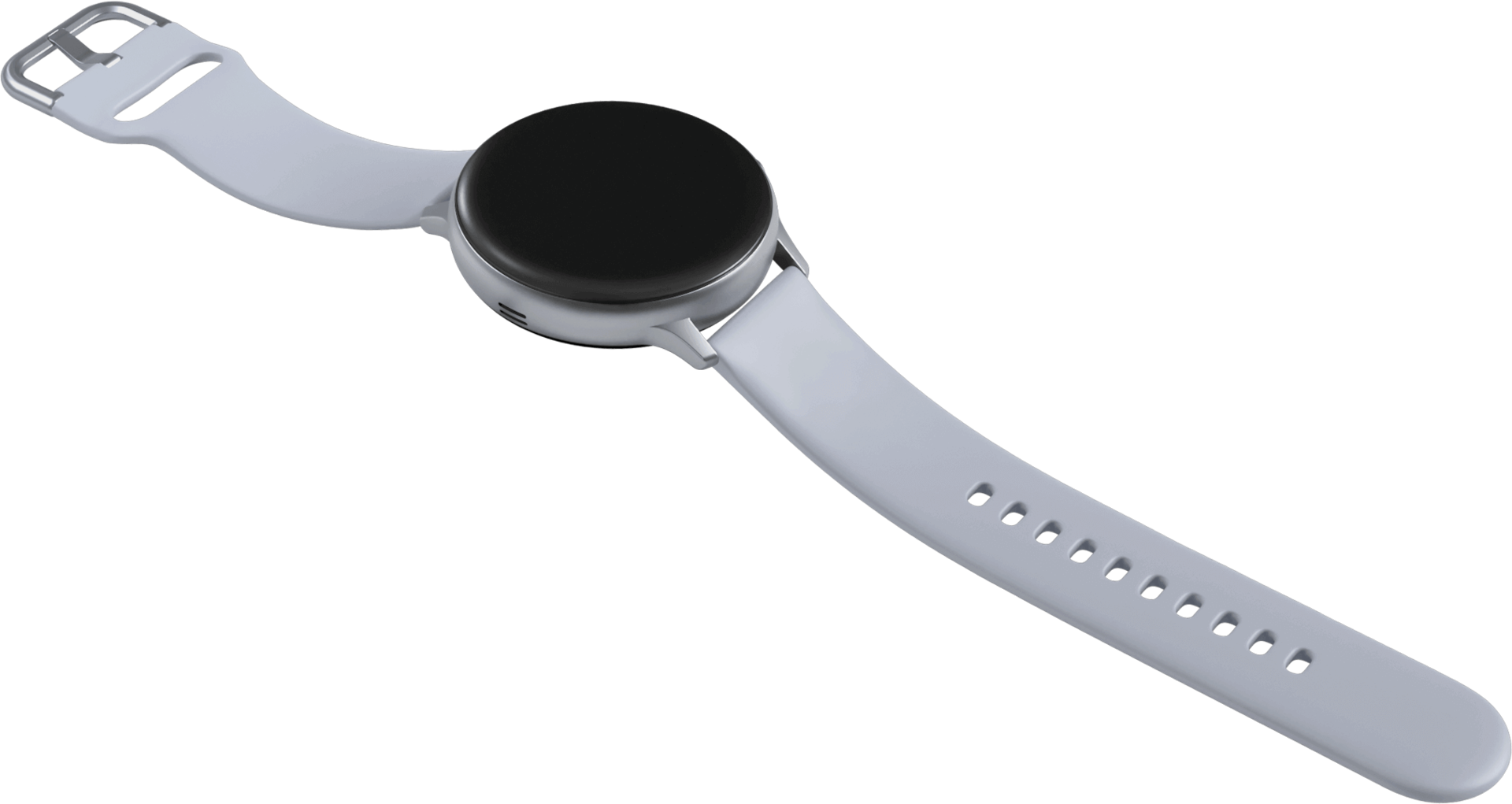 Keeps up
where
you go
Take your watch along on the road less traveled. Galaxy Watch Active2 goes where you go with a 5ATM water resistance rating plus military grade durability to handle a range of conditions, so you can keep it on to go further and experience more. 16,17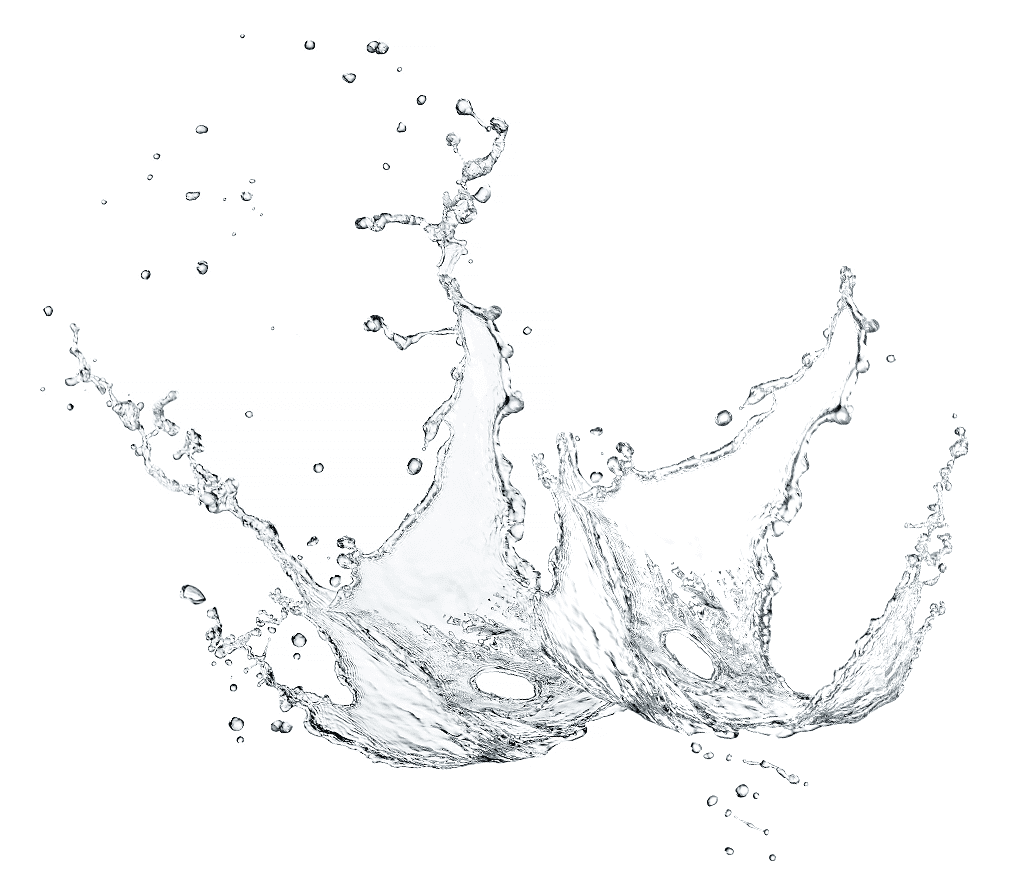 Apps to push you further
Bring enhancement to your life with apps ranging from the Galaxy lineup to a large variety of downloadable 3rd party apps.
Download apps to create your own personal lineup for smart advice on the fly that you can pull up without leaving your wrist.18
`
Get connected
to your device
Wide compatibility with both Galaxy and non-Galaxy
smartphones. Get started by seeing which devices are
compatible with Galaxy Watch Active2.
* Android: Android 5.0 or higher, RAM 1.5GB or above.
* iOS: iOS 9.0 or above.
1. Availability of models may vary by country and carrier.
2. Available strap models may vary country. Sold separately.
3. Image simulated for illustrative purpose.
4. My Style works with Android smartphones paired with Samsung Galaxy Watch Active2. QR code watch face and strap matching works with smartphones paired with Samsung Galaxy Watch Active2.
5. Intended for general wellness and fitness purposes only.
6. Fitness tracking on the watch can be used as standalone, but data stored in the watch may only be partially displayed after a certain period of time. Smartphone pairing is recommended in order to keep all data stored.
7. Stress feature available in all countries except Angola, Cyprus, Algeria, Canada, and Thailand.
8. Sleep management function on the watch can be used as standalone, but data stored in the watch may only be partially displayed after a certain period of time. Smartphone pairing is recommended in order to keep all data stored.
9. Heart rate tracking function on the watch can be used as standalone, but data stored in the watch may only be partially displayed after a certain period of time. Smartphone pairing is recommended in order to keep all data stored.
10. Camera Controller function is compatible with Samsung Galaxy S10, S10+, S10e, S10 5G, Note10, Note10+, Note10 5G, Note10+ 5G, Fold and Fold 5G models.
11. Apps available for usage may vary depending on country, region, and connection type (LTE / Bluetooth).
12. UI is subject to change.
13. SNS Viewer, Translator and camera controller app require separate download before use.
14. Average expected performance based on typical usage. Actual battery life depends on factors such as network, features selected, frequency of calls, and voice, data, and other application-usage patterns. Results may vary.
15. Based on laboratory testing. Actual battery life may vary depending on network environment, usage patterns, and other factors.
16. Galaxy Watch Active2 is 5ATM certified and has a water resistance rating of 50 meters under the ISO standard 22810:2010. It is not suitable for diving or high-pressure water activities. If the device or your hands are wet, they must be dried thoroughly prior to handling.
17. US Military Standard Compliant (MIL-STD-810G) MIL-STD-810: Environmental Engineering Considerations and Laboratory Tests is a United States Military Standard that emphasizes tailoring an equipment's environmental design and test limits to the conditions; MIL-STD-810G: + Humidity, Altitude Storage, Altitude Operational, Immersion.
18. Availability of apps for Galaxy Watch Active2 may differ by carrier or country.
1.2" (30.2mm)

Size (Main Display)

1.15GHz

CPU Speed

4

ROM Size (GB)

Accelerometer, Barometer, Gyro Sensor, HR Sensor, Light Sensor

Sensors
Rated

1

out of

5
by
TyAF
from
I wanted to love it...
I bought this watch in December 2019 and love the look and feel of it. I wear it as a dress watch and take extremely good care of it so I was very disappointed last week when the workouts would continue recording so all of my health stats were incorrect. I never wear it to sleep but one morning when I put it on it showed that I had already bee. Active for 15 hours:( I sent it in for repair, and when I got it back today I'm still having the same issue. I called in, spent 50 min on the phone with a rep and was told I need to send it in again because they replaced the wrong part! I am so disappointed....I've tried a few activity trackers and really loved this one while it lasted...but if it doesn't get fixed this time, it's going in the garbage and was a big waste of money!
Date published: 2020-08-20
Rated

1

out of

5
by
Sarintobi
from
Bad activity tracker.
As a smart watch out is great. But if you are looking for an activity tracker, do not by this watch. The heart rate sensor seems to work but there doesn't seem to be any connection between your heart rate and calories burned. It doesn't matter how hard or easy you make your workout, the watch will show same calories burned. They are preset or something, there is no connection between the heart rate monitor and the activity. On top of that, and because my 2 month return window ended with Amazon, when I tried to reach out to Samsung customer service they could care less, there warranty is only for 15 days after purchase.
Date published: 2020-07-10
Rated

4

out of

5
by
dingofest5426
from
Great Smart Watch (6+ months usage)
I've had this watch 6+ months. Overall I'm very happy with it. I would recommend this watch to family and friends (non iPhone users of course). I had one other Smart watch running pure Google WatchOS. While the price of that other watch was excellent (for a first Smart Watch), the user experience was bad (Google's WatchOS is garbage). So I was reluctant to try another Smart Watch, but I'm glad I did. Samsung wrote their own Android notification plugin. While I don't like Samsung phones because they skin the OS too much and abandon the OS for security updates etc. too soon. However I really like this watch. I primarily use it for notifications, time, stopwatch, sleep, hear rate and step tracking. OH! and I love the ability to have phone conversations through the watch (when my phone is in another room). Battery life is really good, even now after 6+ months, but I don't turn on WiFi, only BT. I find I have my phone with me all the time anyways so BT for internet access via phone is fine with me. I usually get 2.5-3 days of light usage between charges. Step tracking works, it auto magically detects activity like biking, rowing, running, walking. I don't know if its accurate, but (unlike other people on here that have given this watch poor ratings for inaccurate physical tracking etc.) C'mon people, its an approximation. One thing I will agree with others is the App store is limited. However, I didn't buy this watch for the Apps. It's a Watch!! not a magic wand to do every and anything. Use your phone or laptop. If you're looking for a good quality watch, that works well. Without expecting it to cook you dinner or do your taxes. You're good to go.
Date published: 2020-07-06
Rated

5

out of

5
by
sdadawn
from
Best watch so far!
This watch is similar to my old fav the Moto 360 2nd gen - easy to use and very fun! I even took a call on my watch whilst I was cleaning the house on Saturday!! Call was clear and they could hear me perfectly. I bought both the fitbit versa 2 initially and then the Garmin vivoactive 3 and returned both as they just made me mad. haha The Active 2 44m was the baby bear of them all! :D
Date published: 2020-02-10
Rated

2

out of

5
by
love2ski
from
mixed feelings - TERRIBLE service and support
Bought this end of Sept to replace my Fit Bit Versa which died. I love my Samsung Phone so this made sense. There are things I like - GPS in particular for runs/walks. The HR and caloric burn are not very accurate , which is not a huge issue for me. The screen and apps can be a pain sometimes. So many options but you can only short cut 4 workout types which I hate as I use it as a fitness watch. Sadly it does not work or support beachbody or weight watchers which are huge so this is very disappointing. The text and phone "smart watch" aspects are fine . Overall for fitness it could be improved and for that I am a bit disappointed. Mine started acting up about 6 months in, workout would not start or it stops randomly. Just was not performing as well overall . Chatted with service did a full reset - you have to then reset everything which is a pain. Yesterday my workout stopped itself and did not record my GPS at all - but the steps are there so it is odd. The night before my alarm which I have never used was going off at 5 am! It seems like it has developed a mind of it's own. After my call to service he told me if it was still misbehaving to send it in. Fine that seemed reasonable. I have been on the chat today for over an hour now - the person has told me multiple times that if there is physical water damage it will not be repaired . I am not concerned about this and it is a waterproof device, and I am not sure why she even mentioned it .... Then I was told it can be mailed or taken to a service center. I was surprised given the current pandemic - Oh wait the drop off service centers are closed - NO KIDDING . I can mail again the water damage discussion ( not sure why). I asked her to confirm that the service centers are doing work at this time, as I do not want to mail and have it sit there for months .... -So 1 hr 20 min and I am waiting to receive a shipping label . I will mail my watch- and therefore be without it for weeks likely at my inconvenience. $400.00 ,9 months old - over an hour to simply get a fed ex shipping sticker , and I am hesitant to believe they are even open given I had to advise re service centers being closed for drop off due to the Pandemic . An hour of my day, not going to lie, super frustrated - and the only real info I got was that if there is physical damage it won't be covered - thanks
Date published: 2020-05-19
Rated

3

out of

5
by
BJC1
from
Mixed feelings
I love the look. The screen is clear and the ability to customize the watch face is nice. I opted for the 40mm and the size is perfect. However, I am disappointed by the vibration intensity for the text notifications and the alarm. I have set it to 'strong' but I am missing text notifications and the alarm is not strong enough to wake me up.
Date published: 2019-12-30
Rated

5

out of

5
by
Aidennn
from
I LOOOOOve it
I just love this watch. No complain. Has all i wanted
Date published: 2020-04-10
Rated

2

out of

5
by
SweetPea85
from
Try Again
Don't get this product. Only good as a basic watch. Does not hold a charge. try too exchange it to be rejected and can no longer return. A fortune on a product that does not work as described. Can't say much else because of the censors in reviews. Try again. Never been so disappointed. Everything I have is Samsung. Does not meet expectations at all.
Date published: 2020-05-22
How It Stacks Up
Widen your space

Track your workout on your wrist

Heart rate tracking for peace of mind

Keeps up where you go
Widen your space

Track your workout on your wrist

Heart rate tracking for peace of mind

Keeps up where you go
Features and Specifications are accurate as of commercial launch but may be subject to change without prior notification. All specifications and descriptions provided herein may be different from the actual specifications and descriptions for the product. Samsung reserves the right to make changes to this web page and the product described herein, at anytime, without obligation on Samsung to provide notification of such change. All functionality, features, specifications, GUI and other product information provided in this web page including, but not limited to, the benefits, design, pricing, components, performance, availability, and capabilities of the product are subject to change without notice or obligation. The contents within the screen are simulated images and are for demonstration purposes only. Images are for illustration purposes only and the accessories are sold separately.

**User memory is less than the total memory due to storage of the operating system and software used to operate the device features. Actual user memory will vary depending on the operator and may change after software upgrades are performed.

Images are for illustration purposes only and the accessories are sold separately. Features and Specifications are accurate as of commercial launch but may be subject to change without prior notification.

The actual capacity (Wh) is measured based on the battery's output current and voltage. It may differ from the capacity (Wh) indicated on the device, depending on the output power condition, the connected device's circuit configuration, and the operation environment.