Product News
Samsung Launches New Flagship Odyssey 1000R Curved Gaming Monitor Series to Achieve Invincible Legend at the Click of a Finger
Sep 15. 2020
Simultaneously launches professional monitor series to provide more functions for advanced users' needs
Hong Kong – September 15, 2020 – Samsung Electronics H.K. Co. Ltd., has been leading the curved monitor market. Following the previous launch of the first 1000R curved monitor T55 series in the market, Samsung today proudly announced the launch of cutting-edge Odyssey curved gaming monitor series, based on the extension of 1000R curvature technology to gaming monitors. Models include the flagship Odyssey G9 (49-inch), G7 (27-inch, 32-inch) and G5 (27-inch, 32-inch). Samsung Odyssey G9, G7 and G5 are the first 1000R curved gaming monitors in the market. With a curvature that is the closest to the human field of view, the lineup creates an immersive interactive experience for gamers, while effectively reducing eye strain so that they can fully engage in the gaming scenes. The 1ms response time and high refresh rate, resulting in top performance to enable gamers to conquer every battle.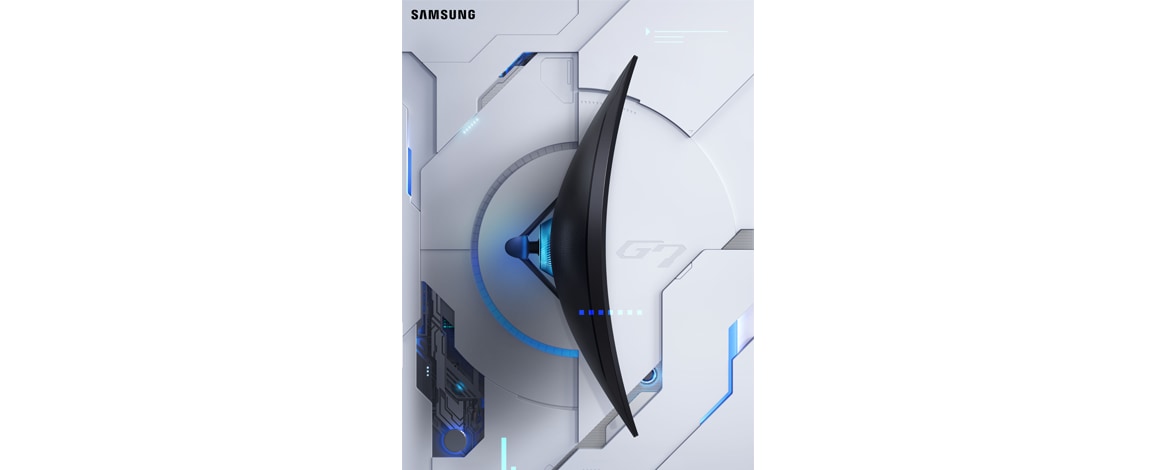 "Driven by the e-sports heat, gamers' demand for gaming monitors has greatly increased. To meet their requirement on extreme speed, minimum interference and the fastest possible reaction time, Samsung is launching three new flagship curved gaming monitors, Odyssey G9, G7 and G5. The lineup is the first 1000R curved gaming monitor in the market, which is the closest to the human field of view, creating an unmatched immersive gaming experience while reducing eye strain to reshape the gaming experience," said Ellen Fu, Vice President, CE & Enterprise Business, Samsung Electronics H.K. Co. Ltd.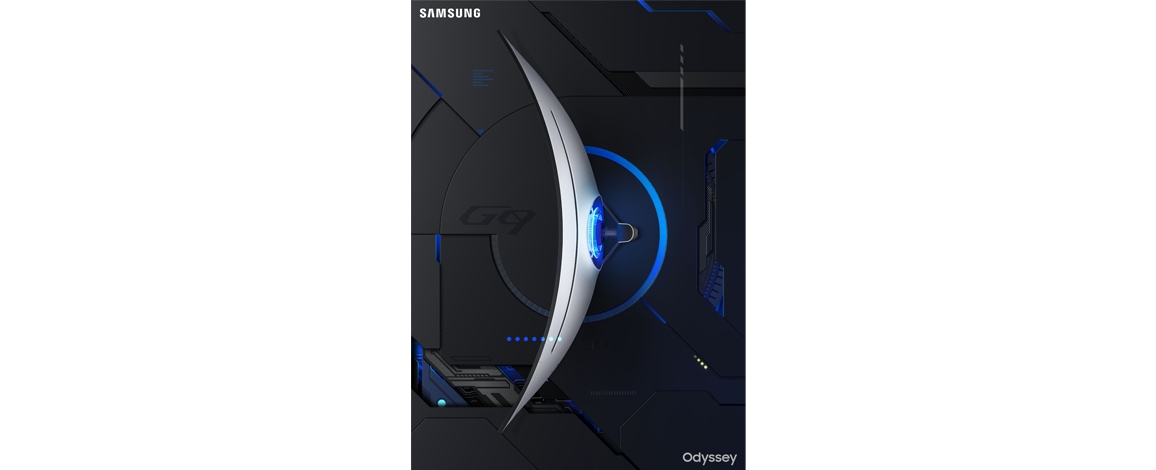 Fully immersive experience reduces eye strain
The Odyssey G9, G7 and G5 curved gaming monitors come with 1000R curvature, which is the closest to the human field of view. The powerful immersive experience allows gamers to have a clear view of the entire game visual, and to feel fully immersed in the game. The Odyssey G9 adopts a 49-inch display with 32:9 aspect ratio, creating an excellent gaming experience. Whether it's for multiplayer or single-player games, gamers do not need to worry about dead spots, and are able to accurately look into every detail, fully stimulating their competitiveness. In addition, the Odyssey G9 and G7 curved monitors have been certified by TÜV Rheinland, a leading international certification organization, which recognized the Odyssey monitors with Eye Comfort certificate. Even after extended periods of combat, the monitor enables gamers to enjoy the unrivaled world of gaming by effectively reducing eye fatigue.

Brilliantly present the color and brightness of each game scene to the most accurate details
The Odyssey G9 and G7 gaming monitors are brilliantly crafted, using QLED Quantum dot technology. Having color space as high as sRGB 125%, the monitors are equipped with an HDR1000 or an HDR600 high dynamic range imaging and resolution, compared with the common HDR400 monitors in the market. Both monitors can better demonstrate clarity in the lightest and darkest gaming scenes and present even the smallest hidden detail, so that gamers can clearly see the enemy, giving them an edge during battle games.
Extremely smooth display without flicker: the key to victory
In professional eSports gaming, even a millisecond difference can alter battle results. An accurate sniping, an instant battle, or a precise jump – all rely on the screen refresh rate, response time, etc. The Odyssey G9 and G7 curved gaming monitors both feature a 240Hz refresh rate, 1ms (GtG) response time, and G-Sync compatible to eliminate tearing and improve latency, making it achieve supreme grade specification in the gaming monitor market. The Odyssey G9 further supports NVIDIA G-SYNC® Compatibility and Adaptive Sync on DP1.4, offering smooth and realistic movements in every scenario, allowing players to react instantly in the ever-changing gaming world to move the mouse quickly to face the enemy. This is the successful key to the final battle.
Odyssey G5 curved gaming monitor allows gamers to win every game
Odyssey G5 is also a member of the 1000R curved gaming monitor series, the WQHD picture quality is able to deliver unparalleled details and acute images. Equipped with HDR10, the monitor is able to exhibit deeper black and more brilliant white, as well as an exceptional resolution, allowing players to feel immersed in gaming world, and enjoy a brand-new gaming experience.
Odyssey G5 is complemented with 144Hz refresh rate, 1ms (GtG) rapid response time and AMD Free Sync Premium's original adaptive sync technology, which greatly reduces stutter, image tear and input latency. Gamers can showcase their abilities even when they are fighting against strong enemies, and have the whip hand in every arena.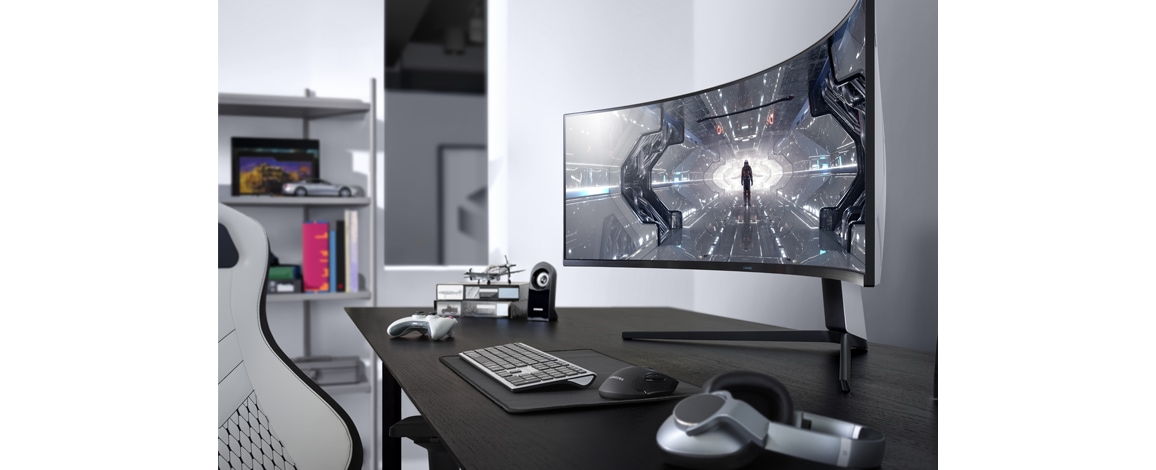 Stylish futuristic design from inside to outside
The appearance of Odyssey G9, G7 and G5 are designed with a sense of future technology. The Odyssey G9 is designed with glossy ceramic white exterior, while G7 and G5 come with a matte black back cover. Both G9 and G7 monitors exude futuristic style through their sleek shapes. Accompanied with the Infinity Core Lighting rear design which includes 52 colors and five lighting effect options, creating a futuristic atmosphere. Gamers can change colors as they prefer during the game, and even match it with game settings to create a multi-layered sensory experience of sight and speed.
Pre-order Offer for gamers
Purchase Odyssey G9 1000R curved gaming monitor (49-inch) online from now until 23 Sep 2020 to enjoy the Pre-order Offer (valued at HK$4,997). Gifts include Logitech G903 Lightspeed Wireless Gaming Mouse with Hero Sensor, Logitech G913 Lightspeed Wireless RGB Mechanical Gaming Keyboard and Logitech G933S Wireless 7.1 Surround Lightsync Gaming Headset. Gear up Ultimate weapons, the successful key to the final battle!
Professional monitor series creates comfortable and efficient working experience
Samsung is also launching a series of professional monitors, including 21:9 ultra-wide curved monitors and advanced professional monitors, among others. With different models to meet the various needs of users, the monitors also help to improve work efficiency while exhibit simplistic and striking aesthetics to the workplace.
Evolve workplace flexibility and elevate efficiency
Most people work in small and confined workspace, and the monitor commonly needs to be connected with other devices such as laptops; some people even use multiple monitors at the same time. A highly efficient monitor could make good use of space and create a more comfortable working environment for users, enabling them to complete their work faster. Samsung's latest professional monitor TU87F and ultra-wide curved monitor CJ79 are the best choices to meet the needs.


Samsung UHD professional monitor TU87F (32-inch) features a three-sided bezel-less design with an HAS adjustable stand which caters to commercial users who require double or multiple displays. Users only need a USB Type-C connecting cable to transmit visuals from computer or phone to the monitor, and simultaneously charge the devices. TU87F is also equipped with a comprehensive hub with ports to expand functions of connecting devices easily, including Thunderbolt™ 3 port, USB-port and ethernet port. When it comes to images, TU87F features a UHD high-resolution display which brings four times more pixels than full HD. It demonstrates fine and rich color layers, perfectly presents exquisite and vivid image performance. The monitor also features high dynamic range (HDR) imaging to deliver vibrant and lifelike colors, enabling users to receive excellent true colors no matter what work they are handling.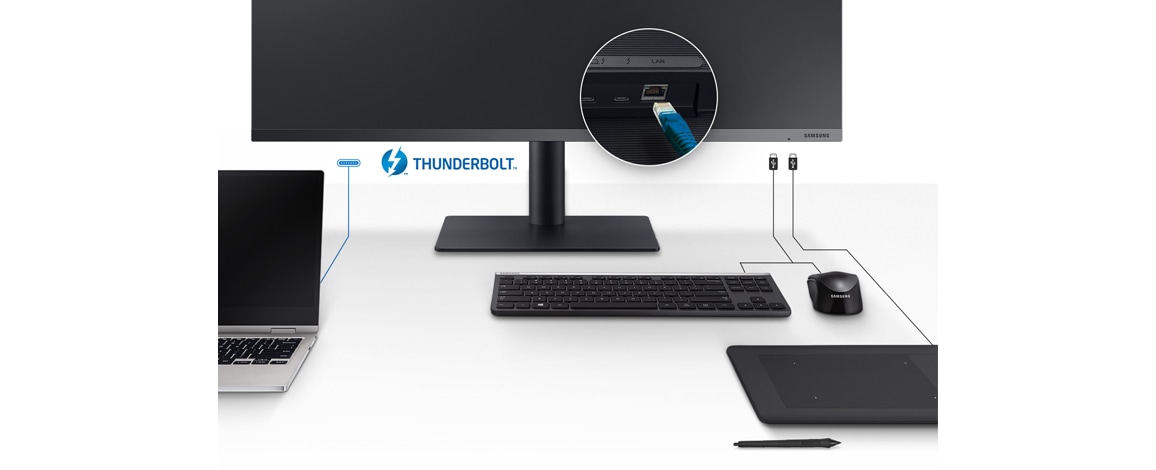 Samsung CJ79 features a 34-inch ultra-wide curved monitor designed to fit the natural visual field. The monitor helps to reduce eye strain and enable users to enjoy a more comfortable viewing experience. Equipped with 21:9 aspect ratio, one single monitor can handle different documents simultaneously. In addition, Picture-by-Picture (PBP) and Picture-in-Picture (PIP) allow the monitor to display images from two signal sources, which help to improve the multi-tasking experience and expand the workspace, providing the entire workspace a user need to multi-task efficiently and in comfort. CJ79 curved monitor features two Thunderbolt™ 3 port and Daisy Chain to maximize the workspace by easily connecting to external devices such as laptop. With a slim and striking profile, and concealed cables, CJ79 monitor makes the workspace more neat and comfort.
Lifelike image quality reveals every detail

UHD IPS monitor UR55 (28-inch) comes with a resolution four times higher than Full HD. This UHD monitor delivers stunning images composed of 8 million pixels for even more intricate details, allowing users to experience unparalleled realism when gaming or enjoying movies. The monitor also supports high dynamic range imaging technology, bringing a dynamic range of luminous blacks and whites to the screen, with dark areas that are richer and more profound, while bright parts are even more brilliant, creating outstandingly clear and detailed resolution. UR55 has received the certification from TÜV Rheinland for Eye Comfort 2.0 standard. UR55 provides users with a comfortable viewing experience through eye-saver mode, which reduces blue light emissions known to cause eye strain and thereby limiting visual fatigue.

Another UHD model, UHD curved monitor UR59 (32-inch), is a pioneering UHD curved monitor in the market. With 1500R curved screen, UR59 delivers an immersive viewing experience like no other. Combining the realism of 4K UHD images which is four times higher than Full HD, contents on the display are more delicately and images are resolved in finer details. With curved contours and corners, a fabric-textured rear casing, and a three-sided bezel-less screen, the UR59 measures just 6.9mm at its slimmest, bringing an understated style to any home setting.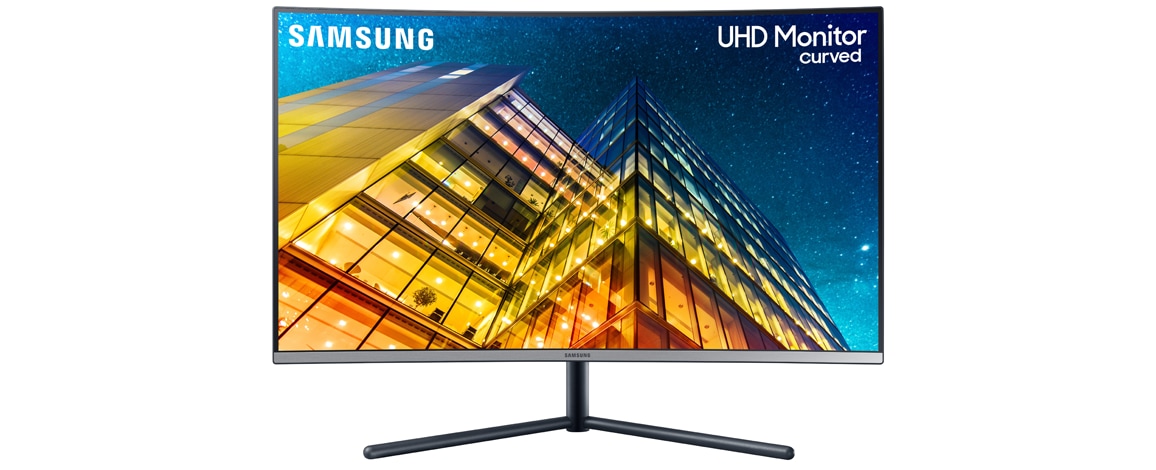 Availability and Suggested Retail Price
The brand-new Samsung Odyssey curved gaming monitors and professional monitors will be available at the following dates and suggested retail prices:
Model

Screen Size

Available Date

Suggested Retail Price

Odyssey G9 Curved Gaming Monitor

LC49G95TSSCXXK

49-inch

Sep 24, 2020

HK$14,980

Odyssey G7 Curved Gaming Monitor

LC32G75TQSCXXK

32-inch

available now

HK$6,280

LC27G75TQSCXXK

27-inch

available now

HK$5,580

Odyssey G5 Curved Gaming Monitor

LC32G55TQWCXXK

32-inch

available now

HK$3,380

LC27G55TQWCXXK

27-inch

available now

HK$2,880

Professional Monitor

TU87F Flat Monitor

LF32TU870VCXXK

32-inch

available now

HK$5,380

CJ79 Curved Monitor

LC34J791WTCXXK

34-inch

available now

HK$7,790

UR55 UHD Monitor

LU28R550UQCXXK

28-inch

available now

HK$3,880

UR59 UHD Curved Monitor

LU32R590CWCXXK (Black)

32-inch

available now

HK$4,380

LU32R591CWCXXK (White)

32-inch

available now

HK$4,380
For more information on Samsung Home Appliances, please visit: http://www.samsung.com/hk_en, or contact Samsung customer hotline at (+852) 3698-4698.
About Samsung Electronics Co., Ltd.
Samsung Electronics Co., Ltd. inspires the world and shapes the future with transformative ideas and technologies. The company is redefining the worlds of TVs, smartphones, wearable devices, tablets, digital appliances, network systems, and memory, system LSI and LED solutions. For the latest news, please visit Samsung Newsroom at http://news.samsung.com.